Colorado Avalanche: Five Players Who Will Drastically Improve This off-Season
June 4, 2012

Doug Pensinger/Getty Images
As a lifelong Avalanche fan, I'm very excited about the young team despite their relative lack of success.  Outside of longtime Avalanche great Milan Hejduk, our best players are still in their early to mid twenties—a few are not even legal to drink yet.  Watching a young team like the LA Kings run through the playoffs this year proves that any team, despite age or experience, can dominate the league if the talent is there. 
This off-season will be extremely important for the young Avalanche players to develop as individuals as well as a team. The players listed below are those I expect to make the most progress this summer and lead the Avalanche back to the playoffs next season.
 As an 18-year old rookie last year, Gabriel Landeskog, impressed all with his immediate impact and proved he can be one of the best all-around players in this league.  Legitimizing his 2nd overall pick—the highest in Av's History—during his first season, he finished with 52 points and led the team in goals (22), shots (270), hits (219), plus/minus rating (+20) and was tied for game winning goals (5). 
In addition, he was the only player on the team who played in all 82 regular season games.  As a finalist for the Calder trophy (rookie of the year), everyone involved with the Avalanche is extremely excited for this kid's future with the team.  He is tremendously quick, a fantastic skater, has great handles on the puck, and simply makes things happen on the ice for both him and his teammates. 
Moreover, he is far from a liability on defense and plays very aggressively, throwing his body around the ice and even fighting when necessary.  Growing up, his hockey idol was Avalanche great Peter Forsberg, and you can definitely see his years of imitation come through in the overall completeness of his game today.
This off-season, Landeskog should only get better.  He is 19 years old and is still developing his size and strength, which I have no doubt will only improve with time and a full off-season workout regiment.  In addition, the time spent this summer with his young teammates will grow their chemistry off and on the ice, allowing our offense to flow more naturally, and be all the more potent come regular season. 
Re-signing veteran Milan Hejduk will also be a major factor for Landeskog this off-season, as he will be able to learn from one of the great offensive players in recent memory and further develop not only his offensive skills but also his general hockey intelligence with the savvy veteran. 
Landeskog is the type of player you can build a franchise around, and with all of the young talent already surrounding him, it should be very exciting to watch him and his teammates grow together.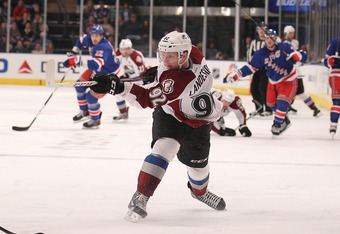 Nick Laham/Getty Images
Ryan O'Reilly is one of these skilled young players for the Avalanche who, alongside Landeskog, have a very bright future with the team.
Through each of his first three years in the NHL, he has shown clear improvement, and the team is certainly looking for that again this off-season. In 2012, he led all Avalanche players in points with 55, as well as assists with 37, ultimately demonstrating his value as an offensive player. It was so encouraging seeing O'Reilly's offensive game come along, as he has always possessed very strong defensive skills for a foreword, leading the Avalanche in takeaways the past two seasons—71 in 2011 and 101 in 2012. 
At only 21 years old, he already has a fair amount of NHL experience and became the youngest player in franchise history to reach the 200 game mark.  Nevertheless, his career is just beginning, and the team is looking for continued improvement this off-season.
As I mentioned with Landeskog, this summer will be critical for young players like O'Reilly to form a strong chemistry on and off the ice. With so many young and talented players, the level of competition during the off-season should do wonders for the team as a whole.  The offense will push the defense and vice-versa, creating not only a powerful sense of team, but also a confidence in one another that can never be understated in hockey. 
O'Reilly should definitely benefit from his work this off-season, getting stronger, more knowledgeable and more efficient offensively.  If his offensive skills continue to improve, he will certainly be a centerpiece of our team for years to come.
Matt Duchene is yet another young and immensely talented player on the Avalanche's roster. He came in with a lot of hype, being drafted 3rd overall, and fully lived up to it.  In 2010, he led all rookies in scoring, was second in assists, named to all-rookie team and was a finalist for the Calder trophy. 
He proved this was no fluke in 2011, when he became the youngest player in franchise history to not only lead the team in scoring with 67 points but also to be the youngest player to reach 100 points, breaking his boy-hood idol Joe Sakic's records. 
2011 also marked the year of his first all-star selection.
Unfortunately, last year was a bit of a disappointment for Duchene as he was plagued by injury all season, playing in only 58 games. However, despite this bad luck, the young man still managed to record 28 points—14 goals and 14 assists.
Tom Szczerbowski/Getty Images
Duchene is already great at creating his own shot and getting to the net, thanks to his marvelous skill in the open ice, great speed and mesmerizing puck handling.  Even so, this off-season will be important for him to regain his strength and conditioning as well as to prevent further injury next season. 
Furthermore, more time with the team generates more familiarity with the rest of the players and more understanding of the system.  The better this gets, the more opportunities Duchene will have to showcase his individual skills on the ice. 
On the defensive side of the ice, Erik Johnson is a young player who looks to greatly improve this off-season. During 2012, he led the team in ice time and led defense men in scoring with 26 points as well as in assists with 22.  He is a big defense man at 6'4'' 232 lbs and has great stamina, terrific defensive instincts and the luck of rarely getting hurt, playing at least 70 games a season over the last three years in the NHL.
This off-season, I look for him to continue his considerable progress defensively as well as to advance his offensive game.
He is a fairly good passer, averaging 25 assists per season, who should only get better working with the offensive talent on the Avalanche. At only 24 years old, he is a very solid blue liner, and with his offensive game slowly developing, he could become a major player for the young Avalanche team.
He reminds me a lot of Adam Foote—big, strong, tough, defensively focused but still able to create offense in needed situations.  Along with the Avalanche's other big defense men, Johnson adds depth, dependability and youth to the group. 
With continued improvement, he looks to be a constant force on the back line for the Avalanche.    
Other than Landeskog, the young goalie Semyon Varlamov is the player I look to have the most productive off-season. Throughout last year, his first with the Avalanche, he made an immediate impact. 
With a 91.3 save percentage, 2.59 goals against average, four shut outs (all on the road) and a career high 26 wins, he clearly showed that he can play and, more importantly, win in the NHL.  At 23 years old, he has already developed into a great goaltender with lightning quick reflexes and zero fear. 
However, with a goalie like Jean Sebastien Giguere, who led the 2007 Anaheim Ducks to a Stanley Cup victory, I look for Varlamov to drastically improve his skills as well as consistency in net.  Having a veteran like Giguere to show him the ropes will have a tremendous impact on his work ethic, mental stability and overall ability. Ever since Patrick Roy retired, much like John Elway with the Broncos, the Avalanche have been unable to find a reliable replacement.
I truly believe Varlomov is it.
It's an exciting time to be an Avalanche fan. After so many years of tremendous success followed by so many years of mediocrity, the team looks to heading back to its golden years. And it's about time. Go Av's!