Breaking Down Ravens LB Options After Mike McAdoo's Injury
June 4, 2012

Patrick Smith/Getty Images
The Baltimore Ravens have been in a tricky situation on defense this offseason, looking to replace outside linebackers Jarret Johnson and Terrell Suggs after the former departed in free agency, and the latter suffered an Achilles tendon tear that's likely to keep him out for at least part of the 2012 season.
In battle to fill those two spots were four linebackers—Courtney Upshaw, Paul Kruger, Sergio Kindle and Mike McAdoo. But another injury has befallen the Ravens linebackers—McAdoo tore his Achilles tendon as well, in last week's OTAs, and will miss the entire season.
Now, three linebackers are competing for two spots, and the Ravens are in a bit of a jam. What was once a manageable situation has somewhat spiraled out of control, and the team needs to find a solution in the months leading up to the start of the season.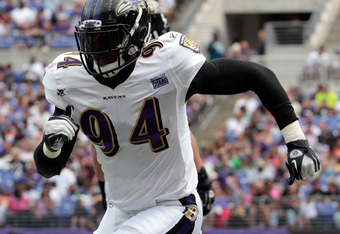 Rob Carr/Getty Images
The McAdoo injury practically guarantees that Kruger will win one of the starting jobs—either Johnson's or Suggs'—leaving just the rookie Upshaw and 2010 draft pick Kindle to fight it out for the other one. 
This is a less-than-ideal situation for a few reasons. First, it means a lot more playing time for Upshaw than the Ravens had initially intended.
Though he was the team's first draft pick this year (in the early second round), Upshaw still needs time to become familiar with his new defense. He'd see action this year, surely, on a rotational basis. But now, circumstances may force him to start, which could spell trouble for the Ravens if he has to do so while less than ready.
Second, it means a lot more pressure on Kindle. Kindle, who the Ravens drafted in the second round in 2010, has only taken the field for two games. He fell down the stairs in 2010, fracturing his skull, and then was arrested for DUI.
The Ravens chose to keep him on for his third year and are thinking of providing him with a hearing aid that will help him hear the plays called on the field, as he suffered partial hearing loss in the fall. Though, Kindle was quite the prospect when drafted, with the speed and size to make a serious impact at the professional level.
But Kindle has some catching up to do and may not be ready for the rigors of a starting job, especially one as demanding as Suggs'. 
So where does that leave the Ravens? Even if Kruger can take one spot and Kindle and Upshaw prove themselves well enough at camp to at least rotate in and out of the other spot, the defense will still lack both depth and experience at the outside backer position.
A safe bet for Baltimore would be to pick up an inexpensive veteran free agent. Matt Roth, most recently with the Jacksonville Jaguars, can play both outside linebacker and defensive end and had seven sacks in his last two seasons.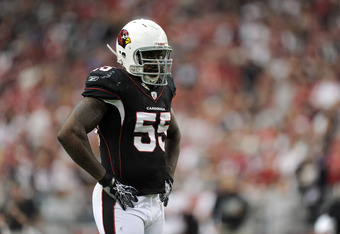 Harry How/Getty Images
But personally, the best fit in Baltimore for this season might just be Joey Porter. The former Steeler, Cardinal and Dolphin has 98 sacks in his 13 years in the league—including 17.5 of them as a Dolphin in 2008.
He'd provide veteran leadership and insurance at the position and has the requisite nasty streak of a Ravens linebacker. Plus, at 35 years old, he hasn't generated a lot of interest from teams—a fact that could make him affordable for the cash-strapped Ravens.
At outside linebacker, the Ravens' situation went from bad to worse with the McAdoo injury. The pressure has been ramped up considerably for Kruger, Kindle and Upshaw, and now, Baltimore needs to think hard about bringing on some veteran depth at the position. 
There's of course still time for Kindle and Upshaw to truly take ownership of the spot not claimed by Kruger. But even if one—or both—of them prove to be more than adequate replacements, it's clear that Baltimore needs more depth at outside linebacker this year, now that McAdoo's no longer an option.