Ranking the Biggest Liabilities in LeBron James' Game
June 4, 2012

Jared Wickerham/Getty Images
There's very little doubt that LeBron James is the best player in the NBA today, but by giving him that honor, that's not to say his game is perfect, though.
This isn't to criticize LeBron's failures in the clutch, because he's had his moments where he comes though often in clutch situations. I'm more interested in why a player with all the physical tools in the world sometimes has his struggles.
They way I see it, his game has six liabilities. Here's a look at those six from least important to most important.
6. Offensive Rebounding
LeBron is a fantastic rebounder, but he rarely attempts to crash the offensive glass, which means he's not very likely to follow his shot, nor is he willing to bang when his teammates shoot the ball.
The 1.5 offensive boards LBJ averaged this season was the most in his career.
5. Turnovers
For a guy who can handle the ball as well as LeBron does, he doesn't take very good care of it.
James averaged 3.4 turnovers on the season and 3.3 on his career. He's a superstar and must learn to value the ball more.
4. Too Unselfish
It's hard to knock James at times for passing up potential game-winning shots because of the type of player he is.
LeBron is a natural facilitator, and he makes his teammates better when doing so. However, there is a time to go into takeover mode. Sometimes he knows when to do so, and sometimes he doesn't.
When James is playing with a killer instinct and a chip on his shoulder, he is next to unstoppable. That shouldn't be something he turns on and off like a light switch.
3. Fear of Failure
Sometimes I feel that it is too important for LeBron to be liked by everyone, and that attitude hurts him at times.
I understand it, being that he's the most scrutinized athlete in professional sports, but developing a mindset such as Kobe Bryant has would go a long way for him, especially late in games.
Kobe doesn't care what critics have to say about his game. LeBron, on the other hand, often seems like he is out to please everyone, and that's not a good mindset to have long-term. He must develop thicker skin.
2. Free-Throw Shooting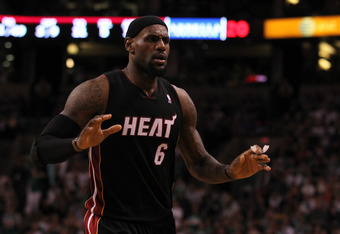 Jim Rogash/Getty Images
LBJ is not good from the charity stripe, shooting only around 75 percent for his career during both the regular and postseason.
Those aren't horrible numbers, but he picks bad times to lose concentration and miss big free-throws. For the amount of calls James gets per game, he has to get to the point where fourth-quarter free throws are next to automatic.
He's surely capable as he once hit 16-of-17 (2009) and 17-of-18 (2006) from the line during playoff games.
1. Jump Shooting
LeBron's field-goal percentage doesn't look bad for his career, making 48 percent of his shots, but if you take out his execution close to the basket, his percentage would be a great deal lower.
James has never been a very good jump shooter, and he's been especially bad from the perimeter, knocking down only 33 percent of his shots from behind the arc.
There are games where his shot is falling, but more often than not, his jumper is a weakness.
LeBron either needs to realize the strengths and weaknesses of his game or one day develop a consistent jumper.