Belmont Stakes 2012: 5 Bold Predictions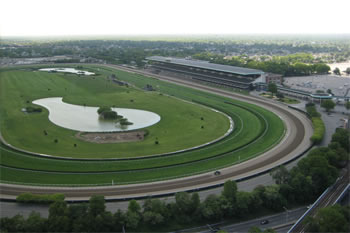 Photo: Ruffian Equine
Predictions and opinions are to the Triple Crown's Belmont Stakes 2012 as "that's what she said" is to Michael Scott; you can't watch it without hearing a few.
In the off weeks between Crown races, analysts will spew out more tips, advice and history than most of us know what to do with.
Here are a few bold, and sometimes unpopular, predictions for the race on June 9th.
Begin Slideshow

»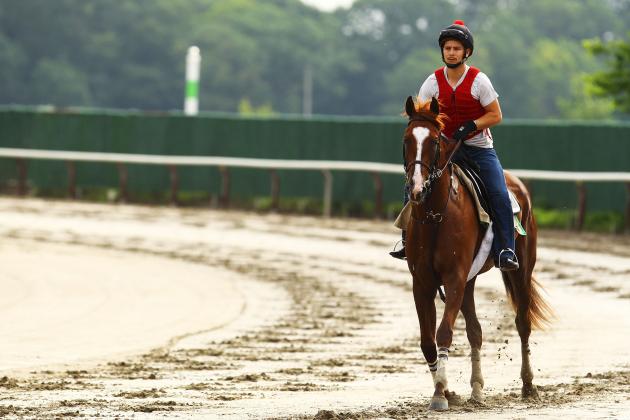 Al Bello/Getty Images

Dullahan might be the fastest horse in this year's Belmont. We've seen him charge time and again like a bat out of hell from the top of the stretch. Like most late-closing-style horses, Dullahan prefers to sit fourth or back and save his energy for his big move late.
The thing is, Dullahan turned Belmont Park upside down on Sunday morning with his four-furlong workout. A scorching 45.82 was the official time clocked by DRF.com as onlookers saw Dullahan set Big Sandy on fire.
Forty-five seconds is a monster time for four furlongs and does not seem routine for Dullahan. Dale Romans, Dullahan's trainer, has shown a tendency to modestly work his late-charging colt at one-minute, five-furlong breezes in the past.
Dullahan's workout before Sunday was an eight-furlong gallop finished in 1:43, as reported by the Paulick Report. Remember, he skipped the Preakness, so his legs are mighty fresh. It seems that Romans is taking a very unconventional training approach, allowing Dullahan to run a long distance modestly, followed by a tough sub-45-second sprint.
What does this tell us? It tells us that Romans doesn't want his horse too far back when he comes out of that wide final turn onto the Belmont Park homestretch. With these workouts as a sign of things to come, I expect Dullahan to take a stalking approach and run third for most of the race.
He'll still have a big kick coming to the wire, and Romans hopes it's enough to catch tiring leaders.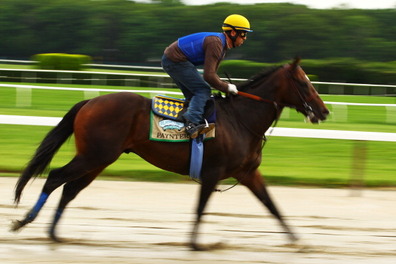 Al Bello/Getty Images

Bob Baffert is going to try and avenge Bodemeister's near misses with a Paynter win.
It won't happen.
Paynter is a very sexy pick heading into June 9th, with most analysts predicting he'll be the only long shot with a chance to upset I'll Have Another. Don't expect this young, inexperienced colt to be near the wire late, but he should be the first to cross it early.
Paynter has shown blazing, improving speed in his past two races.
After breaking his maiden on February 4th, he's shown no preferred racing style. He stalked his way to a fourth place finish in the Santa Anita Derby, closed late to finish second in the Derby Trial at Churchill Downs and ran almost wire to wire to an Allowance win on the Preakness Stakes undercard.
This inconsistent style (with a win only by leading), paired with two great workouts since his last race, shows that Paynter might be ready to lead the pack in a Belmont field lacking a pacesetter.
Rob Carr/Getty Images

Optimizer will get a bunch of money on those who think experience wins races. He has a prolific, if not infamous, trainer in D. Wayne Lukas, who has 19 Triple Crown wins (four at the Belmont Stakes) under his belt. Optimizer placed a disappointing 11th in the Kentucky Derby and a better, but still regrettable, sixth in the Preakness Stakes.
Experience can be an advantage, but on the last leg of a grueling Triple Crown schedule, it is not.
If bettors and handicappers are worried about I'll Have Another's fitness after two previous Triple Crown races, shouldn't Optimizer be called out as well?
Lukas' colt breezed five furlongs at a modest, yet still impressive, 1:00 3/5, according to brisnet.com. He is scheduled to arrive at Belmont park on Tuesday and should fit in a breeze before the race on Saturday afternoon.
Optimizer is lauded as being only one of two horses in the Belmont Stakes that have raced both legs of the Triple Crown. The difference between him and the horse of the same experience (I'll Have Another) is that he hasn't impressed in those races.
Optimizer, in my opinion, lacks the speed and endurance to beat big contenders like I'll Have Another and Dullahan. For that, I predict he finishes way out of the money in no higher than sixth place on June 9th.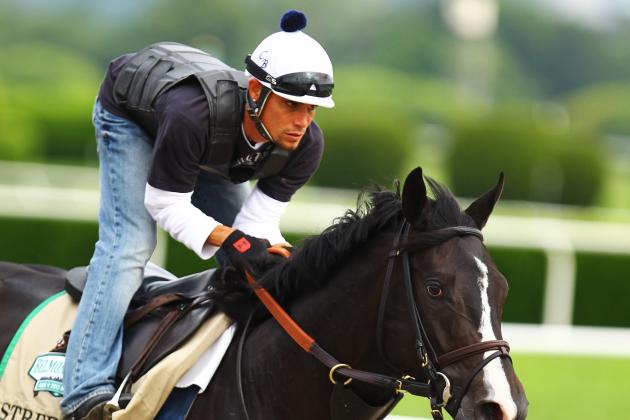 Al Bello/Getty Images

Street Life is coming alive in bettors' eyes in recent weeks. He finished a very impressive third in the Grade II Peter Pan Stakes on May 12, and was a hat-tipping sixth in this year's Wood Memorial against tough Triple Crown contenders (Alpha, Gemologist, Tiger Walk and Teeth of the Dog).
Street Life is trained by Chad Brown, who has little Triple Crown experience and virtually no Triple Crown success.
It is not his training that is intriguing, however: It is his pedigree.
Street Life is out of Street Sense and Stone Hope by Grindstone. Street Sense, you will remember, won the 2007 Kentucky Derby and placed in the Preakness Stakes that same year.
With this Triple Crown blood in his pedigree, along with lines from Unbridled and Dixieland Band, Street Life holds an advantage over his competition.
Street Life is going off at 15-1 early odds, according to DRF.com, and is working modestly since his last race.
Although his times have been less-than stellar (5F at 1:01.15 and 4F at 47.82), his workouts are encouraging for another reason: They've all been at Belmont Park.
Being familiar with this track is something Street Life will hang his hat on come race time. Chad Brown is a "New York guy" and this horse loves this track. The Peter Pan Stakes was run here, and every workout Street Life has put in has been on this surface.
There is a lot to like about this horse, and I'd bet on him taking 15-1 odds any day of the week.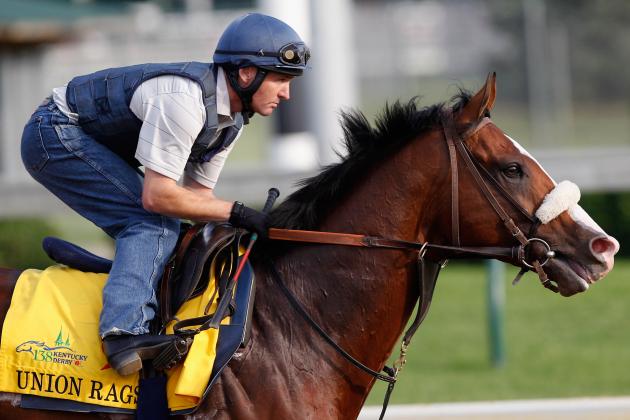 Rob Carr/Getty Images

I am not a Union Rags fan.
Now we have full disclosure.
I have not liked him since his third-place showing at the Florida Derby this year. I think he has superb talent, but lacks the je ne sais quoi of a legitimate Triple Crown contender.
Rags' fans will rationalize his poor performances on "bad trips" and "bad luck", but when do bad trips become bad races? I think Union Rags needs a field of two horses to win, because he can't seem to handle traffic. Courage wins big races, and Union Rags hasn't shown it.
I will give Union Rags one benefit, though: He has a new jockey. Julien Leparoux is young and successful, but John Velasquez is a winner. If anyone can run Union Rags the way he should be run, its Johnny V.
Trainer Michael Matz knows he needed someone to manage his horse during a race, and that's what Velasquez will do.
Harkening back to the Kentucky Derby, one will remember Union Rags passing nine horses headed to the wire to finish seventh. He will have less horses to pass in the Belmont, but fans better hope he doesn't get bumped or bottled up early.
It is because of his knack for getting scared in traffic, and his need for a late run that shakes my confidence. Union Rags has enough talent to be in the money come Saturday, but he doesn't have enough heart to win.