Latest NBA Buzz: 2012 Draft & Conference Finals (Podcast)
June 4, 2012

Jared Wickerham/Getty Images
The Miami Heat and San Antonio Spurs have a tough road ahead as they look to hold off the surging Boston Celtics and Oklahoma City Thunder, respectively.
Living in a post-Anthony Davis draft world, the Charlotte Bobcats and Washington Wizards both have difficult decision to make.
There is a lot of big news to discuss on this episode of Basketball by Association. 
(If the player fails to load, listen to the podcast here.)
Basketball by Association is a brand new podcast series and your courtside seat for all things NBA on Bleacher Report.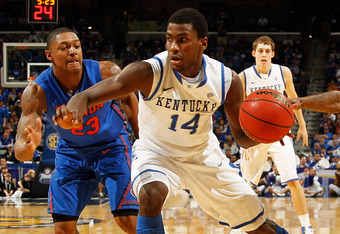 Chris Graythen/Getty Images
The Heat are not actually reeling, despite having lost their past two games. Sure, the Celtics held serve on their home-court, but they have never performed consistently in Miami. 
LeBron James, Dwyane Wade and company will now get an emotional lift from their own crowd, and could be further rejuvenated if Chris Bosh provides a poor man's "Willis Reed" comeback effort.
The new run-and-gun Spurs must slow things back down to a 90 mph pace, rather than letting the Thunder fly by at 110. What's more, they need to utilize DeJuan Blair to avoid getting pushed around inside by Kendrick Perkins and Serge Ibaka.
Nonetheless, the Thunder continue to grow up in front of our eyes. They are systematically clearing every hurdle in the same way that a young, Michael Jordan-led Chicago Bulls team exorcised all of its demons.
Bradley Beal versus Michael Kidd-Gilchrist is becoming a hot debate for the No. 2 and No. 3 spots in the draft, while Thomas Robinson has no business being in that conversation. Though Robinson should still be taken early, there are a number of players about to fall further than expected. 
Ethan and Joel also discuss which teams need to move up or down in the draft order, where Phil Jackson might be coaching next and why returning Wizards head coach Randy Wittman fails to get them all hot and bothered.