NBA Playoff Schedule: Complete Listings for Remainder of Conference Finals
June 4, 2012

Ronald Martinez/Getty Images
With both the Eastern and Western Conference Finals knotted up at two games a piece, it's safe to say that in both cases, you could call it a Tale of Two Series.
In the West, we were treated to the Spurs completely dismantling the Thunder in Games 1 and 2, only to watch the Thunder return the favor on their home court. 
In the East, the Celtics looked old and weak (minus the outrageous contributions from Rajon Rondo) through the first two games of the series. However, their home rejuvenated them as well, leading them to two victories.
Essentially, both are now three-game series, with a trip to the championship on the line. Here's where and when the rest of the games will be taking place:
Monday, June 4, Oklahoma City Thunder at San Antonio Spurs, 9 p.m., TNT
This game will be a huge win for whoever can pull it out because as just said, it would be like taking Game 1 of a best-of-three series. Needing to win in San Antonio is no easy task, as we've seen, but the momentum is entirely in OKC's favor.
Tuesday, June 5, Boston Celtics at Miami Heat, 8:30 p.m., ESPN
Back to South Beach we go for Game 5 of the Eastern Finals. It's safe to say at this point that the Celtics would be in even worse position if it wasn't for Rajon Rondo. However, lucky for them, the only guy who isn't considered part of the "Big 3" has been playing outside of his mind for much of the series so far.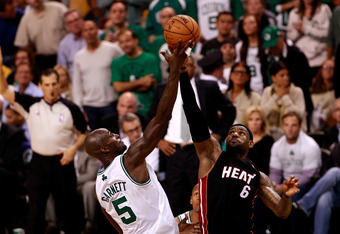 Jared Wickerham/Getty Images
It isn't all that shocking when you consider that we've seen Rondo take over series before in his career, but to see him do it against this Heat team is special.
Wednesday, June 6, San Antonio Spurs at Oklahoma City Thunder, 9 p.m., TNT
This will either be the Spurs trying to close out the series on the road, or the Thunder trying to do it at home. Oklahoma City has one of the best home court advantages in the league, and if they have the opportunity to advance to the finals at home, I'd be surprised if you could hear yourself think in that arena Wednesday night.
Thursday June 7, Miami Heat at Boston Celtics, 8:30 p.m., ESPN
I never thought the Celtics really stood a chance at all in this series but they've proven me wrong. They've played a tough brand of basketball and Rondo has been the best player in either series so far. If you had asked me before the series I would have told you the Heat would win purely because I never thought the Celtics could win in Miami.
If they get another insane performance from Rajon Rondo, and enough of a contribution from everyone else, they could very well be playing Game 6 at home, with a chance to eliminate the Heat.
Friday June 8 (if necessary), Oklahoma City Thunder at San Antonio Spurs, 9 p.m., TNT
Saturday June 9 (if necessary), Boston Celtics at Miami Heat, 8:30 p.m., ESPN