2012 MLB Draft Projections: Young Studs Who Will Be Future All-Stars
June 4, 2012

Major League Baseball's first-year player draft marks three days of hope.
The players, many of whom are still in high school, hope in the chance to pursue their childhood dream. Their phones never leave their side as they huddle around TV and computer screens, waiting—hoping—to see their name. Should it appear, their journey to the Big Show continues. The dream comes closer to reality.
But the players aren't the only ones full of hope during the three-day MLB draft. The teams hope that those names they chose to call turn out to be worthy investments. Better yet, they hope these young kids will some day turn into superstars—the next Bryce Harper, Matt Kemp or, if they're really lucky, Albert Pujols.
Forget free agency. Not many teams can afford to give $240 Million over 10 years to a single player. The MLB draft is a much more cost effective place to buy talent. If small-market general managers can't build a team through the draft, then they have no hope at all.
So who are the future All-Stars of this year's MLB draft? Here are three names you will hear early Monday night and may be selecting on an All-Star ballot earlier than you think.
Byron Buxton, CF, Appling County H.S.
"Five-tool player" is a phrase that gets tossed around too casually during draft week but it must be in the conversation when discussing a potential No. 1 overall pick. Buxton has that potential—to become a five-tool player and to be the first name called Monday night.
His best tool is clearly his speed. Buxton doesn't just possess elite speed. He knows how to use it.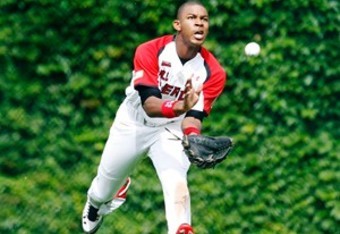 It's one thing to be fast in a sprint down the first-base line to beat out an infield single. Buxton broke out as a prospect at the East Coast Pro Showcase, where he beat out a cleanly-fielded ground ball to third base.
Most speedsters are well trained in the art of stealing a base, too. After his infield single, Buxton then swiped second with ease. He stole 38 bases as a senior at at Appling High School in Bacley, Ga.
Buxton, however, isn't just a fast base runner. He's a smart one as well. Even Yadier Molina—renowned for his lack of speed—can get by with on the base paths with instinct and savvy. Give that base running intuition to a pair of legs like Buxton's and that elite speed changes games.
"His speed is what makes him lethal," said baseball coach Jeremy Smith, according to an article by ESPN's David Auguste. "He puts pressure on everybody. One time, the shortstop couldn't even field it because he looked up to see where Byron was."
In the first inning of the second round of Georgia's Class AA state playoffs, Buxton walked and stole second. What happened next is now legend as far as Appling County High athletic director J.T. Pollack is concerned.
"He was on second base when our hitter hit a ball to fairly deep right field," said Pollack, according to an article by Sports Illustrated's Albert Chen. "It wasn't like there was a bobble, the right fielder fielded it pretty cleanly. But Buck tags up, and runs to third, then turns the corner, and runs home. And he scores. I didn't even know it was possible."
In that same story by Chen, a scout told the Appling coaches that Buxton's time of 3.89 seconds matched Bo Jackson's mark for the fastest out of the batter's box for a right-handed hitter.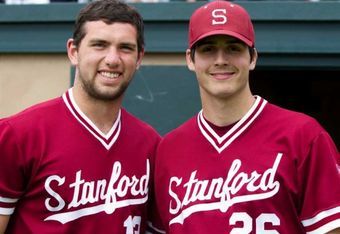 Buxton also utilizes his speed in the field, where his superior range in center field turns his plus glove and plus arm into a weapon on defense. From the mound he can fire a fast ball 99 mph. Although an outfielder by trade, Buxton struck out 54 batters in 81.0 innings as a senior to finish 10-0 with five saves. He fanned 18 in a complete-game victory to win the Georgia Class AA state final.
Describing Buxton's arm as "plus" is actually a horrible understatement. A quarterback, receiver and defensive back on the gridiron, he once threw a football 82 yards.
At the plate Buxton has a swing that produces a high contact rate. He batted .513 as a senior. Although he hit just two home runs this spring, the fifth tool of power should develop as his body does.
Buxton, who hit 14 homers as a sophomore, already flashed signs of what is to come when he launched several rockets during last summer's Under Armour All-America Game at Wrigley Field. One landed in the top row of the bleachers.
Without playing a single game of professional baseball, Buxton has already garnered comparisons to Justin Upton, Matt Kemp, Josh Hamilton, Andrew McCutchen and Eric Davis. Upside like that is sure to draw a multimillion dollar signing bonus, which will be tough to pass up for his commitment to the University of Georgia.
"He's better than Andrew McCutchen," said a scout quoted in an article by Sports Illustrated's Albert Chen. "No doubt one of the best I've ever scouted -- maybe the best I've seen in 10 years. The athleticism is off the charts. Everything just comes so easy to him."
Mark Appel, RHP, Stanford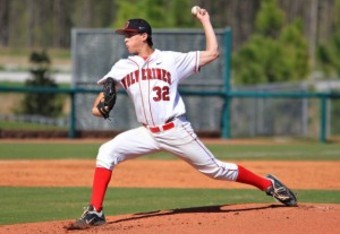 Sanford pitcher Mark Appel is rumored to become the MLB draft's No. 1 overall pick, according to a tweet by ESPN's Jim Bowden.
Appel's fastball averages 94-97 mph, but has been clocked as high as 99 mph—even late in games. He also throws a plus changeup with excellent arm speed and good tumble that make it a weapon against left-handed batters. His third pitch is an above-average breaking ball that is somewhere between a curve and a slider; it bites hard and comes in at 83 mph.
At 6'5" Appel possesses the tall body type desired by scouts.
Several red flags recently came up for Appel that to speculation that he would fall out of the top choices. Appel has struggled with his command at times, leaving both off-speed pitches up in the strike zone. His 149 pitches against Oregon on April 13 only fueled the perception that his arm is over used.
If the Houston Astros do indeed select Appel, it gives Stanford a trifecta of top draft selections. Stanford quarterback Andrew Luck was the No. 1 pick by the Indianapolis Colts in the NFL Draft last month. That came shortly after Stanford forward Nnemkadi Ogwumike was taken first overall in the WNBA Draft by the Los Angeles Sparks.
Appel grew up in the Houston area and went to Astros games as a kid before his family relocated to Northern California. He would love to go play for them as a professional.
"It's an opportunity to play for your hometown team, the team you grew up watching games," Appel said in an article by MLB.com's Jonathan Mayo. When I take a step back and look at everything that transpired—I was able to come here, I've had some successful years here, the Astros had a bad year last year. I can't help but think, that's such a God thing.
"Even if I don't end up in Houston, it's still such a blessing to play professional baseball. I know so many people wish they could be in my shoes."
According to a scout quoted in Mayo's story, Houston would be wise to confirm Bowden's tweet.
"He's a quality kid," the scout said. "He has three Major League plus pitches. He has a body that's projectable and there are things you can work with him on to make him better. He pitches on Friday nights for one of the best teams in the country. His innings to hits to walks to strikeouts is as good as any other pitcher in the country. What's there not to like?"
Max Fried, LHP, Harvard Westlake H.S.
Scouts love Max Fried, who is considered the top high school arm in this year's draft. An American League scout quoted in a story by Gary Klein of the Los Angeles Times said he considers Fried as the best left-handed pitching prospect to come out of Southern California in the last decade.
Fried throws his fastball at 89-93 mph with ease and good arm-side life. The pitch plays faster than it's true velocity because hitters have trouble seeing the ball out of his hands
Fried's curveball shows sharp downward break at 73-76 mph. Occasionally it will reach 77-78 mph. His changeup sits at 81-83 mph and is disguised by his arm speed. It comes with late run that is harder than the usual fade on a changeup.
At 6'4" and 170 pounds, Fried has a frame that projects well into the majors. His great body control gives him a repeatable delivery with above-average command that should become more consistent as he matures. He did have a few outings this spring where he has had trouble throwing strikes, but that is not his norm.
A year after UCLA pitchers Gerrit Cole and Trevor Bauer were selected first and third overall, Fried and Harvard Westlake teammate Lucas Giolito could both go in Monday's first round. Giolito, a right-handed pitcher, was projected a possible No. 1 overall pick. He is now a wild card after sitting out most of his senior season because of an elbow injury.
Both Fried and Giolito signed letters of intent to play for UCLA.