2012 MLB Mock Draft: Updated Round 2 and 3 Predictions
June 5, 2012

After a wild and crazy first round that saw a surprise No. 1 pick and more shockers along the way, the 2012 Major League Baseball draft stopped to catch its breath on Monday night, and will resume with the second round on Tuesday. 
All told, there will be 14 rounds taking place today. After you get past the fifth round, it is not likely that you will find a big league starter, so we are going to focus on the early portion of today's action. 
Here is an updated look at what you can expect from the second and third rounds on Tuesday. 
ROUND 2
1. (61) Houston Astros, Chris Beck, RHP, Georgia Southern
Beck's stuff isn't overpowering—his fastball usually tops out at 91-92 miles per hour—but he has posted strong numbers throughout his college career and would fit in the back of the Astros' rotation. 
2. (62) Oakland Athletics, Tom Murphy, C, Buffalo
Murphy is clearly the second-best catcher available in this draft. He looks like a strong defender behind the plate, with a good arm and receiving skills. His bat profiles as one more for power than average. 
3. (63) Minnesota Twins, Alex Wood, LHP, Georgia
Wood's delivery likely limits him to a role in the bullpen in professional baseball, but he should move fairly quickly and can be a dominant lefty. He has already had one Tommy John surgery, so he could end up falling quite a bit. 
4. (64) Seattle Mariners, Edwin Diaz, RHP, Naguabo HS (Puerto Rico)
Diaz has a long, lanky body that allows him to generate good velocity with his fastball. His control is well below average right now, so a team is going to take him with the understanding that he is a project. 
5. (65) Baltimore Orioles, Hunter Virant, LHP, Camarillo HS (CA)
One of the big surprises of the first round was Virant, a highly projectable left-handed starter, not going in the first 60 picks. He is a project but one who could pay big dividends as his body starts to fill out. 
6. (66) Kansas City Royals, Ty Buttrey, RHP, Providence HS (NC)
A young workhorse who has improving stuff, Buttrey brings velocity and a lot of projection in him. He could turn into a top-of-the-rotation arm. 
7. (67) Chicago Cubs, Tanner Rahier, SS, Palm Desert HS (CA)
Rahier already has a strong approach at the plate, with a line-drive swing and the ability to generate a lot of contact. He may not be able to stay at shortstop because of his size, but he is athletic enough to handle the position. 
8. (68) San Diego Padres, Nolan Fontana, SS, Florida
A potential sandwich-round pick, Fontana does not have a lot of upside or a standout tool. What he does bring to the table is a great feel for the game and solid skills across the board. 
9. (69) Pittsburgh Pirates, Peter O'Brien, C, Miami
The Pirates could look to address the catcher position early in light of Tony Sanchez's struggles in the minors. O'Brien is not likely to be very good behind the plate due to below-average receiving skills and a big frame, but he has good power and a solid swing to be an offensive-minded catcher. 
10. (70) San Diego Padres, Anthony Alford, OF, Petal HS (MS)
Alford is the biggest risk in this draft, simply because he is not likely to sign with a team. Since he has the talent to be taken much higher, some team should pounce on him to see if he can be signed away from his college scholarship. 
11. (71) New York Mets, Branden Kline, RHP, Virginia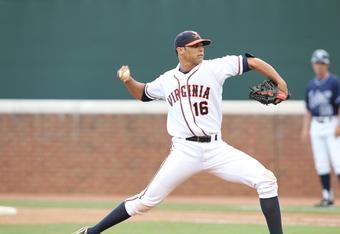 Kline has an unusual delivery that hinders his ability to keep his fastball down in the zone, so a professional pitching coach will have a lot to work with. Still, he has a strong slider already, and could end up as a No. 3 starter with some tweaks. 
12. (72) Minnesota Twins, Nolan Sanburn, RHP, Arkansas
If a team wants to try Sanburn in the rotation, they could be getting a steal. He has a strong arsenal of pitches in his pocket already. He needs to get better at commanding the ball, but the stuff is there. Plus, you could always shove him in the back of the bullpen if the starting thing doesn't work. 
13.  (73) Colorado Rockies, Mason Melotakis, LHP, Northwestern State
Melotakis would fit right into the Rockies bullpen, with a power fastball and snapping curveball that creates all sorts of problems for hitters. He doesn't finish his delivery well, limiting his ability to command the ball. 
14. (74) Oakland Athletics, Rio Ruiz, 3B, Bishop Amat HS
If not for a season-ending injury, Ruiz would have gone on Day 1. He has a good bat, with the swing to hit for average and some power. His range and arm strength will keep him at third base, though he will probably not be more than average with the glove. 
15. (75) New York Mets, Christian Walker, 1B, South Carolina
Walker is kind of a tweener, in that he has a strong enough swing to hit for average but not the power to profile at first base. He doesn't field the position well, so he is likely to end up as a DH-type player in the big leagues. 
16. (76) Chicago White Sox, Freddy Avis, RHP, Menlo HS (CA)
With projection and present stuff already in his back pocket, Avis has plenty of leverage to use against teams. His fastball and curveball are already above-average offerings, and will continue to get better as his body matures. 
17. (77) Philadelphia Phillies, Tyrone Taylor, OF, Torrance HS (CA)
A toolsy high schooler, Taylor is the kind of player the Phillies used to draft before they started trading their farm system away. 
18. (78) Cincinnati Reds, Tyler Pike, LHP, Winter Haven HS (FL)
Pike is more about deception than overpowering stuff, but his results have made him look like an intriguing arm in the second or third round. As a left-handed starter with some projection remaining, I think he should go early in the second round. 
19. (79) Cleveland Indians, Kiernan Lovegrove, RHP, Mission Viejo HS (CA)
The Indians could go back to the college well, but Lovegrove should be too tempting to pass up at this spot. He has a power arm and the projection to become a No. 2 starter if/when he develops consistency with his delivery and release point. 
20. (80) Washington Nationals, Nick Williams, OF, Ball HS (TX)
A down season has hurt his stock, but Williams still possesses all of the tools that had him in the first round of the draft coming into the year. He has bat speed, power and speed. He just has to start showing them off in games. 
21. (81) Toronto Blue Jays, Jameis Winston, OF, Hueytown HS (AL)
The Blue Jays love toolsy athletes with a lot of upside, so Winston certainly fits their mold. He could play center field in pro ball, with speed and a strong arm. He has good power and bat speed. His football commitment to Florida State will likely push his stock down. 
22. (82) Los Angeles Dodgers, Adam Brett Walker, 1B, Jacksonville
Walker is one of the few college power hitters in this draft. He did make some improvements with his approach this season to make more contact, though he still leaves a lot to be desired in that area. 
23. (83) Texas Rangers, Mitch Brown, RHP, Rochester County HS (MN)
If this draft has taught us anything, it's that the Rangers believe in upside and projection more than anything else. Brown actually doesn't offer much of either one, but is a young arm with an above-average fastball and plus curveball. 
24. (84) San Francisco Giants, Kenny Diekroger, 2B, Stanford
Diekroger's stock has been trending downward thanks to a mediocre season at Stanford. He still has some offensive upside left in his game, so someone should be willing to take a chance on him in the second round. 
25. (85) Atlanta Braves, Stephen Johnson, RHP, St. Edward's
As a reliever, Johnson could be one of the first players from this draft to play in the big leagues. He has a big fastball that touches triple-digits and a hard curveball. He needs to command his pitches better to pitch in the back of a bullpen. 
26. (86) St. Louis Cardinals, Kyle Twomey, LHP, El Dorado HS (CA)
A left-handed pitcher with projection and a low-90s fastball usually wouldn't be available at this spot. Twomey doesn't have a playable breaking ball right now, so he is going to be a project. Patience could pay off big for the team that does land him. 
27. (87) Boston Red Sox, James Marvel, RHP, Campolindo HS (CA)
The Red Sox have been all over the place so far. Marvel is a low-risk high-school arm who will be a tough sign, but has quality stuff already to merit a second-round pick. 
28. (88) Tampa Bay Rays, Max White, OF, Williston HS (FL)
More of an athlete than a baseball player at this stage of his development, White is a high-upside player who could turn into an above-average center fielder. He has speed, arm strength, power and bat speed. 
29. (89) New York Yankees, Alec Rash, RHP, Adel DeSoto Minburn HS (IA)
It would be a shock if Rash made it here, as his stuff is worthy of a sandwich round selection. He has terrific movement on a low-90s fastball and a slider to give him two potential plus pitches. He needs to add some muscle to his long frame, but he could be a stud. 
30. (90) Arizona Diamondbacks, Adrian Sampson, RHP, Bellevue JC
Sampson brings good command and a solid repertoire to the table, which should push him into the second round. He needs to work on finding consistency with his breaking pitches in order to determine his true ceiling. 
31. (91) Detroit Tigers, D'Vone McClure, OF, Jacksonville HS (AR)
A strong athlete with bat speed and power projection, McClure is a high-ceiling player who brings a fair amount of risk. The reward could be big, if everything works out. 
32. (92) Milwaukee Brewers, Martin Agosta, RHP, St. Mary's
Though he lacks the command or polish to be a starter right now, Agosta could be an intriguing arm for the Brewers to add to their system. He has good velocity with his fastball, with a solid cutter-slider combination to keep hitters off-balance. 
33. (93) Texas Rangers, Avery Romero, 3B, Menendez HS (FL)
The jury is out on how much power Romero is actually going to have, but his short, easy swing path should allow him to hit for average. He is pudgy, so there is a chance he has to move to first base or possibly DH. 
34. (94) New York Yankees, Duane Underwood, RHP, Pope HS (GA)
An inconsistent season pushed Underwood's stock down, so it could be difficult to sign him away from college. He has an interesting arsenal, with a low- to mid-90s fastball and a big, slow breaking ball. 
35. (95) Philadelphia Phillies, Steven Rodriguez, LHP, Florida
Strictly a reliever, Rodriguez is going to be able to contribute in the big leagues very soon. He has great deception and a good fastball-slider combination. 
ROUND 3
1. (96) Houston Astros, Josh Schubert, OF, Calhoun HS (GA)
As long as the Astros stick with their current draft philosophy, one of their first two picks will go to a high-upside player. Schubert is a project, with good power and hit tools. He has good speed and a strong throwing arm to project as an above-average right-fielder. 
2. (97) Minnesota Twins, Alex Yarbrough, 2B, Mississippi
A lack of range at second base hinders Yarbrough's stock, but his bat is solid. He has a good swing and makes a lot of solid contact. His power will play more for doubles than home runs, so hitting for average will be his calling card. 
3. (98) Seattle Mariners, Brett Mooneyham, RHP, Stanford
If Mooneyham can figure out how to control his pitches, he could be a quality No. 4 starter at the next level. 
4. (99) Baltimore Orioles, Andrew Toles, OF, Chipolia JC
Toles projects to be a quality leadoff hitter, with speed, a good approach at the plate, and the ability to make good contact. His speed also helps him cover ground in the outfield, so he should have no problem staying in center field.  
5. (100) Kansas City Royals, Brett Phillips, OF, Seminole HS (FL)
If Phillips had more power in his swing, he would likely be a first-round pick. He has bat speed and the approach to put the ball in play. His speed and arm strength will allow him to play in center field or right, depending on how a team wants to use him.
6. (101) Chicago Cubs, Timmy Robinson, OF, Ocean View HS (CA)
With the Cubs mixing in college and high-school players, it would not be difficult to imagine a player like Robinson, who has good power potential, falling into their lap in the third round. 
7. (102) San Diego Padres, Fernando Perez, 3B, Central Arizona JC
Since Perez does not have a position, his value is hurt. Too bad, because his bat is strong enough to go higher than the third round. He uses his big legs to drive the ball, though he doesn't have big power. Since he has bat speed, he should be able to at least hit for average with some home run pop. 
8. (103) Pittsburgh Pirates, Evan Hill, LHP, Mt. Pleasant HS (MI)
The Pirates could have a tough sign with Mark Appel, so their financial resources will likely be tied up in getting him under contract. If they find there is enough left over, Hill would be an intriguing prospect to go after. He is practically all projection at this stage, with a good frame and some command of his pitches. 
9. (104) Miami Marlins, Giovanni Brusa, OF, St. Mary's HS (CA)
An offensive-oriented tweener, Brusa has an advanced feel for hitting already. He controls the bat well, though he needs to cut down on strikeouts. He will probably end up at first base in pro ball. 
10. (105) Colorado Rockies, Brady Rogers, RHP, Arizona State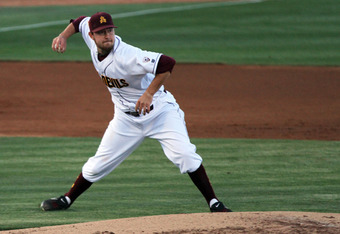 Though Rogers has a fringe-average fastball, his stuff plays up because he has good command of all his pitches. He has to keep the ball down to succeed in Colorado, but finding a quality No. 4 or 5 starter in the third round is nothing to sneeze at. 
11. (106) Oakland Athletics, Josh Elander, C, TCU
Elander has a terrific bat that would play extremely well behind the plate, with power and control of the strike zone. He is not smooth defensively, so he could end up moving off the position. He has more than enough power to profile in a power spot.
12. (107) New York Mets, Felipe Perez, RHP, Fairmont HS (CA)
The Mets are in the process of building their farm system, and Perez is the kind of projectable arm that can payoff big. He will add velocity as his body fills out and boasts good command of his fastball. 
13. (108) Chicago White Sox, Austin Maddox, RHP, Florida
With the White Sox usually going after easy-to-sign college arms early, Maddox would fit their profile to the letter. He is a power reliever who could slot in the back of their bullpen next season, thanks to a mid-90s fastball and a slider that needs some refinement. 
14. (109) Cincinnati Reds, Alex Bregman, 2B, Albuquerque Academy HS (NM)
Bregman brings a great feel for the game, bat speed and a solid approach at the plate to professional baseball already. He doesn't have much power, and is not a great defender, so his upside is limited. 
15. (110) Cleveland Indians, Brandon Thomas, OF, Georgia Tech
The Indians have a lot of high-upside athlete position players in the low-levels of the minors already, so Thomas would fit right in. He has the speed and range to play center field. Thomas does need to change his swing to focus on making contact instead of trying to destroy everything.
16. (111) Washington Nationals, Chase DeJong, RHP, Wilson HS (CA)
An improved delivery and advanced breaking ball are making DeJong look more like a second-round selection. Since his fastball is fringe-average right now, I think he will slide a bit, with a team hoping to see him increase his velocity. 
17. (112) Toronto Blue Jays, Kolby Copeland, OF, Parkway HS (LA)
Looking at Copeland's swing, I think he has more than enough power potential in his bat. He needs to work on his approach, though he has plenty of time to learn that before we declare him incapable of hitting consistently. 
18. (113) Los Angeles Dodgers, Tony Renda, 2B, California
A small player at just 5'8", Renda does enough with the bat and in the field to warrant an early-round selection. He keeps getting better with the bat, looking more and more like someone who will hit for average with doubles power thanks to his short, smooth swing. 
19. (114) Los Angeles Angels, Kyle Hansen, RHP, St. John's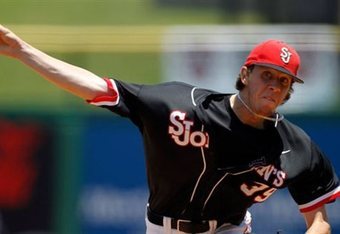 If Hansen can find a consistent breaking pitch, he should turn into a quality late-inning reliever. He has solid command and a big frame that allows him to stay on top of the ball. 
20. (115) San Francisco Giants, Buck Farmer, RHP, Georgia Tech
While Farmer does not make you notice him with big velocity, he has a good feel and command for his entire repertoire. As long as his arm holds up, he should turn into a good back-of-the-rotation starter. 
21. (116) Atlanta Braves, Damien Magnifico, RHP, Oklahoma
One of the hardest throwers in this draft, Magnifico profiles as a reliever thanks to lack of command, no deception or quality secondary pitch. Still, finding a player who throws 100 mph in the third round is nothing to sneeze at. 
22. (117) St. Louis Cardinals, Carson Fulmer, RHP, All Saints Academy (FL)
Fulmer is one of my personal favorites in this draft. He has a good fastball with movement and solid changeup, with a clean delivery and good frame. 
23. (118) Boston Red Sox, Timmy Lopes, 2B, Edison HS (CA)
Lopes has the skills to be an average big leaguer. His bat projects for average, with a short stroke, though he will not have a lot of power. Lopes' defense will be above-average, thanks to his instincts footwork. 
24. (119) Tampa Bay Rays, Alex Young, LHP, Carmel Catholic HS (IL)
No team develops projectable pitching like the Rays, which makes Young a perfect fit for them with this third-round selection. He has a solid repertoire right now, with a fastball and curveball, but things should get better as his body catches up to his stuff. 
25. (120) Arizona Diamondbacks, Rhett Wiseman, OF, Buckingham Browne & Nichols HS (MA)
Wiseman's combination of tools and projection will overshadow his lack of patience and contact at the plate. 
26. (121) Detroit Tigers, Teddy Stankiewicz, RHP, Fort Worth Christian HS (TX)
It would not be surprising to see Stankiewicz go much higher than this, because he is one of the more advanced high-school arms in this draft. He should get even better as his command improves and his velocity increases. 
27. (122) Milwaukee Brewers, Damion Carroll, RHP, King George HS (VA)
If Carroll had a playable secondary pitch, he would be a first-round pick, with a mid-90s fastball already in his pocket. He is going to be a project coming from a small school, but there is a lot to like right now. 
28. (123) Texas Rangers, Brandon Welch, RHP, Palm Beach State JC
A much better breaking ball makes Welch look a lot more appealing right now. He might end up as a reliever with a slight frame, but his fastball and slider could both be plus pitches. 
29. (124) New York Yankees, Justin Garza, RHP, Bonita HS (FL)
If Garza was 6'2", he would end up being a first-round selection. He has a plus fastball and slider, with a changeup that is getting better. He has a smooth delivery, and a good feel for his fastball. 
30. (125) Philadelphia Phillies, Austin Aune, OF, Argyle HS (TX)
A two-sport star who could play football in college, Aune should not last beyond the third round with a strong assortment of tools at his disposal. He will be a center fielder with plus defense and above-average power.