2012 MLB Draft Predictions: Teams Who Will Come Away with the Biggest Haul
June 4, 2012

Scott Cunningham/Getty Images
Major League Baseball's June draft is set to get underway this afternoon, sending promising young prospects to their new prospective teams. Three teams stand above the rest with the greatest chance of accumulating young talent.
There may not be a unanimous No. 1 overall selection, but there's still many capable players to be had.
"It's a below-average draft as far as drafts go, and it's certainly down from last year as far as depth and premium players in the first round," said Sean Johnson, a Minnesota Twins West Coast scouting supervisor. "It's lean in certain spots."
St. Louis Cardinals
Despite the lack of draft depth, the St. Louis Cardinals are one team that will stock up between June 4 and June 6. The Cards have five selections within the initial 59 picks, compensating for the losses of Albert Pujols, Edwin Jackson and Octavio Dotel this offseason.
Standing at picks Nos. 19, 23, 36, 52 and 59, St. Louis will have ample opportunity to rejuvenate their farm system.
Look for the Cards to nab a shortstop, starting pitching and an outfielder with these options.
Prediction for Cardinals' Pick 19: At pick 19, the Cardinals could draft shortstop Gavin Cecchini from Barbe High School. Cecchini was named Louisiana's Mr. Baseball after hitting .413 with seven home runs, 32 RBI and 31 stolen bases. If Cecchini slides down the first round, he makes perfect sense for the Cardinals, giving the organization a shortstop for the future.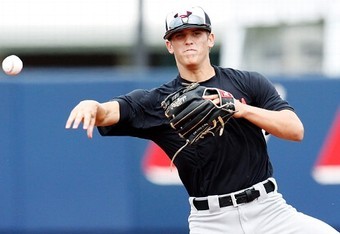 Milwaukee owns the rights to three first-round picks: Nos. 27, 28 and 38.
The Brew Crew received picks 27 and 38 when Prince Fielder left for the Detroit Tigers during the offseason. And the team also earned pick No. 28 for last season's ranking.
According to Adam McCalvy of MLB.com, the Brewers execute the draft in a different manner than most teams.
"For years the team has avoided drafting for need, but it would not be surprising to see the Brewers stock up on some shortstops, a relatively thin position throughout the system," said McCalvy.
Don't be surprised if Milwaukee turns around and drafts more pitching. Since 2009, the Brewers' top selections have been pitchers. The team could use some help in the infield, as well, particularly at third or first base.
Prediction for Brewers' Pick 27: With the 27th pick, the Brewers may opt for Stanford third baseman Stephen Piscotty. Aramis Ramirez is tailing towards the end of his career, and Piscotty would make for a logical replacement at the hot corner.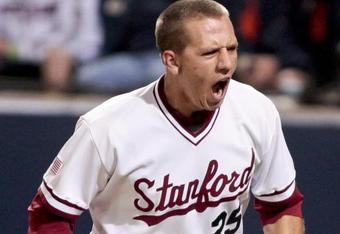 Through 57 games this season, the junior has hit .318, along with five home runs and 55 RBI. At 6'3", Piscotty has versatility: he can play third, first and even pitch. Piscotty is an ideal top pick for the Brewers in the 2012 draft.
The Boston Red Sox will set up shop at picks 24, 31 and 37. With three early selections, the Sox are building for top value.
Per GM Ben Cherington:
Well, we're not going to go after need, We're going to target the best player available at each pick, looking for the best total return on this Draft class. The key with any Draft is to again do more with your picks than the 29 other teams do.
Drafting based on availability makes it hard to estimate what Boston will do. With this being Cherington's first draft as GM, the unpredictability factor weighs heavily. The team could very well draft some pitching, a third baseman or maybe a catcher.
Prediction for Red Sox' Pick 24: With all the inconsistency in the Red Sox pitching staff, it would make sense for Cherington and Co. to go after another hurler with their top draft choice.
Right-hander Lance McCullers is one pitcher who would be an nice fit for the Sox. He's made a name for himself at Jesuit High School in Tampa, FL, where he showcased a high-90s fastball and a buckling breaking ball. Based on MaxPreps.com's data, the Gatorade Player of the Year struck out 140 batters in 77.1 innings pitched this season—good for an ERA of .18.
Overview
These three teams are at a tremendous advantage heading into the 2012 MLB draft. Baseball's draft is very deceptive. But if the Cardinals, Brewers and Red Sox play their cards right, they can tally up on potential studs.