Ranking the 5 Best Quarterbacks of All Time in Kansas City Chiefs History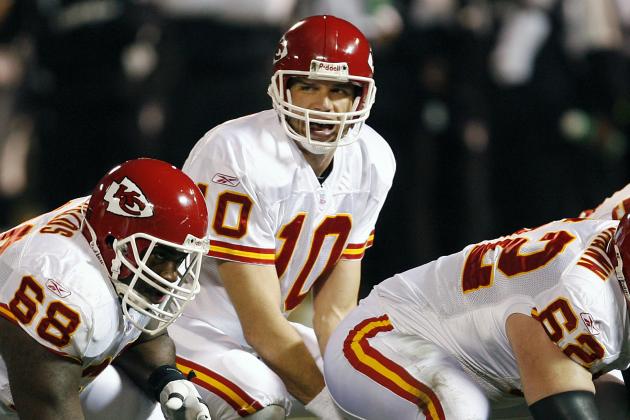 Robert B. Stanton/Getty Images

Ever since the Dallas Texans franchise unfolded in 1960 before moving to Kansas City, many quarterbacks have come and gone. Fans remember some more than others.

Lamar Hunt's franchise may have only one Super Bowl in their trophy case, but they have had many great quarterbacks who were part of their franchise and had a remarkable career while part of the team.
In this slideshow, we will go over the five best quarterbacks of all time in franchise history. You be the judge, and feel free to share your thoughts on this list.
Begin Slideshow

»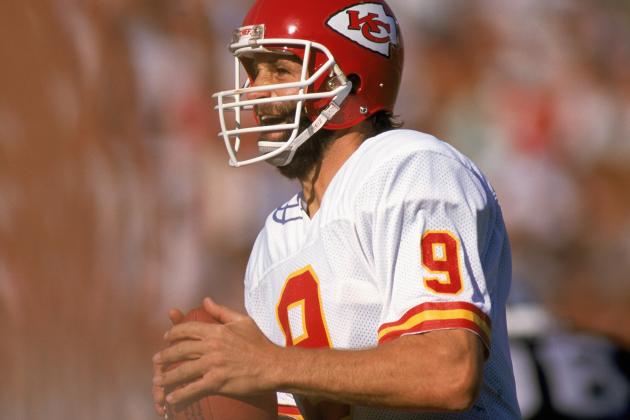 Mike Powell/Getty Images

Bill Kenney is one of the better quarterbacks to ever play for the Chiefs, and he did so under tough circumstances. During the 1980s, when the Chiefs struggled the most, they had only two seasons over .500 with Kenny under center.

However, even though he was part of the franchise during some of the most difficult times, he managed to deliver while on the gridiron.

Kenney played in the second most games among all quarterbacks in franchise history, finishing third all time in touchdown passes. He found a lot of success thanks to wide receivers Carlos Carson, Stephone Paige and Henry Marshall.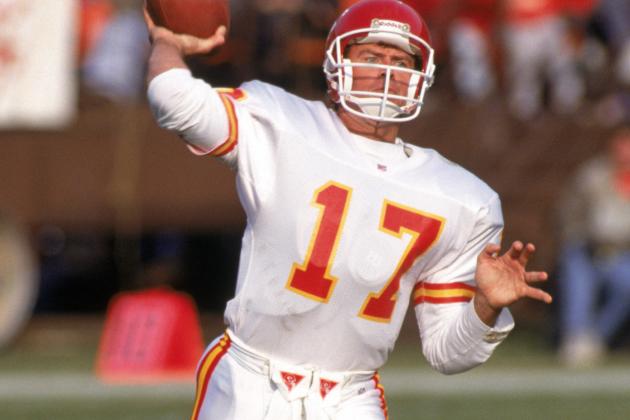 George Rose/Getty Images

With general manager Carl Peterson and head coach Marty Schottenheimer taking over, Steve DeBerg earned the honor of helping the Chiefs turn their franchise around during the start of a new era.

After winning only 10 games in his first two years combined with the Chiefs, DeBerg led the Chiefs to 11 victories in 1990. It was one of the best seasons for a quarterback in franchise history, as DeBerg threw 23 touchdowns and limited his turnovers to only four. At the age of 36, it was his first time leading a football team to double-digit wins.

He helped the Chiefs win 10 games the following season, making it the first time the Chiefs had double-digit wins in back-to-back seasons since the 1968 and 1969.
DeBerg's time eventually was up, as he retired after spending time with the Atlanta Falcons in 1998. But that opened the door of opportunity for the Chiefs, as it helped their franchise move in the right direction.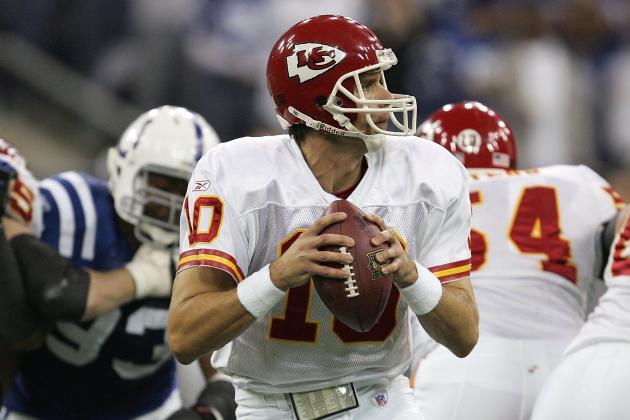 Jonathan Daniel/Getty Images

Trent Green had trouble maintaining a stable job while trying to move out of his backup role. He played for three teams in seven seasons from 1993 through 2000.

It was not until his former head coach in St. Louis, Dick Vermeil, who just joined the Chiefs as the new head coach in 2001, recruited Green to Kansas City. But Green's transaction was not thrilling news to football fans around the league.

Green struggled in his first season with the Chiefs, leading the team to six wins with a 17:24 touchdown-to-interception ratio in 2001. Green improved the following season with 26 touchdown passes and 13 interceptions. The Chiefs made a slight improvement with an 8-8 record.

From 2003 through 2005, Green made a name for himself and helped the Chiefs compete. Green had a combined record of 30-18 during that three-year stretch and placed exactly second each season in the league for most passing yards.

Green's remarkable run in Kansas City earned him two Pro Bowl invitations and a guaranteed spot for him in the Chiefs Hall of Fame.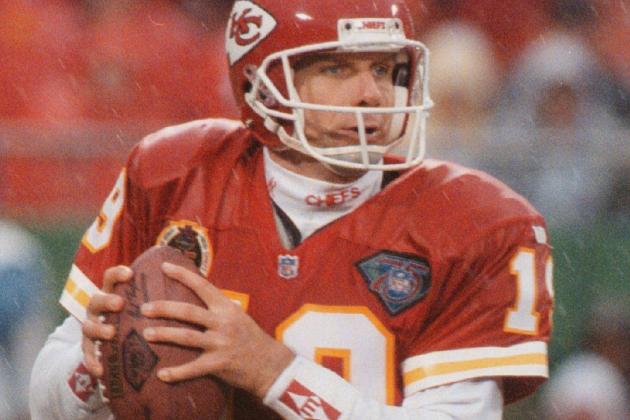 Todd Rosenberg/Getty Images

I know what you are thinking: Joe Montana is ahead of Green on this list? Yes.
Many Chiefs fans will make the case that Montana, while great, spent only two years with the team.
Montana not only proved a lot of people wrong by showing everyone he still has a couple of years left in him, but he helped the Chiefs tremendously in two years.

He has the 10th-most touchdown passes thrown in Chiefs history, which is very impressive for only two seasons as an aging athlete. But better yet, Montana had the drive to earn himself a Super Bowl ring and help the Chiefs get their first Super Bowl since the NFL-AFL merger.

The Chiefs fell just short of that goal in 1994. Kansas City lost to the Buffalo Bills in the AFC Championship match after winning two playoff contests prior to the loss.

Montana decided that it was time for him to end his playing career. To this day, Montana is the last quarterback to help the Chiefs win a playoff game at home and on the road.
David Maxwell/Getty Images
Len Dawson, pictured right, in Canton, Ohio with his former head coach, Hank Stram.
The first notable quarterback in franchise history came after the departure of Cotton Davidson. The Texans picked up former Pittsburgh Steelers and Cleveland Browns quarterback Len Dawson. Prior to joining the Texans, Dawson spent five years playing professional football and had completed 21 passes on 27 tries.

In his first and only year with the Texans at the age of 27, Dawson surprised a lot of people, putting up big numbers and setting the bar high for future franchise quarterbacks. He finished the 1962 season with a quarterback rating of 98.3, the third-highest quarterback rating as a quarterback for the Texans/Chiefs.

After the franchise relocated to Kansas City, Dawson had his best season, individually, in 1964. He had a career high in passing yards with 2,879 and touchdown passes with 30. To this day, no quarterback in Chiefs history has surpassed his touchdown total.

With the Chiefs, Dawson led the team to the first ever Super Bowl, where the team would finish as runner-ups to the Green Bay Packers. But eventually, the Chiefs captured Super Bowl IV in an upset over the Minnesota Vikings.

Dawson is recognized for his efforts in the Pro Football Hall of Fame.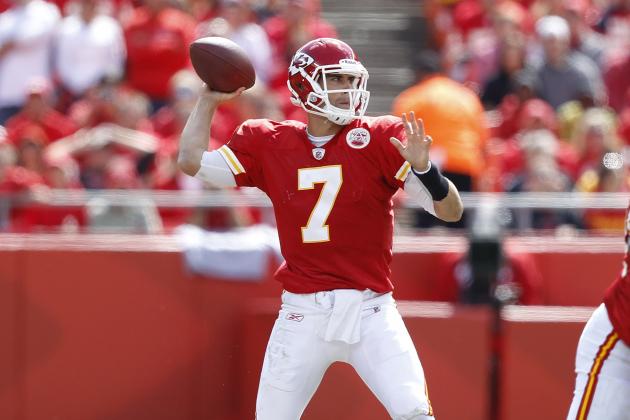 Joe Robbins/Getty Images

Filling in for Tom Brady in 2008 after suffering a torn ACL, Matt Cassel had the luxury of taking over an offense that shattered many league records and won 18 consecutive games before losing in the Super Bowl.

As a first-time starter since high school, Cassel led the New England Patriots to 11 wins. After Scott Pioli left the Patriots for a bigger job in Kansas City, he was able to bring Cassel with him.

Since playing for the Chiefs in 2009, Cassel's tenure has not gone as planned. It has been an uphill battle for the most part.

Cassel is going into his fourth season under his six-year contract. This offseason has been a success for the Chiefs, giving Cassel what he needs to win in 2012 while returning from a season-ending hand injury.

What does Cassel need to do to earn himself a spot in the top five?

One task that would help him get closer would certainly be a playoff victory. An additional one in the same postseason would make him a lock for the top five. He would be the first quarterback since Montana to take the Chiefs to an AFC Championship game—as the Chiefs have only been to two since the merger—provided that he wins two playoff games without a bye week in the postseason.

Cassel must begin to have positive consistency from here on out to help him get a spot in the top five as well.

With Pioli replacing Peterson as the general manager, fans should be hopeful that the Chiefs have brighter days ahead. Maybe those days include Cassel under center. Cassel has that golden opportunity before him in 2012 with all of the talent collected in the offseason.