New York Giants: 8 Greatest Moments in Team History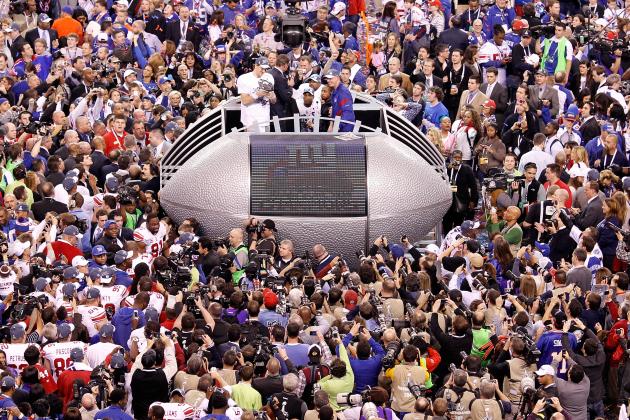 Joe Robbins/Getty Images

I've been a New York Giants fan my entire life, and these eight moments in New York Giants history are some of the greatest to me.
Obviously, it's hard to make everyone happy when it comes to a list like this. So instead of making a 15-20 article slideshow, I kept it at eight.
These eight are my personal choices, and some people may feel like that's not enough; I understand that side completely.
I want this to be an article where Giants fans can click through and enjoy themselves. I don't want it to turn into a huge argument over what should and shouldn't be defined as a greatest moment. If it turns into that, so be it.
However, I hope that everyone who reads this article genuinely enjoys it.
Begin Slideshow

»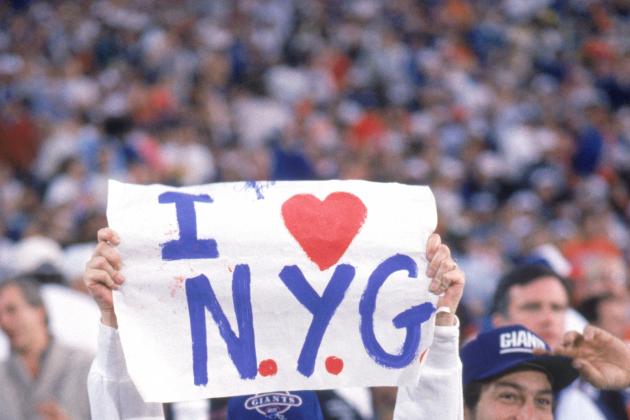 George Rose/Getty Images

The Super Bowl XXI vs. Denver Broncos was the first Super Bowl win for the New York Giants, and their first NFL title since 1956.
The Giants won 39-20, even though the Broncos were actually beating them 10-9 at halftime.
Phil Simms went 22-of-25, completing a very impressive 88 percent of his passes.
One of the first Gatorade baths took place after the game on Bill Parcells, Simms even got a little ice water love as well.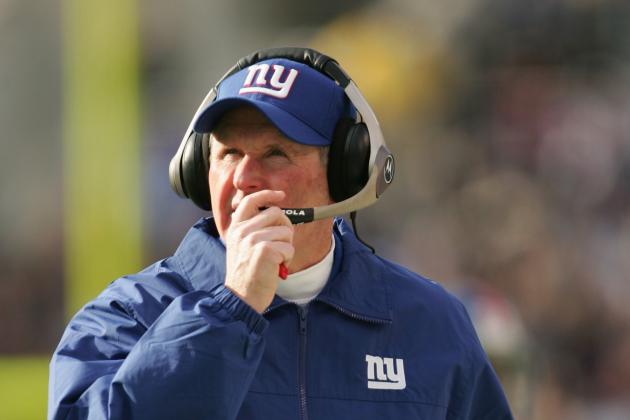 Doug Pensinger/Getty Images

Hiring Tom Coughlin is one of the best moves the New York Giants has ever made.
Bill Parcells was obviously an amazing coach, but Coughlin helped turn the franchise around.
Before he was hired, the Giants last Super Bowl win was in 1990. As of right now, they've won two Super Bowls in his tenure.
Eli Manning and Tom Coughlin just go well together. They're a great combo, and hopefully, they can finish off their NFL careers together.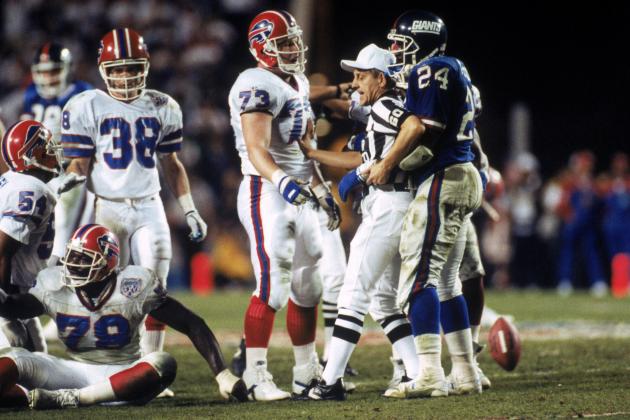 George Rose/Getty Images

Super Bowl XXV vs. Buffalo Bills was a tough one to say the least.
The New York Giants entered as a defensive team, allowing only 211 points the entire season, while the Bills were the offensive team, scoring 428 points.
This was the only Super Bowl decided by one point, in which the New York Giants beat the Bills 20-19.
Another fun fact is how the Bills lost on a missed kick by Scott Norwood. This miss prompted another three straight Super Bowl losses for the Bills.
It was a tough break for the Bills to lose on a field goal miss, but it was a great win for the Giants.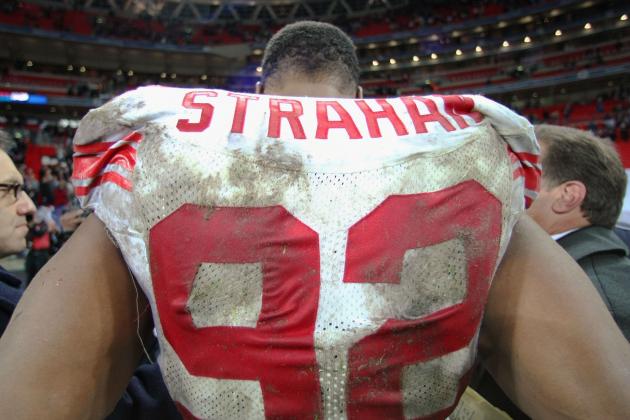 Al Bello/Getty Images

Drafting Michael Strahan was huge—just absolutely huge.
It's unreal that the New York Giants drafted him with the 40th pick in the second round. I'm not going to get too in-depth with his stats, but 141.5 sacks and holding the single-season record for sacks speaks for themselves.
Strahan was the first wave in the batch of amazing defensive ends the G-Men have drafted over the years—Justin Tuck, Osi Umenyiora and Jason Pierre-Paul—they all looked up to Strahan at one point.
It's almost impossible for any Giants fan to not love and appreciate what Strahan has done for this franchise.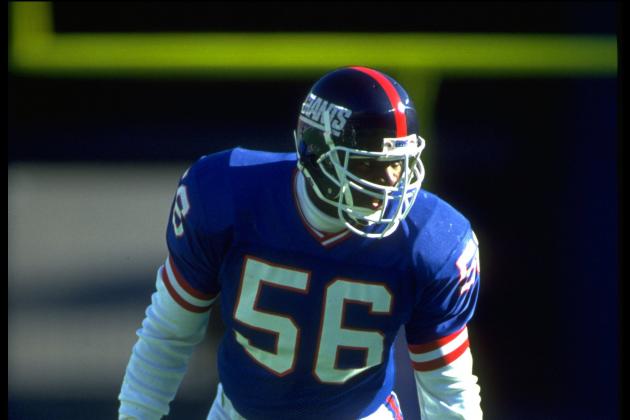 Rick Stewart/Getty Images

One of the greatest draft selections of all time, the New York Giants drafted Lawrence Taylor in the 1981 draft with the second pick in the first round.
With the New York Giants, LT won two Super Bowls, 10 Pro Bowls, All-Pro 10 times, Defensive Rookie of the Year and won Defensive Player of the Year three times as well.
As a linebacker, get ready, a linebacker—LT had 142 sacks.
That's just insane. When you're talking about a player on defense teams had to account for, you're talking about LT.
Oh, he also recorded over 1,000 tackles and nine interceptions before it was all said and done.
There well never be another LT.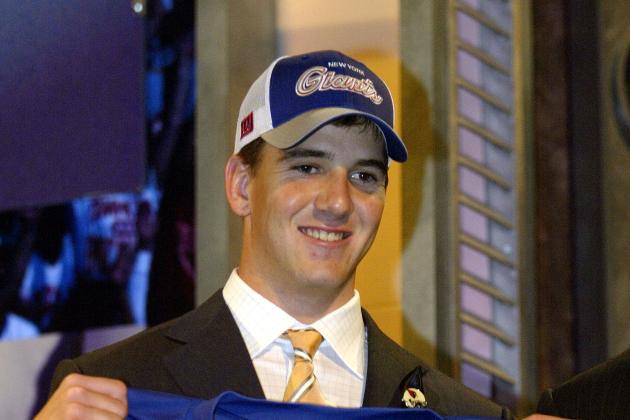 Chris Trotman/Getty Images

It'd be almost impossible to not talking about trading for Eli Manning, who was the first pick in the 2004 draft.
The New York Giants gave up Philip Rivers and other draft picks to get him, but it was all worth it.
They got a two-time Super Bowl MVP, who has emerged as an elite quarterback in the game today.
He not only said he was elite, he went out there and proved it. I honestly don't know where the Giants would be today if they didn't get this guy in 2004, but I'm glad they did.
The best part is that this guy is only 31 years old; he still has plenty of good football left in him.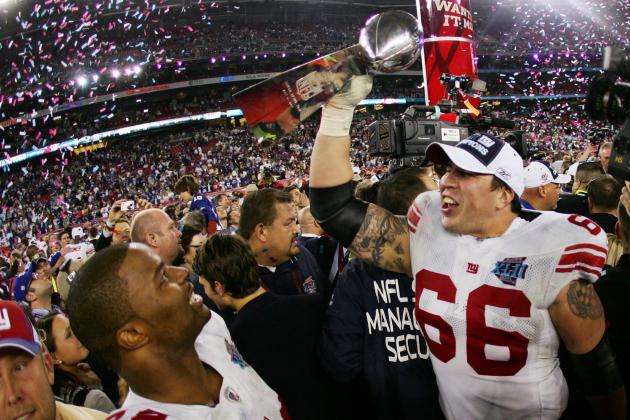 Harry How/Getty Images

Super Bowl XLII vs. New England Patriots. Wow. This brings back some memories.
I remember a certain perfect 16-0 team, up against another team that made its way into the playoffs.
Not a lot of people had faith in the New York Giants to pull off the upset, but they did it.
They did it in the way they know how, grind it out, make a ridiculous play, then hold on for the win.
The first Super Bowl against the Patriots was amazing, but this one wasn't too shabby either...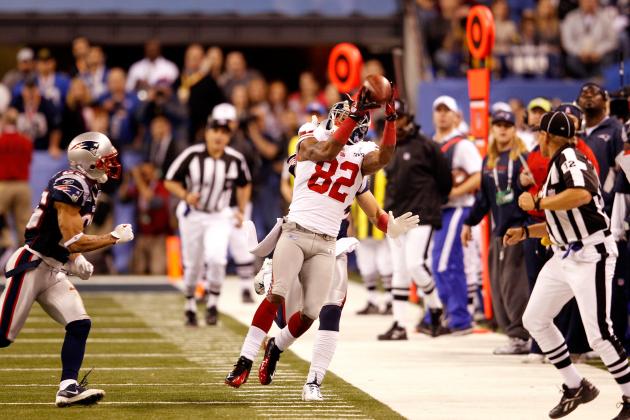 Rob Carr/Getty Images

Super Bowl XLVI vs. New England Patriots was the perfect Super Bowl rematch.
On one hand, you have Tom Brady, arguably one of the five best quarterbacks of all time.
On the other hand, you have Eli Manning—the little brother. The guy who called himself an elite quarterback before the season started and didn't throw a single touchdown in the preseason.
What a joke right? Right? Wrong.
Eli Manning helped carry the New York Giants to the Super Bowl, and then, he put the Giants in position to win it all, which they did.
They grinded it out. They made a ridiculous play, and they held on for a win.
Doesn't get much better than that—especially when it's your second Super Bowl win against the Patriots in five years.