Celtics vs. Heat: Game 5 TV Schedule, Live Stream, Spread Info and More
March 30, 2017
Jared Wickerham/Getty Images
The Boston Celtics did exactly what they were supposed to do in order to even their Eastern Conference finals series with the Miami Heat—take care of their home court.
But in order to win the series and advance to the NBA Finals, the Celtics will need to steal a game in Miami, where the Heat are a combined 35-6 (including the playoffs). Boston let that chance slip away in Game 2, but Game 5 gives the C's another opportunity.
Game 5 becomes the biggest game of the year for both teams.
Miami doesn't want to head to Beantown with the Celtics having a closeout opportunity in Game 6, and Boston doesn't want its chances to advance to come down to a potential Game 7 on the road.
How will this vital Game 5 play out?
Here's a look at everything you need to know about this pivotal Eastern Conference finals battle.
When: Tuesday, June 5 at 8:30 p.m. ET
Where: AmericanAirlines Arena in Miami, Fla.
Watch: ESPN
Live Stream: ESPN3
Betting Line: Miami -7.5 (via 5Dimes)
Celtics Key Injuries (via CBS Sports)
Out: Avery Bradley (shoulder)
Heat Key Injuries (via CBS Sports)
Probable: Chris Bosh (abdomen)
What They're Saying
The officiating in this series has been talked about more than some of the fantastic efforts we've seen from the likes of Rajon Rondo and LeBron James.
Speaking of Rondo, he took a shot at the Heat during halftime of Game 4, when he was asked by ESPN's Doris Burke what holes he was exploiting in the Heat defense. Rondo answered, "Them complaining and crying to the referees in transition."
But while Rondo's words have a good bit of truth to them, the Heat now have the pressure on them, facing a must-win game at home.
They've been outplayed for three straight games and not only have had problems closing, but problems meshing as well. In the absence of forward Chris Bosh (missed last nine games), it often seems as if head coach Erik Spoelstra is picking his lineups and rotations out of a hat.
ESPN's Israel Gutierrez took a look at a Heat team that is still searching for answers:
That pained look on Dwyane Wade's face as he watched his potential game-winning 3-pointer bounce off the rim? We've seen that before, as recently as the first round of the playoffs.

Those raised arms and confused looks during possessions when the Boston Celtics were pulling away early? We've seen plenty of those over the past two seasons.

The questionable late-game execution, the constantly changing starting lineup from game to game or even half to half? That's been a constant with the Miami Heat as well.

It doesn't matter that this was Game 4 of the Eastern Conference finals in the second year of the Heats' big three era. This team, apparently, is destined to be ever-changing, rarely settled and always making things much more difficult as it searches for that coveted championship.

 
Most Important Player to Watch: Chris Bosh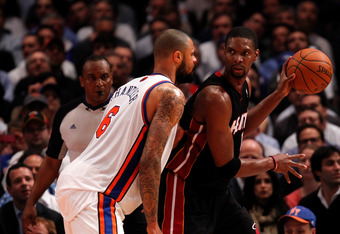 Jeff Zelevansky/Getty Images
I would have used this section to look at Dwyane Wade, who hasn't been very good, but sources told ESPN's Brian Windhorst that Bosh would be in the lineup for Game 5, barring any setbacks.
Bosh adds another dimension to a Heat offense that needs another scoring option, especially given the fact that Wade is struggling, making only 16-of-42 shots the past two games.
The Celtics have made a point of trying to take Wade out of the game, and it has worked. But having Bosh back might free up some more space for both LeBron and Wade, as the Celtics will have to pay a good deal of attention to him.
In addition, Kevin Garnett has killed the Heat so far, averaging 20.5 points and 10.8 rebounds. Bosh may have to come up bigger on the defensive end than he will with the ball in his hands.
But will Bosh potentially being back disrupt the chemistry that's evolved this postseason between LBJ and Wade?
It's going to be something worth watching.
Key Matchup: Mario Chalmers vs. Rajon Rondo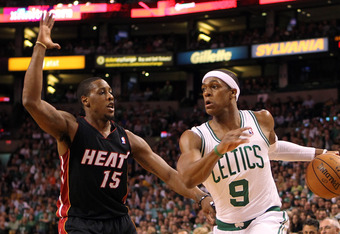 Jim Rogash/Getty Images
The only word to describe Rondo's play the past three games is outstanding.
In the past three games, the All-Star point guard has averaged 26.7 points, 11.7 assists and 6.3 rebounds while shooting 59 percent from the floor.
Rondo turned the ball over four times in the first quarter of Game 1, but in the following 17 quarters of play, he's only turned it over a total of eight more times.
While he likely won't be matched up with Rondo exclusively, Chalmers and Company will have to find a way to slow Rondo down.
He was big in Miami's Game 2 win when he scored 22 points and dished out six assists, but in the following two games, Chalmers has combined to score only 26 points and dish out 10 assists.
It's going to be tough to do, but I like Boston's momentum and ability to execute late.
Prediction
Celtics 94, Heat 91