3 Ways to Make the MLB Draft More Exciting (with 3 Other Suggestions Thrown In)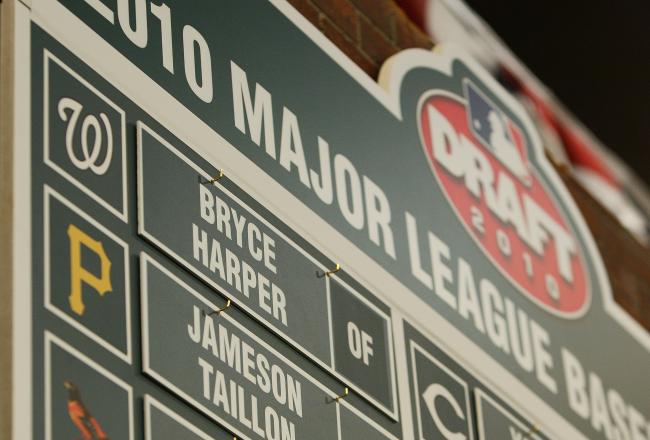 Mike Stobe/Getty Images
The MLB draft begins Monday evening, and though there's some excitement about the proceedings, the amateur selection process for baseball simply isn't as popular or compelling as it is with the NFL and NBA drafts.
Ultimately, there's probably nothing that can really be done about that, as amateur baseball doesn't get nearly the same viewership that college football and basketball receive each year.
Additionally, baseball doesn't allow for the immediate gratification that other sports enjoy. Top draft picks aren't likely to see the majors for several years, unlike the football and basketball players, who will see action right away and likely become his team's best player immediately.
But that doesn't mean MLB can't try to boost interest in its draft. Though it may never draw the same curiosity as its NFL and NBA counterparts do, a few steps can be taken to increase awareness and interest in baseball's amateur selection process.
Here are three ways MLB can make the draft more exciting, along with three other suggestions that should be considered.
Allow Teams to Trade Draft Picks
This isn't an original idea. Analysts and fans have suggested allowing teams to trade draft picks for years. But it's brought up frequently because it would add some sizzle to the draft process.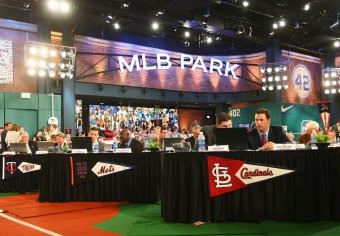 Mike Stobe/Getty Images
Among the many reasons the NFL and NBA drafts are more popular is that trading draft picks adds to the strategy utilized in building a roster. With more strategy, fans would have more of a process to dissect and have more to discuss as a result.
Granted, some of it would make for bad sports-talk radio and blogging fodder ("Why don't the Twins trade Morneau and Pavano to move up in the draft?")—but if you're giving fans something else to talk about when it comes to improving their favorite team, that's not a bad thing.
From a pure baseball standpoint, allowing teams to trade their top draft picks would provide another way to acquire prospects and stockpile talent that might be a bit more proven than players from the amateur ranks. Dealing established players for picks could also allow aging teams to get younger more quickly.
Is a team at the bottom of the draft willing to sell out to get a top pitcher or position player? Well, let's see what they offer to whoever holds the No. 1 overall pick.
Or if a team near the top of the board isn't as interested in paying big bonuses to unproven talent (though the new collective bargaining agreement limits that now), it could trade down to lower, less expensive slots or acquire players whose salaries are already established.
Commit to Showing Prospects on TV
A huge factor in the popularity of the NFL and NBA drafts is the familiarity that fans have with players they've watched compete at the college level. (Yes, even if the best college basketball talent stays in school for only one year these days.)
Obviously, the same won't hold true for baseball. College baseball simply isn't as popular throughout the country, though it has a following in areas such as the South and West, where the programs get the best talent and are frequently competitive. And the sport is making headway on networks like ESPN and FOX Sports.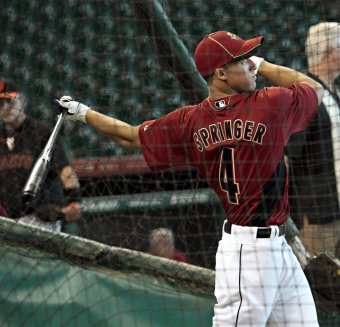 What if Astros fans could watch George Springer play before he was drafted by the team?
Bob Levey/Getty Images
But MLB has its own network, too, and could devote some of its programming schedule to highlighting the top draft prospects. Leading up to the draft, most analysts have an idea of who the top amateur players are. So make a point of showing them perform on TV.
If a high school player is among the best players, broadcast a couple of his games. It might be more problematic for college players, since conferences have affiliations with ESPN, FOX Sports and Comcast. Perhaps that can be changed in upcoming negotiations, with MLB acquiring games involving certain schools.
Or maybe, rather than show the entire game, a highlight package can be put together with the players' plate appearances and defensive opportunities in the field. Have a current or former talent evaluator provide commentary, noting what he likes about about the player and what needs work.
MLB Network might not be crazy about turning over prime-time hours or even afternoon programming to content that will likely only appeal to a limited group of fans, but MLB Network also has 24 hours to fill and could put high school or college games involving top draft prospects on late at night or early in the morning.
OK, people have to sleep or work during those times of day, but in our DVR culture, fans who want to watch those players can watch them when their schedules allow. And if those players can be seen, fans will make more of an investment in which teams they go to in the draft.
Invite More Draft Experts to Debate
TV time is limited during the MLB Network broadcast, as the next selection is always coming up. So maybe there's not much space for debate and discussion, especially when those already on hand are trying to introduce these players, that so few have seen, to the audience tuning in.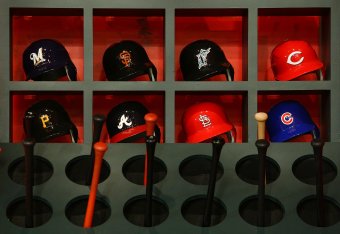 Shouldn't TV viewers hear more about what major league teams are thinking during the draft process?
Mike Stobe/Getty Images
MLB Network typically has its in-house prospect guru, Jonathan Mayo, provide scouting reports on drafted players. That's supplemented by analysis from Baseball America's Jim Callis, whose publication follows amateur players more closely. Between those two and other commentators MLB Network has on-hand, perhaps that's just enough commentary.
But with an increasing number of analysts devoted to minor-league prospects and draft hopefuls, why not invite more voices into the discussion?
Let's hear what Baseball Prospectus' Kevin Goldstein, FOX Sports' Frankie Piliere and SB Nation's John Sickels have to say as well. Have some quick roundtable discussions after a certain number of picks or the completion of a round.
Yes, those analysts work for other networks and will be working on coverage for their regular employers, but this would essentially be a one-off for the year. Ken Rosenthal works for FOX and MLB Network. It can be done.
If anything, it's a promotional opportunity for those other outlets. Heck, while we're at it, why not see if ESPN would offer up Keith Law, too? He's certainly opinionated.
Reduce the Number of Rounds
Major-league teams need the later rounds of the draft to fill out their minor-league organizations and, of course, the occasional gem can be found deeper in the pool of available talent.
But for the most part, the very last of the MLB draft's 40 rounds are an exercise in frivolity and nepotism. Does a major-league player or employee have a brother, son or grandson who's eligible for the draft, even if he's not a legitimate big-league prospect?
Chances are that kid is going to get selected toward the end of the draft, and it makes for a nice story when a current player or executive or a former player or team legend has a progeny selected.
But do those players have a chance of being future major leaguers? Sure, sometimes that happens, but the majority of the time, this is a courtesy to someone with ties to the team.
So how about ending the charade and whittling down the draft to players who are being selected based on merit? Teams can still make cute gestures and sign anyone with some connection to the franchise after the draft.
Fewer rounds would allow more to be shown on television, as well.
Allow International Players to Be Selected
Many think that the changes in baseball's collective bargaining agreement were geared toward the eventual development of a worldwide draft that would allow teams to select international players rather than chase after them as free agents.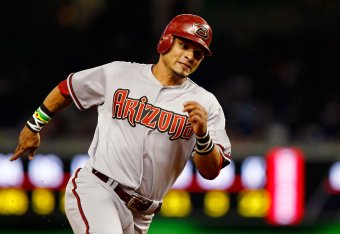 Latin American players such as the Diamondbacks' Gerardo Parra are opposed to an international draft.
Sarah Glenn/Getty Images
However, as ESPN.com's T.J. Quinn writes, many are opposed to this change, most notably the trainers and players from the Latin American countries who would be most affected by an international draft.
Trainers who run baseball academies worry that a draft would keep contract offers and bonuses down. Limiting how much major-league teams could spend on international players would also leave less money available to sign players. To find better money elsewhere, players could be encouraged to sign with Japanese teams instead.
But if the draft was reduced to fewer rounds, that would leave plenty of undrafted players with the opportunity to sign with any team, which could potentially reduce one of those concerns.
This still wouldn't prevent international talent from getting big money. New draft rules wouldn't apply to players such as Yu Darvish, Yoenis Cespedes and Aroldis Chapman, since they played in professional leagues in other countries.
Move the Draft to November
OK, this is an idea that wouldn't really work in practicality—but it could be argued that one of the reasons the MLB draft doesn't get as much attention as those in other sports is because it takes place during the season, when most fans are paying attention to the regular season and their favorite teams.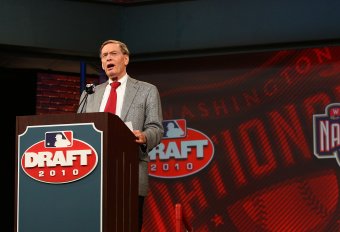 Should Bud Selig be announcing draft picks in June or some time after the season?
Mike Stobe/Getty Images
If the draft took place after the season, as it does with other pro sports leagues, it would arguably get more attention with no other action taking place. The MLB draft would have the spotlight to itself.
But if the draft was held in November, for example, it would take place at least six months after college and prep seasons have ended. What are those players supposed to do in the meantime?
Draft prospects surely would balk at losing the leverage of possibly going (or returning) to college if they didn't like what the big-league club that selected them was offering. Scott Boras wouldn't know what to do with himself.
Teams would also lose out on the opportunity to get those players in their minor-league systems right away and begin their development. And what if some of those college prospects were ready to contribute almost immediately, as Ryan Zimmerman did for the Washington Nationals? That option wouldn't be available with the draft being held after the season.
What the draft might gain in exposure, major-league teams would lose in player development.
Follow @iancass on Twitter
This article is
What is the duplicate article?
Why is this article offensive?
Where is this article plagiarized from?
Why is this article poorly edited?