Manchester United: Why Clint Dempsey Would Be a Cult Hero at Old Trafford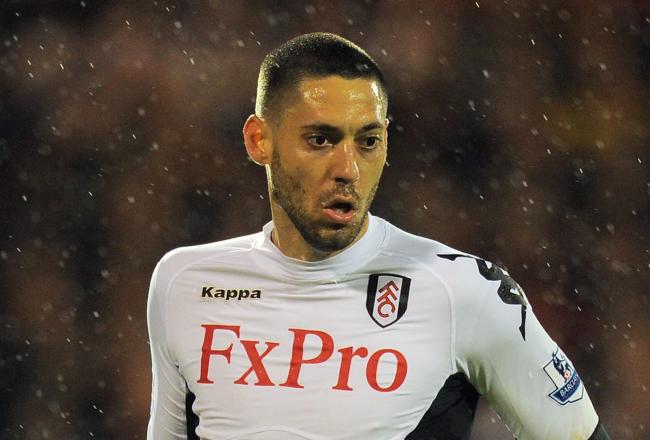 Mike Hewitt/Getty Images
In the summer months after the normal playing season is complete, transfer speculation tends to engulf our headlines. One such story to be making the rounds in recent months is Clint Dempsey's supposed departure from Fulham.
It's at this time that clubs consider their immediate futures as they look to improve upon their previous campaign by strengthening their squad for the season to come.
Arsenal, Liverpool and Tottenham have all been linked with a move for Dempsey after what was, in short, a spectacular season for the attacker (according to the Daily Mail and Goal.com).
However, there's one side that could have more to gain from Dempsey's services than the rest.
With a history stretching back more than a century, the football dynasty of Manchester United has their fair share of icons that will be forever remembered as "cult heroes."
The last 20 years have been incredibly good to the Red Devils, but that isn't any more reason for the side to have more heroes than other clubs.
One of the prettiest aspects of "The Beautiful Game" is its global involvement that adds a marvellous sense of significance to the word "perspective" and what success means to the mind of every team, coach and player.
So, if we were to gaze into our crystal balls, what would the future hold for Clint Dempsey as a cult hero plying his trade in the red of Manchester United?
Well, first of all, what does one have to do or achieve to become a "cult hero"?
Dempsey's 2011-12 Season Highlights
Some would associate the word "hero" with the fastest, strongest or perhaps even the smartest or most tactical of performers.
The truth is, to become a cult hero, you don't necessarily have to possess any of the aforementioned factors, but that's not to say that they don't help.
Personality, loyalty, commitment and other more abstract features can often prove just as, if not more valuable to the supporters of a club who ultimately play the role of decider in whether or not someone is truly a cult hero.
After all, they make up a considerable part of the concerned "cult."
Clint Dempsey scored 23 goals in all competitions for Fulham this season, a tally that played a direct hand in allowing him to become the Cottagers' all-time leading goal scorer in the Premier League.
To add to that, the Texan also recorded eight assists, showing him to be an unselfish and apparently much sought-after asset in England's top flight.
The numbers mentioned above certainly point to a very high quality of player in the Premier League especially considering that the star plays for a team that has hovered around the Europa League places in recent seasons.
Although one could argue that Dempsey has certainly blossomed late in his career, not unlike a finely matured cheese, the 29-year-old has only improved with age. With his sights set on Champions League football, may well find himself playing in new surroundings next season.
It's a secret to nobody that United already hold firm ties to the USA.
The club is owned by the Glazer family, already a known group in their native North America due to father Malcolm's ownership of the NFL's Tampa Bay Buccaneers.
Although based in Florida and New York, the Glazers have significant ties all over the USA. In addition to the talent that Dempsey would bring to the table, the financial perks that would inevitably come from the playmaker's involvement with the club would be nearly as valuable.
Fulham already have a strong contingent of American followers and although former alumni Brian McBride and Carlos Bocanegra helped establish that link, Dempsey is one of the bigger reasons that it remains so firmly intact today.
With Dempsey on board, the Glazer family would receive a substantial boost in shirt sales from across the pond and the Old Trafford shop would certainly need to stock up on the letters D,E,M,P,S and Y.
As touched upon earlier though, the Fulham talisman's ability is of course the most important reason why Manchester United would even consider bringing him in.
After all, one doesn't get linked with the likes of Arsenal, Spurs and Liverpool unless you have at least a smudge of skill.
Fans often start chants off in the line of: "He scores with his left, he scores with his right, that boy (Insert Name), makes (Insert Opponent Name) look..."—ahem. You get the drift.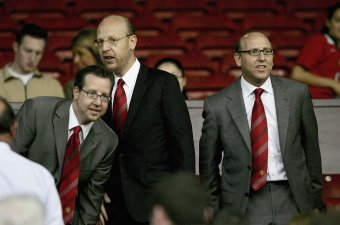 Glazer Family: United's US Owners
Clive Brunskill/Getty Images
Supporters are often excessively jubilant when winning and nearly always biased to their own players. When singing of Dempsey, these particular lyrics aren't exactly fallacy.
The 2004 MLS Superdraft pick can play just about anywhere in midfield as well as up front should the need arise.
This season alone, Dempsey has featured on both wings, at central midfield, as a striker and also played in that proverbial space behind the forward known simply as "the hole."
To summarise, Dempsey is a tried and tested Premier League talent capable of functioning in a variety of attacking positions.
Now, doesn't that strike you as the kind of player that Sir Alex Ferguson might try to recruit?
Wayne Rooney, Ryan Giggs, Cristiano Ronaldo and George Best are all examples of players to play the similar utility role that Dempsey has played at Fulham but have gone on to earn "cult hero" status at Old Trafford due to their playing exploits.
Since arriving at Craven Cottage in 2007, the former New England Revolution star has stuck out as a top talent and is always at least in the mix for the end-of-season awards.
It's this kind of workhorse ethic that can often be appreciated by those paying for the seats in the stands. If, by some chance, Dempsey were to move to Manchester United and not replicate the same success he has seen at Fulham, an A for effort can still earn plaudits.
Manchester United Legends: Big boots to fill
This leads us to another aspect of the American's game that may put him in the right light amongst his potentially fellow Red Devils: aggression.
For all the twinkling talent his playing style brings, don't mistake Dempsey's fancy footwork for a lack of brawn; the Furman University graduate was once suspended by former side New England Revolution for clashing a bit too harshly with teammate Joe Franchino in a training session.
This fierce streak transcended into league matters and the 2005-06 season saw Dempsey suspended by the MLS on two occasions, one of which was due to an elbow which ended up breaking the jaw of US teammate Jimmy Conrad.
Playing amongst the characteristically hard-tackling bunch of England's elite, Dempsey's combative side has only grown. Although his maestro-esque play hasn't suffered, the Fulham forward still has a great sense of bite around him, a trait that hasn't gone unappreciated in past Manchester United greats.
Although 29 years old may have been considered as "getting on a bit" in the beer-swilling, cigarette-smoking, takeaway-munching footballers of yesteryear, a particularly nice benefit of the modern player is their extended longevity.
New diet regimes, training methods and scientific revelations mean that footballers are now able to play at a top level much longer than was possible 10 years ago provided they take care of themselves in the right manner.
Ryan Giggs does yoga and whatever the Italian likes of Javier Zanetti and Paolo Maldini have done over the last 20 years, a diet of wine and pasta doesn't appear to be poison to the career of a professional athlete.
Would Clint Dempsey be a success story at Manchester United?
That being said, the 29-year-old can still be considered a "prime" age in some aspects and the rumoured £7 million price tag Roma have placed on Dempsey (according to The Sun) is certainly an affordable one.
The exemplar samples of Edwin van der Sar, Paul Scholes and the aforementioned Giggs seem to point to the fact that either Ferguson or someone else at Old Trafford has some sort of fountain of youth locked away. Provided they're willing to lend Dempsey a sip, the attacker's price tag could prove to be a very modest one.
With all this in mind, Clint Dempsey could well be a valuable and affordable purchase for Ferguson this summer. If we were to look back in 10 years time, we might see that the Glazers weren't the only link that United hold to the US (Tim Howard and Jonathan Spector excluded).
As of yet, no US player can really boast the title of being a cult hero to the Manchester United faithful, so the space is there for Clint Dempsey to become their first.
This article is
What is the duplicate article?
Why is this article offensive?
Where is this article plagiarized from?
Why is this article poorly edited?

Manchester United: Like this team?