NHL: Sharks Must Change from Trend-Followers to Trendsetters to Avoid Status Quo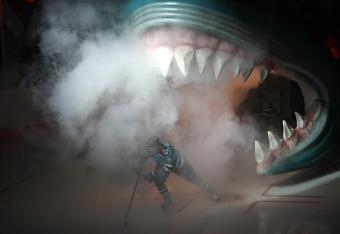 Jed Jacobsohn/Getty Images
Ever since its inception in 1991, NHL hockey has been a magical success in San Jose, California.
At the time the Sharks were created, the San Francisco Bay Area was on top of the sports world. The Oakland Athletics had just won three straight pennants, the second of which led to their sweep of their cross-bay rival Giants in the 1989 World Series.
The San Francisco 49ers had won two of the last three Super Bowls, while both the 49ers and Oakland Raiders were coming off Conference championship appearances. Run TMC was thrilling Golden State Warriors' fans.
Enter the San Jose Sharks—the first major professional sports franchise to test the waters of the South Bay. The idea was brilliant, but the beginning was rocky. Construction of HP Pavilion (called the San Jose Arena at the time) took two seasons, and the Sharks played at Cow Palace in Daly City, a suburb of San Francisco.
Those first two seasons were brutal. The Sharks went 28-129-7, including an NHL-record 71 losses in 1992-93. An offseason of roster overhaul ensued, but more importantly, the Sharks moved to their permanent home in San Jose.
Immediately, the Sharks captivated a South Bay audience—an audience that had been enjoying the success of the Oakland and San Francisco teams but also yearning for a chance to call a team their own.
The 1993-94 Sharks went from NHL laughingstock to No. 8 seed in the Western Conference playoffs. In the Sharks' first ever playoff series, they upset the No. 1 seed Detroit Red Wings in thrilling fashion, culminating with Jamie Baker's legendary game-winner in the decisive seventh game.
Glenn Cratty/Getty Images
Since then, hockey has continued to grow in the South Bay. The Sharks have only missed the playoffs three times during their 18 seasons playing in San Jose and have made several strides as a franchise over the years.
The 2001-02 Sharks were the first to win a division title, something they've gone on to do six times in the last 11 seasons. The 2003-04 Sharks went to the Conference Finals, a feat that's been repeated by the team in two of the last three seasons.
General Manager Doug Wilson—put in charge after Dean Lombardi's firing in 2003—has brought some incredible talent to San Jose. The original Sharks captain and star defenseman brought in superstar center Joe Thornton, who won the Hart Trophy in his first season in teal. He's brought in everyone from accomplished All-Stars like Dany Heatley and Dan Boyle to surefire Hall of Famers like Jeremy Roenick and Rob Blake.
However, as the seasons have become more numerous, the fanbase has gotten more knowledgeable, and as the players have gotten better, the fanbase has become more demanding.
As the playoff appearances have become commonplace, simple playoff appearances are no longer enough, and now, after 21 seasons in existence, the empty place on top of the franchise's mantle has become difficult to ignore.
Despite the instant and consistent success of Bay Area Hockey, the San Jose Sharks have become known best for their lack of a Stanley Cup.
After a typical second-round playoff exit in 2008, Doug Wilson decided to redefine his hockey club. He brought in Red Wings assistant coach Todd McLellan—fresh off a Stanley Cup victory with Detroit—to coach his club.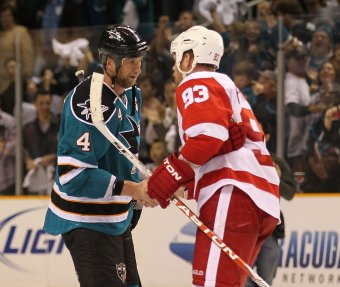 Jed Jacobsohn/Getty Images
He brought in veteran defenseman Rob Blake (his Nick Lidstrom) and Dan Boyle (his Brian Rafalski), and his team became Detroit West.
The experiment led to a Presidents' Trophy followed by a shocking playoff loss to Anaheim in Round 1 of the playoffs.
In year two, however, the experiment seemed to really pay dividends. The Sharks finished in first place again, but reached Round 2 this time where they faced the very Wings that they were modeled after.
San Jose's immense talent had always carried them so far, but their ability to beat Detroit at their own game helped them quickly knock out a team that was coming off two straight Conference championships.
Of course, the Sharks were then swept by a faster, better defensive team in the Chicago Blackhawks. The 2010-11 Sharks looked a lot like the the 2009-10 team, as did their final results. They beat Detroit in Round 2 again before getting beat down by the faster, better defensive Canucks.
So Doug Wilson again decided to redefine his hockey club.
The Sharks GM moved away from the big, offensively dominant team they were and became a faster, defensively oriented team. After all, those were the kinds of teams beating them in the playoffs, and modeling themselves after their counterparts did help them overcome the mighty Red Wings.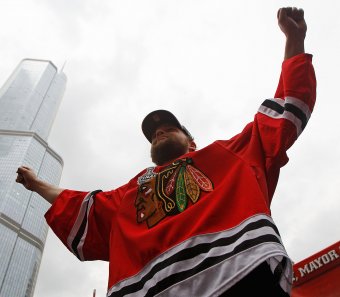 Jonathan Daniel/Getty Images
Of course, the 2011-12 Sharks were nothing more than a dysfunctional waste of talent, getting knocked out of the playoffs by yet another faster, better defensive team—this time in the first round.
So where do the Sharks go from here? Do they attempt to become the St. Louis Blues? Do they attempt to become the Los Angeles Kings? Do they go back to their Detroit West approach?
Unfortunately, these strategies are backwards, and if Doug Wilson continues to follow the trends of teams more successful than his own, he's missing the point.
The 2007 Ducks, 2008 Red Wings, 2009 Penguins, 2010 Blackhawks, 2011 Bruins and—if they continue playing the way they are—the 2012 Kings are all very different teams. They all have had offense, defense, goaltending and coaching, but that's where the similarities end.
Some of them have used high-powered puck-possession offense to dominate, while others have scored in transition. Some have played physically relentless defense, while others have used speed to shut opponents down.
Each champion's biggest strength has been in a different area—the top line, the top six, forward depth, the top pairing, the top four, blue-line depth, goaltending, coaching.
Ultimately, there is one and only one thing that each of these franchises has been built around: doing it their way. Detroit Red Wings hockey. Pittsburgh Penguins hockey. Boston Bruins hockey.
Here's a question: What's San Jose Sharks hockey?
With such a wonderful, unique setting for NHL players to come to in the San Francisco Bay Area, such a passionate and now educated group of fans, such a strong tradition of success (to a degree) and so much to gain, San Jose Sharks hockey could become an absolute institution. An international force. A Stanley Cup-winning approach.
But until the Sharks take full advantage of their unique set of circumstances by becoming a unique type of hockey club, they'll continue to do what clones do best: exist the way that things existed previously and maintain the status quo.
This article is
What is the duplicate article?
Why is this article offensive?
Where is this article plagiarized from?
Why is this article poorly edited?

San Jose Sharks: Like this team?