The English media has placed unrealistic expectations on the shoulders of the national football team every year for the last decade. This was particularly notable in the 2006 and 2010 World Cups, and even to an extent in Euro 2008, where England failed to qualify.
In fact, the media seems to have done some pretty substantial damage to the team. Let us consider 2006 when Luiz Felipe Scolari ruled himself out of England position entirely due to the pressures of the English media. Scolari went on to lead Portugal to the semifinals of the World Cup, knocking England out in the quarterfinals on the way.
2012 is different.
England have a new manager and most importantly are without the so called "Golden Generation," which included Rio Ferdinand, Frank Lampard, David Beckham and Joe Cole to name a few. It is interesting to note that while these players held an almost automatic starting position for several years, England played some truly atrocious football at times.
No matter how badly the team played, the expectation of glory was always there. How could it possibly be that Lampard and Gerrard or Terry and Ferdinand, who were such stars at club level, could not gel and reach glory on an international stage?
It took many the best part of a decade to realise that it was not about the quality of the individual, it was about the quality of the team.
Now England is back with a host of fresh players and no expectation of glory. Some remnants of the old regime still exist with Ashley Cole, John Terry and Steven Gerrard still regular starters. There is no doubt Gerrard and Terry are still class players, but I feel Cole will come back to bite England this year.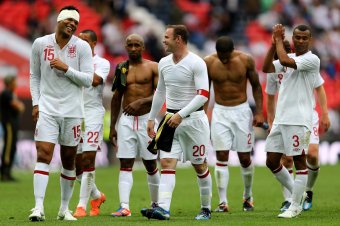 Clive Mason/Getty Images
With the likes of Ashley Young, Danny Welbeck, Alex Oxlade-Chamberlain and Joleon Lescott, England have a team of players who are fast, talented and most importantly playing regular football at a top club.
A special mention should go to Gary Cahill, who has been ruled out of Euro 2012. It is truly a shame to see a player who has developed so much recently being sent home so early.
An even larger mention should be given to Micah Richards, who has been robbed after a really great season. Richards cannot be happy to have lost his place at the hands of Glen Johnson, who lacks defensive solidarity, and Martin Kelly, who is untested.
Martin Kelly is a much better choice than Rio Ferdinand. Ferdinand's agent's argument sums up perfectly the problem with English football.
The claim is that Roy Hodgson has shown a "lack of respect" (via Metro). "Respect" is why England has been flooded with players who have a great reputation but have consistently failed to deliver for the past 10 years.
Selection is not about respect, it is not about how much the players earns and it sure isn't about the player's reputation. It is solely about how that player has performed recently and about how they are going to fit into the team as a whole.
I do not agree with everything Hodgson has done, but calling up Kelly over Ferdinand is nothing but a step forward.
Now that England does not have the big names, they are not being considered as genuine title contenders.
I for one believe that an English team brimming with young, hungry and fearless players that does not have the axe of the English media hanging over their heads stands a much better chance than an England team of reputations and automatic expectations of glory.
The next few months may prove me very wrong, but the over 52 million people who live in England may be very pleasantly surprised should the Three Lions pull together and play with the skill and poise we all know they can.