Missing Pieces the Seattle Seahawks Could Still Acquire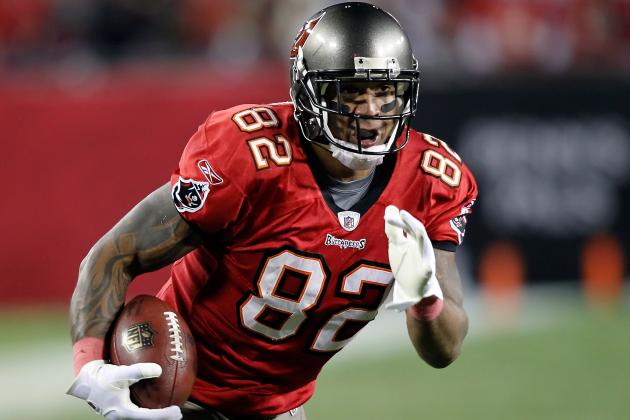 J. Meric/Getty Images
Seattle hopes Kellen Winslow will add another spark to their offense.
The Seattle Seahawks addressed most of their needs headed into the 2012 season during free agency. They re-signed their priority free agents and grabbed several new key pieces. It isn't too late for this aspiring team to plug a few final holes prior to training camp, though.
There is clear evidence the Seahawks will continue to tinker with a lineup that could return 20 starters from last season...22 including their kicker and punter.
The only expected change on defense is at middle linebacker, where Pete Carroll made it clear they needed to get more athletic in the offseason. Barrett Ruud and second-round draft pick Bobby Wagner will battle for the position.
On offense, it is a bit easy to return starters from last season, as the team had so many of them. The only planned starter from last season that won't be returning is Robert Gallery, who was released in the offseason.
However, it was the re-signing of Paul McQuistan that precipitated that departure. His is currently working with the first unit at left guard and started 10 games last season, working at both guard spots and left tackle.
After landing seven new starters in 2011, the only other expected change is Matt Flynn taking over the quarterback slot.
But that doesn't mean Seattle isn't making other changes. The recent acquisition of Kellen Winslow shows Carroll and John Schneider will continue to tinker.
Following are a few more moves Seattle can make prior to August to improve the team in 2012.
Begin Slideshow

»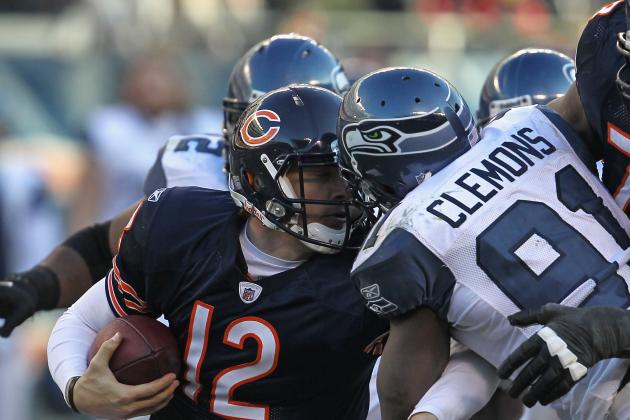 Jonathan Daniel/Getty Images

Seattle acquired Chris Clemons on what many believed was a throw-in when they sent Darryl Tapp to the Philadelphia Eagles for a fourth-round draft pick.
Clemons had just 20 sacks in his first five seasons in the NFL. He's posted 11.0 in both of his seasons with the Seahawks.
Clemons has been a no-show during Seattle's OTAs. While his absence has afforded a great opportunity for Bruce Irvin to get acclimated to the NFL, it could point to problems with Clemons' attitude.
ESPN's Brock Huard has thrown out a possibility that should concern the Seahawks. Clemons could be dragging his feet during the offseason because he wants his hand to be signing a new contract with Seattle before entering the final year of the $12.6 million five-year deal he signed with the Eagles.
Speaking of renegotiating, it has become abundantly clear that is exactly what Chris Clemons' agent, Donal Henderson, would like to do with the Seahawks. More than likely that is why the sack artist with double-digit tallies the last two seasons has been noticeably absent from organized team activities.

John Clayton opined with us yesterday that a short-term deal (two or three years) with an average of $6 million to $7 million would be reasonable. Looking for the last major payday of his career, will Clemons' camp be reasonable?

Unlike the New York Giants, who have Justin Tuck and Jason Pierre-Paul and two recent Super Bowl rings to minimize the disgruntled Osi Umenyiora, can the Seahawks' locker room deal with a veteran who's bitter over his contract?
The Seahawks will have their hands full if they want to keep their key free agents in place following the 2012 season. Aside from Clemons and quarterback Tarvaris Jackson, who could be expendable well before the offseason, Seattle will need to deal with Jason Jones, Alan Branch, Max Unger, Steven Hauschka, Leroy Hill, Marcus Trufant and upwards of 22 other players whose contracts end after the coming season.
Seattle needs to protect their locker room and the development of Bruce Irvin and deal with Clemons. While Irvin may be the future at the left end position, Clemons is the present.
At just 30 years old, he will provide a few more solid seasons for the Seahawks.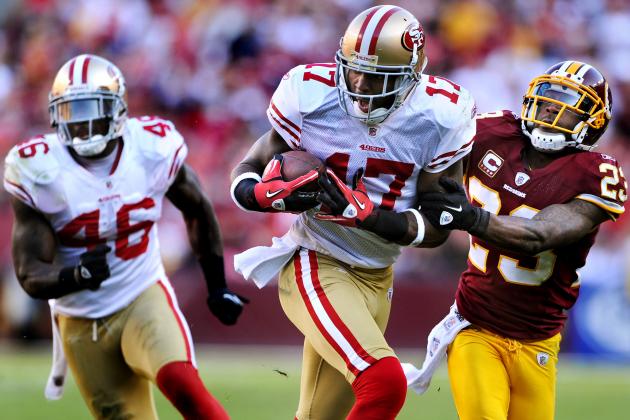 Patrick Smith/Getty Images

Seahawks fans are somewhat familiar with Braylon Edwards and his implosion act for the division-rival San Francisco 49ers last season. He made no impact and was cut prior to the end of the season.
What most fans may not realize is Edwards was injured for most of the season.
Wide receiver figures to be a competitive position group for the Seahawks in 2012. If Sidney Rice can stay healthy and Mike Williams can regain his 2010 form, they will have a great start. But the odds of both of those players offering a productive 2012 are low.
They've each turned in exactly one good season in five. Carry the math out and prior performance leaves just a four percent chance both players will be healthy and productive.
Seattle will look to some of the young players on their roster to fill voids. Ricardo Lockette shows great promise, as does Kris Durham. Doug Baldwin has already showed he can produce in the NFL and Golden Tate showed signs of development last season. Deon Butler is entering a contract year and will try to show Darrell Bevell why Seattle originally drafted him.
Edwards is just 29 years old and has shown flashes of living up to being the third overall pick in the 2005 draft. His attitude issues have held him back, but he should be humbled enough to welcome a final chance to show he can be a good NFL receiver.
So long as Edwards is healthy, he will be worth the risk for the Seahawks to extend an incentive-based contract. Fans may be apprehensive, but he could make a promising yet unproven receiving corps better.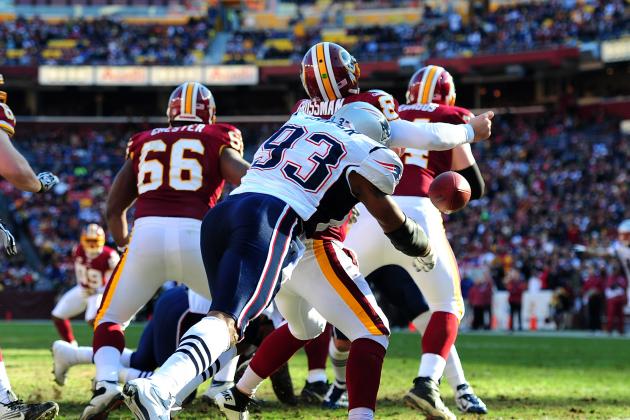 Scott Cunningham/Getty Images

It is possible the Seahawks make Chris Clemons happy and Bruce Irvin steps up and shows he was worthy of his draft status.
However, it is also possible neither of those come to fruition and Seattle is again hampered by a lack of a consistent pass rush. Their other options at defensive end include rookie seventh-round draft pick Greg Scruggs, Dexter Davis, the athletic potential of Jameson Konz, Pierre Allen and Pep Levingston.
While one of those players could possibly fill in, none are proven NFL players.
There is a former top-10 draft pick still available in free agency, though.
Andre Carter has been dragging his feet in free agency, either by his choice or because GMs around the league are concerned about the torn quadriceps that took him out of an impressive 2011 season in which he notched 10.0 sacks in 14 games.
If the price for his services in 2012 isn't too steep, Seattle has the nerve to bring him into spring training to compete for a spot. Defensive end is the biggest remaining question mark with this defense and a healthy Carter would certainly solidify the position group.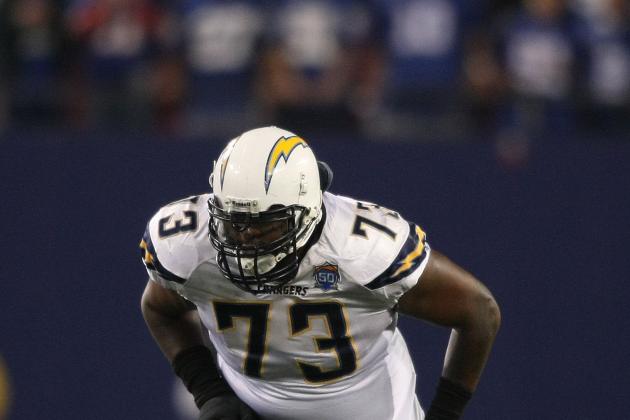 Nick Laham/Getty Images

While the Seattle Seahawks have used their first pick in the the last two drafts on offensive tackles, there is still uncertainty at the position. Russell Okung has battled injuries in his first two seasons and James Carpenter's 2011 knee injury could have serious consequences on the upcoming season.
Marcus McNeill has had injury issues of his own, missing 12 games over the last two seasons. He's also been boom or bust, showing great promise and huge gaps over his six-year history that has seen him play in two Pro Bowls.
Seattle would benefit from additional depth at the tackle position and McNeill needs an opportunity to reinvent himself as a blocker. Tom Cable is very familiar with the former San Diego Charger and could be the perfect coach to get his career back on track.