New York Giants: What Eli Manning Must Do to Avoid Letdown in 2012
June 4, 2012

Rob Carr/Getty Images
Eli Manning and his Giants are riding on their recent wave of Super Bowl success, and nothing would be more disappointing than a mediocre 2012 season. Critics are just waiting for Eli to stumble so they can say another once-great quarterback has choked. (A certain long-haired New England Patriot comes to mind.)
Eli is no longer the overlooked younger brother. The New York Giants' quarterback can now boast two Super Bowl rings. That's one more than older brother, Peyton Manning. And if Eli wants a third one this upcoming season to really solidify his reputation as a championship quarterback, there are a few key things he needs to do to avoid a letdown.
The NFC continues to garner a lot of media publicity with a new rookie quarterback on the Washington Redskins and the return of high-profile athlete Cam Newton on the Carolina Panthers. Not to mention San Francisco impressive 2011 season. If Eli wasn't under a lot of pressure already, he is now. Media hype has distracted NFL players before and it could easily happen to Eli. His focus needs to be on his team and tightening their play on the field.
Eli is clearly one of the best already. In 2011, he had 359 pass completions and passed for 4,993 yards. Of those, he completed 29 touchdown passes. His numbers trail right behind New Orleans Saints quarterback Drew Brees, and Green Bay Packers quarterback Aaron Rodgers trails right behind Eli. These two quarterbacks are sure to be Eli's biggest competition coming into the season. Packers fans will be waiting for Aaron Rodgers to recover from last season with a hot streak towards the playoffs. And with the contract tensions between Brees and the Saints front office, these two teams will have plenty of media attention as well.
Eli needs to keep his attention on his offensive play. With 16 interceptions last season and a 61 percent completion percentage, there's always room for improvement. And with his older brother back out on the field, in new uniform colors, a lot of the attention will be on Peyton instead of Eli. And that may work out well for him.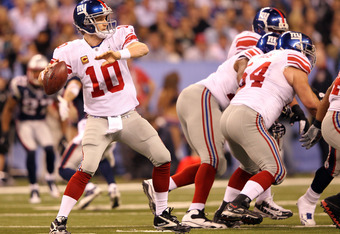 Jamie Squire/Getty Images
Eli does not have to worry about carrying the Giants alone. If this past season has shown anything, it's that Eli can rely on strong offensive playmakers. Hakeem Nicks is one of Eli's go-to players. The wide receiver completed seven touchdowns last season. Nicks has speed and versatility that can make any quarterback's job a lot easier. Lucky for Eli, he also has wide receiver Victor Cruz who completed nine touchdowns and holds an average of 18.7 yards per carry. Cruz leads the team in receiving yards and number of receptions. With Cruz on the field, Eli can breathe easy now and then.
Eli can also rely on a fairly strong run game. Running back Ahmad Bradshaw leads the team in rushing yards with 659 yards, averaging 3.9 yards per attempt last season. Once Eli is focused on the field, he needs to work on his accuracy and precision with these offensive players in order to strengthen the Giants' attack. These players will put the points up on the scoreboard, so what Eli needs to do is improve his strength and movement in the pocket to avoid sacks and interceptions—something Eli struggled with this past season. He did not have the worst stats by any means, but if the Giants are aiming for a repeat of last season, then Eli is going to have to play a little tighter while improving his field vision when under pressure from the opposing defense.
Giants fan or not, I have confidence in Eli Manning to avoid a letdown in 2012. Media attention that has always swirled around Peyton and Eli has been more of a quiet offender. And that seems to be working for him. Eli plays silently and swiftly, moving through plays, games and eventually the playoffs. If he stays focused, I don't foresee a choke or a disappointing 2012 season for the Giants. With the help of his offense, Eli will be able to make smart, effective plays.
He is not the most widely discussed or popular player, but he's got my attention now. Football fans would be wise to watch how Eli performs throughout the season, before he snatches that third Super Bowl title from right under everyone's noses.