WWE Raw History: Top 5 Nexus Moments from 2010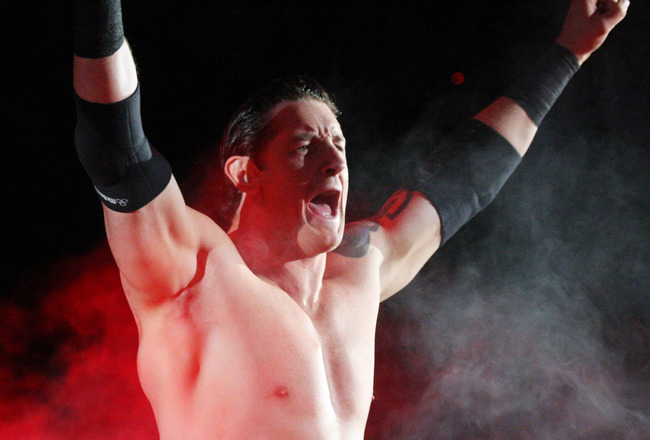 Gallo Images/Getty Images
Nearly two years ago to the day, the Nexus debuted on Raw in an extremely memorable moment. The summer of 2010 was looking to be a long ride for the company. That all changed on the first Raw in June.

For the next six months, the group of men ran wild on Monday nights. From main event matches to title victories, all of this was done by a bunch of "rookies." It truly did lead the winds of change.

During my countdown, I will not be discussing their debut. That was clearly their best night. This will be giving credit to all of the other excellent moments.

What were the highlights from 2010? Let's find out!
5. Summerslam Main Event
The World title was not involved. The WWE title was not involved. It was simply the Nexus taking on seven members of the WWE roster.

That was it.

In a shocking move, a bunch of unproven draws were the leading heels in a main event of the second (or third) biggest event of the year. To this day, it is shocking.

With the Nexus being led by Wade Barrett, and John Cena leading Raw, it was sure to be a huge night. Of course, fans got a few surprises.

Daniel Bryan returned to the company to join Team Cena. Bret Hart actually had a nice showing for the group. Also, the Nexus wrestlers actually delivered on the big stage.

While some may want to believe Nexus losing was the beginning of the end, that is simply not true.

They had to lose at SummerSlam. If they won, the story was over. Nexus took over and beat the roster. That would be it.

Story over.

Instead, both sides looked strong. John Cena (rightfully) won, and Nexus had even more of a purpose to stick around and take over. Chapter 1 was over, but the story was still being told...
4. Rematch Victory
You know why their SummerSlam loss barely meant anything?

Two weeks later, they held the exact same match on Raw. For the re-match, it was a five-on-five match. Nexus took on John Cena and a group of wrestlers in the same setting.

At SummerSlam, about 350,000 viewers bought the show and saw the main event.

On Raw, nearly 5 million viewers saw the re-match for a 3.5 rating.

Nexus won, while millions watched on television.

The men won clean too. Defeating many of the top names on Raw, the new stable stood tall. Cena won the SummerSlam match, but his side lost in front of a much larger audience weeks later.

Justin Gabriel pinned John Cena clean during the match.

Wade Barret defeated Randy Orton clean to end the battle.

Nexus was once again the dominant force on Raw. The loss at SummerSlam meant very little, as they continue their run for another four months each and every week.
3. Piper's Pit
This was just great television.

Roddy Piper was perfect on this night. He added to the Nexus vs. Cena feud, and everything clicked here. The final Raw before Survivor Series was spot on!

Even better, Cena finally wore the Nexus shirt. Since he was "owned" by the group, it only made sense. With Randy Orton in the middle, it was going to be a good segment.

Watch the video for yourself!
2. John Cena Fired
Free or fired.

Randy Orton vs. Wade Barrett for the WWE Championship was the main event of Survivor Series. John Cena was the special guest referee.

If Orton won, Cena would be fired.

If Barrett won, Cena would be free from the Nexus.

Wow!

WWE built this up as a major event. Nobody cared about the wrestling action. Nobody cared about the "moves." Everybody was just waiting for the ending sequence to take place.

What would John do?

From my own experience, I had "non-fans" talking to me about this storyline. People who rarely watched wrestling were discussing this with me. Somehow, this entire feud became larger than life.

When your peers who do not watch Raw start getting invested in a story, you know WWE did a great job. That was exactly the case here. I was beyond pumped for this main event!

Of course, Orton won, and Cena counted the pin fall. He was "fired," but nobody really believed it would last long. After saying his farewell on Raw, he was back less than an hour later.
1. Barrett Wins
At the October pay-per-view, Wade Barrett wrestled John Cena.

If Wade won, Cena would have to join the group.

If Cena won, the Nexus would have to disband.

Again, WWE did a great job building this up. There was not much time devoted to this event, but it was well worth it after this match.

Thanks to a few "fans," Wade pinned Cena. It was one of my favorite moments of the year. The ending sequence was this business summed up perfectly.

As usual, WWE got the facial expressions from the live audience. The stunned looks on their faces told the entire story. This was one of amazing moments that you just can't script.

The fans in attendance were the real stars of this moment.

Just watching that clip again, you can tell the Nexus was as "over" as they had ever been. It is moments like this that just make me laugh when people say they were "done" at SummerSlam. As usual, WWE knows exactly what they are doing.

Nexus was riding high for the remainder of 2010. At TLC in December, the true beginning of the end started. There were tons of other highlights, but these are five of the best.

Follow Justin Watry on Twitter!
Keep Reading