Celtics vs. Heat: 5 Reasons Boston Finally Gets a Win in Miami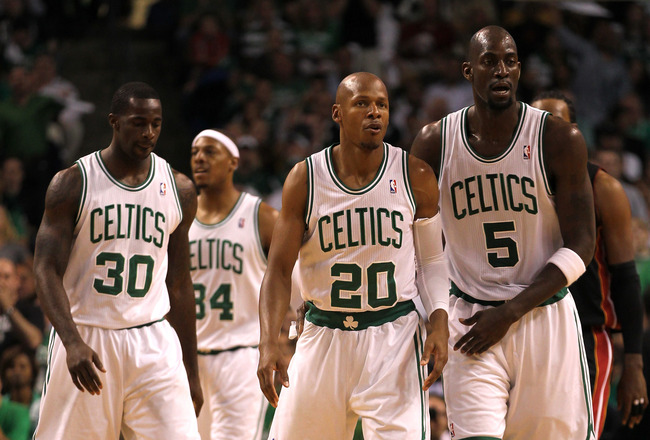 Jim Rogash/Getty Images
Most people thought the old, decrepit Boston Celtics were done after falling two games behind the explosive, star-studded Miami Heat. After losing Game 2 in devastating fashion, the Celtics seemed destined to fade into the sunset.
However, like the championship team they have proven to be, the Celtics refused to quit. They bounced back from a defeat that most teams would have used as an excuse to roll over and die, and they have now tied the series at two games apiece.
The Celtics now need to do something they have yet to accomplish in this series: win in Miami. Most experts will continue to say that the Celtics are too banged up and they have no shot at knocking off the Heat on their home floor. Despite this, there are signs that the Celtics are entirely capable of capturing a crucial victory away from Boston.
5) Role Players Stepping Up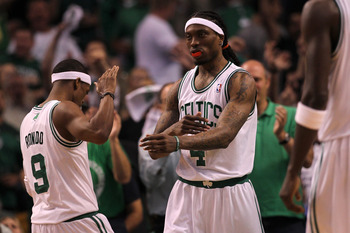 Jim Rogash/Getty Images
Role players come alive on their team's home floor. That would explain the increased production from the Celtics bench over the past two games in Boston.
Players like Marquis Daniels and Keyon Dooling, who received little playing time coming into Game 3 of the Eastern Conference Finals, have become key contributors for the Celtics.
The Celtics role players can continue their solid play when the series moves back to Miami because they have finally developed solidified roles for the team. Daniels knows that he needs to come in and play tough defense on LeBron, while Dooling has become an energy guy off the bench and someone who knocks down open threes for the team.
Now that the Celtics bench has gained confidence in their ability to produce and know what their role is for the team, the Celtics have more players who Doc Rivers can count on to contribute.
4) Confidence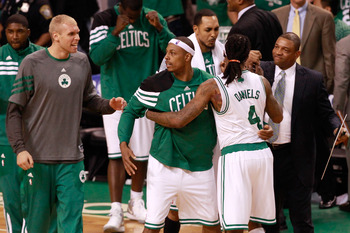 Jared Wickerham/Getty Images
The Celtics have their swagger back. They know wholeheartedly that they can beat the Heat.
After losing the first two games of the Eastern Conference Finals, the Celtics confidence had to have been shaken. They were slow, banged up and playing with a depleted roster. No role player had stepped up, and the big four were carrying a far to heavy load.
Flash forward to today. The Celtics have won back to back games against the Heat and have made it a three game series. Their confidence has to be as high as it possibly could be when going against a team anchored by two of the league's top-five players.
The Celtics will undoubtedly bring their swagger and confidence into Miami. Giving a team confidence is a dangerous thing, and that is exactly what the Heat have given back to Boston.
3) Rondo Has Been Unstoppable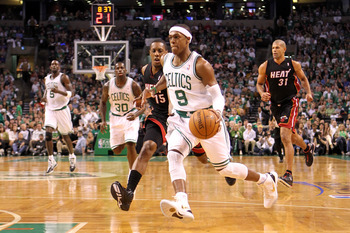 Jim Rogash/Getty Images
The Heat have no answer for Rondo. As the games get bigger and they're all played at primetime on national television, Rondo raises his game to unparalleled new heights.
Rondo is averaging about 24 points and 11 assists per game in the Eastern Conference Finals. The Heat don't have a player who possesses the ability to defend Rondo, giving them no chance to prevent him from continuing his dominant play.
If Rondo continues to attack the rim and create easy shots for himself and his teammates, then the Heat will have trouble stopping the Celtics offensive attack. Rondo has a huge mismatch and exploiting it will give the Celtics their best chance to defeat the Heat in Miami.
2) Dwyane Wade's Struggles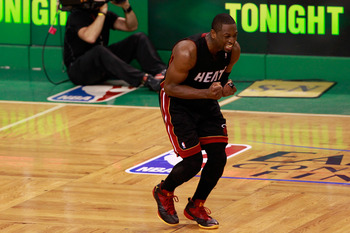 Jared Wickerham/Getty Images
LeBron James has been impossible for the Celtics to contain. The Celtics realize that James is going to score about 30 points, grab around 10 rebounds and dish out eight assists in every game.
What the Celtics have been able to do is control the offensive production of the Heat's other star. Dwyane Wade has seemed frustrated and baffled at times by the Celtics defense. They've thrown a bunch of different things his way, and it has seemed to affect his confidence and efficiency.
With Avery Bradley out for the rest of the postseason, it was common thought that Wade would go off in the series. However, Wade's highest scoring output in the Conference Finals was just 23 points in Game 2. He has also got to the free-throw line only five times in the past two games.
The Heat need significant scoring from Wade if they want to advance to the NBA Finals. His pedestrian play as of late could prevent Miami from moving past the Celtics.
1) Urgency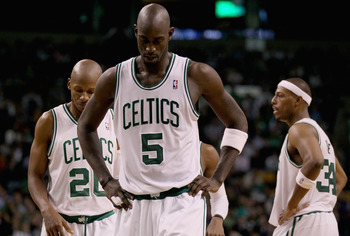 Elsa/Getty Images
The Big three came together five years ago. Three perennial All-Stars and future Hall of Famers who agreed to give up a little of themselves in order to achieve something greater than any individual accolade.
Paul Pierce is now 34. Ray Allen and Kevin Garnett are both 36. This is their last opportunity to win a title together and most likely to ever win one again.
The Celtics are just two games away from reaching the NBA Finals. Knowing the love and passion for the game of a Kevin Garnett, a Paul Pierce and a Ray Allen, one realizes that there is no way any one of them is willing to throw away such a great opportunity.
You know what else? Every player in that locker room will be fighting their butt off to win not just for themselves, but for the Big three. That's what a team does. They genuinely care about each other. The knowledge that this is it for the Celtics as a championship contender will propel the team to a victory in Miami.
Keep Reading

Boston Celtics: Like this team?