Predicting the Most Surprising NFL Starter at Every Position for 2012 Season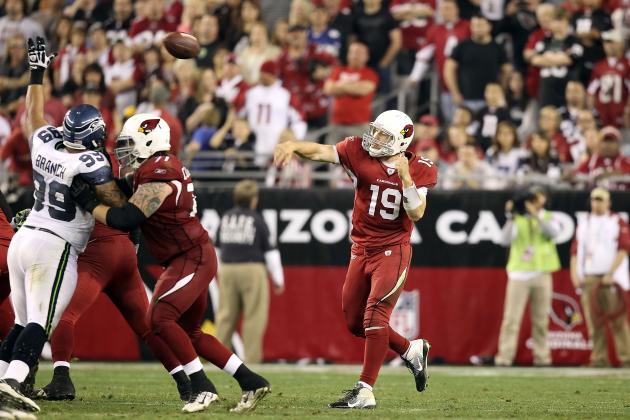 Christian Petersen/Getty Images

If we had the ability to fast forward right now to the start of the 2012 NFL season, who would be the most surprising starters at every position in the league?
That is the task at hand, so we will try our best to find a long-shot that warrants consideration for the job, or that faces an uphill battle to claim the starting job.
Whether it is battling back from injury, overcoming the odds against a seemingly more talented veteran player, or other various scenarios, each of our selections were probably not counted on to be part of the starting lineup, but with some hard work and a little bit of luck, surprising results can follow.
It should also be noted that while some of these players might actually wind up starting Week 1, there is no guarantee that they can continue to keep the job all year long. In some cases there will be players returning from suspensions or the PUP list, or working their way back from rehab.
These starters need to make the most they can out of every start they receive, assuming that they ever get a start to begin with.
Begin Slideshow

»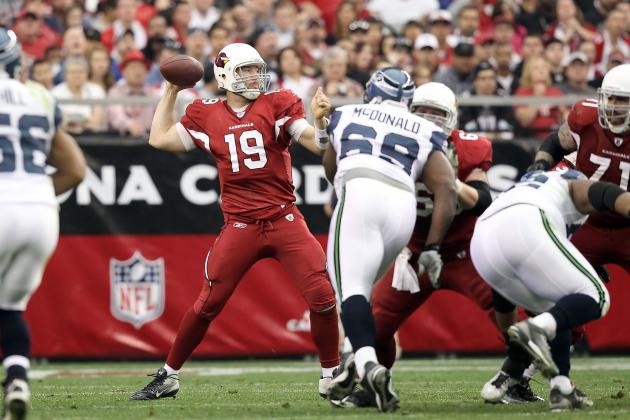 Christian Petersen/Getty Images

Most Surprising Starting Quarterback: John Skelton, Arizona Cardinals.
When you look at all of the various starting quarterback battles that are being held throughout the league, you have Miami, Seattle, Arizona, Cleveland, Tennessee and possibly Jacksonville as the teams that have a reasonable question as to who their starting quarterback will be.
The guy that I think has the biggest odds stacked against him is John Skelton of the Arizona Cardinals. Skelton has about $7 million odds stacked against him, which of course also represents the size of the roster signing bonus that the Cardinals paid out to Kevin Kolb.
As soon as the Cardinals decided to go forward and pay that big of a bonus to Kolb, the die is pretty much cast that Kolb is the starter. But, I can't forget the fact that it was Skelton who led the Cardinals to the better record as a starter in 2011, while Kolb had a miserable record.
If the Cardinals decide to go with the guy that gives them the best chance to win, my feeling is that they will ultimately go with Skelton, which would be a clear surprise.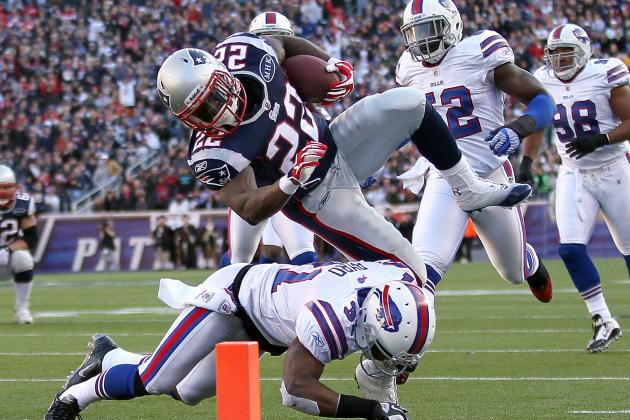 Jim Rogash/Getty Images

Most Surprising Starting Running Backs: Stevan Ridley (New England Patriots) and Jahvid Best (Detroit Lions).
The New England Patriots will probably select either Stevan Ridley or Shane Vereen to start at running back in 2012 for BenJarvus Green-Ellis, who left in free agency. The Boston Herald ran a story that Vereen was running with the first team as the starting running back during OTA's, giving him the early lead in the competition with Ridley.
Why should Ridley be the surprise starter? Since both were rookies last year, it was Ridley that was more impressive in his NFL debut, as he gained 441 rushing yards on 87 carries, which is an average of 5.1 yards per attempt.
What did Vereen do? Try 57 yards in 15 rushes for a paltry average of 3.8 yards per run. It wouldn't surprise me if Ridley catches and surpasses Vereen in training camp and wins the job.
For the other running back, we look at the options in Detroit and try to figure out who will be the better bet in 2012.
The Lions just haven't had much luck lately with their high draft picks at the running back position. Whether you prefer Mikel Leshoure or Jahvid Best, you really can't swear by either player due to their injury history.
It took years for quarterback Matthew Stafford to establish his health, so maybe one of these running backs will follow suit and establish himself in 2012.
Who is our surprise starter? Even with his history of concussions, we are going to go with Best. He expects to gain medical clearance by the time training camp begins.
As for Leshoure, Chris McCosky of the Detroit News.com writes that Leshoure will probably be suspended by the NFL for his two marijuana arrests. You factor that in with his Achilles' tendon injury from 2011 and you have the ingredients for a player that is wasting away his talent before his career can even begin.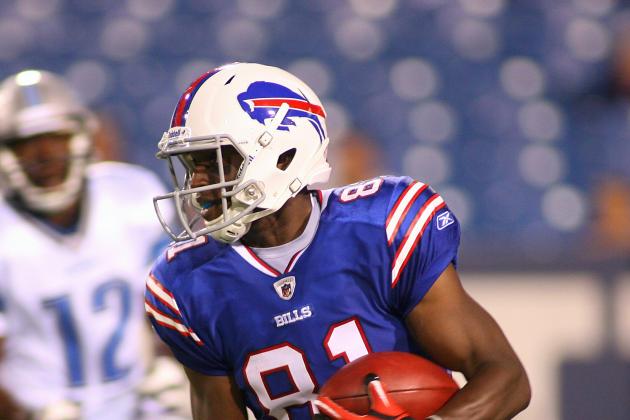 Rick Stewart/Getty Images

Most Surprising Starting Wide Receivers: Marcus Easley (Buffalo), Ryan Broyles (Detroit) and Lestar Jean (Houston). We are nominating three wide receivers due to the number of NFL teams that feature three-wide receiver sets in their offensive schemes.
The three receivers in question, Easley, Broyles and Jean have quite a bit in common. They are all very young, they are inexperienced, and none of the three has ever caught a pass in a NFL regular season game. But, that is all about to change in 2012.
Kevin Fishbain of Pro Football Weekly.com, writes that Easley is the wild card in the competition for the No. 2 receiver job in Buffalo.
For Easley, he has sat out the first two NFL seasons due to knee injury in 2010 and then he developed a heart ailment in 2011. He has an outstanding chance to not only start in 2012, but to have a breakout season.
Defenses will be keying on Fred Jackson and Stevie Johnson, so Easley will be probably looking at single-coverage for the majority of the year. He is a big target, at 6'2" and weighing 221 pounds, and is very fast. He ran a 4.46 at the NFL scouting combines in 2010.
Jean has been impressing in OTA's, and is looking to move up the depth chart, as per this story from Jerome Solomon of the Houston Chronicle.
In 2011, Jean had a shoulder injury that prevented him from contributing. But when Jacoby Jones left Houston in free agency, that opened up a slot for Jean to take the ball and run with it, literally.
Out of the surprise choices, Ryan Broyles really has the toughest battle if he is to become a starter. First of all, he has to finish his rehab and gain medical clearance prior to training camp. Rob Rang of NFL Draft Scout.com wrote that Broyles has a decent shot of gaining 100 percent medical clearance by the start of camp.
Next, he will have to beat out either Nate Burleson or Titus Young if he wants to be a starter. In Young's case, if he keeps fighting with teammates, he will make the decision easier.
As an Oklahoma alumnus, I watched every game that Broyles played in college, and he is an impressive wide receiver. Assuming he gains the medical clearance he needs, he will have plenty of time in training camp to prove to the Lions coaches that he deserves to be a starter. Should be a fun battle for Lions fans to watch.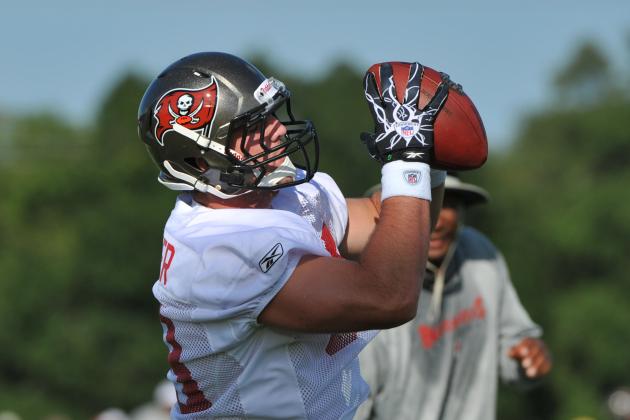 Al Messerschmidt/Getty Images

Most Surprising Starting Tight End: Luke Stocker, Tampa Bay Buccaneers
Tampa Bay Buccaneers quickly changed the landscape of the tight end position when they decided to trade starter Kellen Winslow to the Seattle Seahawks.'
With Winslow gone, the Bucs then signed free agent Dallas Clark to come in and offer some competition to second-year man Luke Stocker, as per this story from Buccaneers.com. The winner will likely grab the vacated starting job.
The Bucs relied heavily on the tight end position in 2011. Winslow was targeted 114 times last year, but you can expect that the number of targets will be far less in 2012, as the Bucs are gearing up to be more of a run-oriented offense.
As for Stocker, he only caught 12 passes for 92 yards and no touchdowns as a rookie. At Indianapolis last year, Clark caught 34 passes for 352 yards and only two touchdowns.
That is a far cry from his normal production when he was a favorite target of Peyton Manning. Clark seems to have lost a step, and 2011 saw a number of dropped passes as well.
Stocker is well positioned to claim the starting tight end job, but who would have guessed that a month ago?
Things have certainly been changing quite rapidly regarding the tight end position for the Tampa Bay Buccaneers. In rapid succession, the Bucs determined that 2011 starter Kellen Winslow was not going to fit in with the new Bucs vision for 2012, and traded him off to Seattle.
Before second-string Luke Stocker knew what to expect, the Bucs then signed free agent Dallas Clark, giving Stocker plenty of competition to challenge for the starting job.
Clearly Clark is not the same tight end that he was in his heyday with Peyton Manning. But he does have plenty of experience, and has been on a winning team for many years, so we will see what factors head coach Greg Schiano favors the most.
Clark is 32 years old, while Stocker is only 23 years old. Clark had a rough go of it in 2011, so the educated guess here is that Stocker will emerge as the staring tight end in 2012.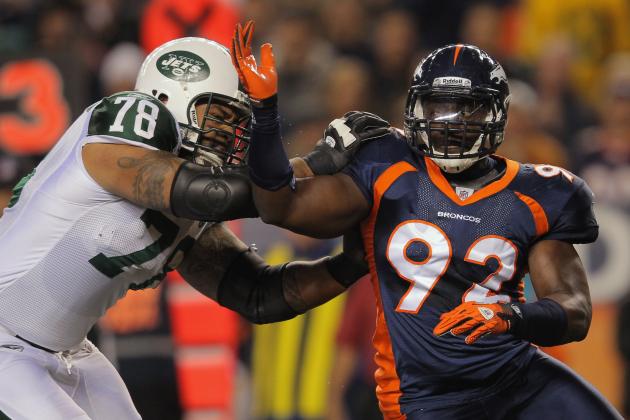 Doug Pensinger/Getty Images

Most Surprising Starting Tackles: Wayne Hunter (New York Jets) and Khalif Barnes (Oakland Raiders).
We are switching gears here for a brief second, so let me please explain. While the vast majority of the surprising starters are to single out a player for positive things they are doing, this slide is quite the opposite.
We are singling out two starting tackles that could or should have been replaced in the offseason, but for whatever reason, they remain a starter, which is quite a surprise.
For the New York Jets, Hunter was deemed as the weakest link on the line. Jets fans were expecting to see an upgrade either at the draft or in free agency, but here we are in June and nothing has transpired yet.
Taking it a step further, according to this tweet from Dennis Waszak, "Until they ship him out of here or shoot me dead in my office, the guy's the starting right tackle," said Jets offensive line coach Dave DeGuglielmo. So, Jets fans are left to wonder what it will take for the team to find a better tackle.
Moving over to the Oakland Raiders, there is a similar deal with Khalif Barnes returning as a starter. At least the Raiders have an excuse: they had very few draft picks to work with and began the offseason with a very poor salary cap situation.
But, Barnes is still trotting out there in OTA's as the starter, so the Raiders will have to cope with him, unless something better hits the waiver wire.
You can figure that both teams will be monitoring the waiver wire in late August and early September.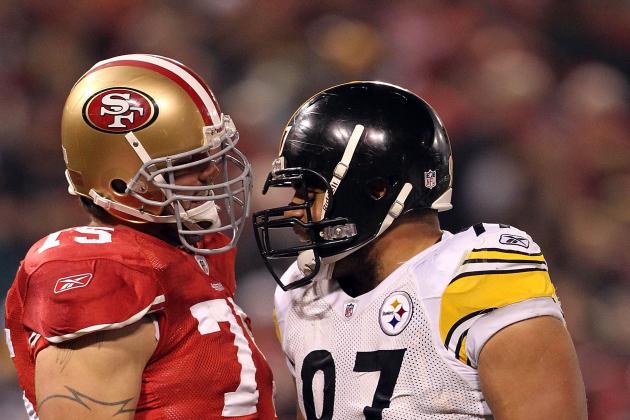 Karl Walter/Getty Images

Most Surprising Starting Guards: Alex Boone (San Francisco 49ers) and Ronald Leary (Dallas Cowboys).
Alex Boone was reluctant to switch from his traditional role as tackle to a guard position. The 49ers asked him to try it, but still Boone resisted.
After some time passed, Boone finally decided to give it a try, if it would help out the team. Once he got a taste for it, Eric Branch, writer for San Francisco Chronicle feels that Boone is starting to enjoy the potential move to guard from tackle. If the position switch keeps Boone in the starting lineup, it is something that he can learn to live with.
The Dallas Cowboys have a number of question marks at guard. The candidates include Mackenzy Bernadeau, David Arkin and Ronald Leary.
Complicating matters is that Bernadeau had hip surgery, so he is not able to compete right now. Leary had a bum knee in college that forced teams to let him go undrafted in the 2012 NFL draft.
Arkin was a fourth-round draft pick in 2011, but failed to impress and never played in the regular season. Arkin may not make the final roster, which would bring the competition down to Bernadeau, Leary or somebody not currently on the roster.
As for Leary, Clarence Hill Jr. of the Fort Worth Star-Telegram.com writes that while Leary could play in 2012, it is conceivable that he will need microfracture surgery on his knee in the future. The Cowboys were ecstatic that Leary went undrafted, as he graded out much higher on their big board.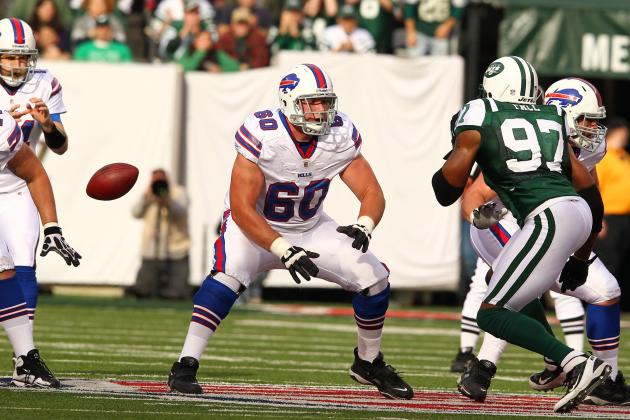 Al Bello/Getty Images

Most Surprising Starting Center: Kraig Urbik (Buffalo Bills).
Have to be honest, I really don't see a major surprise as a starting center brewing right now, so am admittedly going out on the proverbial limb here.
Eric Wood of the Buffalo Bills has suffered two serious injuries to his legs since he entered the NFL. There was a gruesome fractured leg and then a bad ACL tear.
As things stand now, Wood is making progress, but we won't know how well he is doing on his rehab until training camp, as that is the target date for Wood.
Once camp opens, if he suffers any kind of a setback, that would open the door for the Bills to insert Kraig Urbik as the starting center. Urbik filled in for Wood last year after Wood went on I.R., and then the Bills could tab Chad Rinehart to take Urbik's starting guard spot.
Bills fans are squarely behind Wood, but these leg injuries have to begin taking a toll at some point.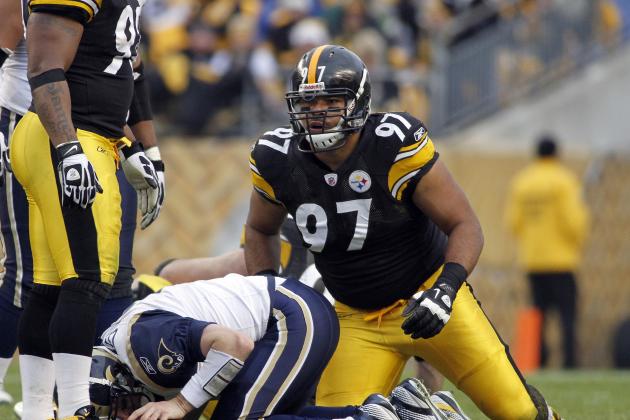 Justin K. Aller/Getty Images

Most Surprising Starting Defensive Ends: Turk McBride (New Orleans) and Cameron Heyward (Pittsburgh Steelers).
As for the selection of McBride, his starting role is only temporary in that he will probably be the starter to open the season with Will Smith being gone for the four-game suspension he faces for the bounty program.
What is surprising about McBride starting is that he is facing a strong level of young competition that the Saints have been amassing.
Any of these youngsters are capable of beating out McBride; Cameron Jordan, Greg Romeus, Martez Wilson and Junior Galette, but I think that McBride will hold them off and be named the Week 1 starter.
With all of the changes going on in New Orleans, Joe Vitt will be looking to start as many veterans as he can, allowing the team to have a little more continuity from 2011.
According to writer Mike Triplette of the New Orleans Times-Picayune, the Saints are leaning towards starting McBride, who wound up starting for Smith in 2011 when he was suspended in the StarCaps situation.
As for Heyward, he is locked into a battle with Ziggy Hood for one of the starting defensive end jobs in Pittsburgh, according to this article from Dan Gigler of the Pittsburgh Post-Gazette.
Although Hood is following the traditional Steelers preferred way of grooming their future starters with a few years learning from the sidelines, it is difficult to fully endorse Hood when you realize that Pro Football Focus graded out Hood as the least effective 3-4 defensive end in the NFL in 2011 (tip of the hat to Rotoworld.com for that lead).
Is Hood really the kind of performer that the Steelers want to promote in this year of so many changes? The other interesting note is that both players in question were first-round draft picks, so this might truly wind up being a training-camp battle to decide who gets the starting nod.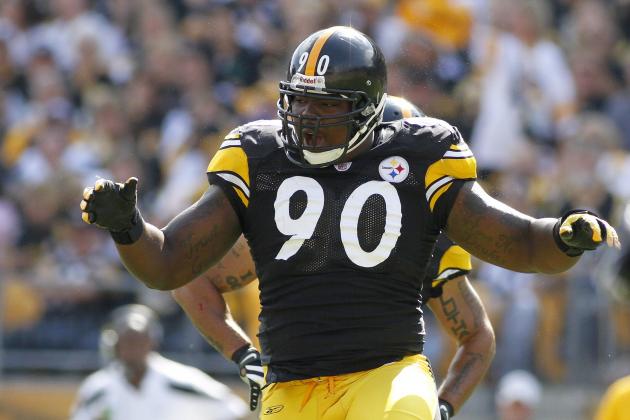 Justin K. Aller/Getty Images

Most Surprising Defensive Tackles: Steve McLendon (Pittsburgh Steelers) and John Hughes (Cleveland Browns).
It appears from this article by Mark Kaboly of the Pittsburgh Tribune-Review.com, that the Pittsburgh Steelers are fine with the idea of starting Steve McLendon at defensive tackle in 2012.
Now we need to point out that McLendon starting role would only happen if Casey Hampton hasn't recovered from his ACL injury and secondly, that he can beat out rookie Alameda Ta'amu for the job.
McLendon saw limited action in 2011, and came up with just one sack and 13 tackles on the year.
John Hughes may very well become the surprise starter at defensive tackle for the Cleveland Browns thanks to the torn pectoral muscle injury to regular starter Phil Taylor. Once Taylor has finished his rehab, no doubt the job will go back to Taylor.
Hughes has been able to impress the Browns in OTA's, according to Terry Pluto of the Cleveland Plain Dealer, so it is possible that Hughes winds up being a surprising starter for the Browns this year.
As for Hughes winning the job for Week 1, he will have to show that be is better than veteran Ahtyba Rubin, which is not a snap.
It turns out that Rubin has led all NFL defensive tackles in the number of tackles he has registered in each of the past two seasons. Rubin registered 83 tackles in 2011 and 82 in 2010, which is a very high number for a defensive tackle.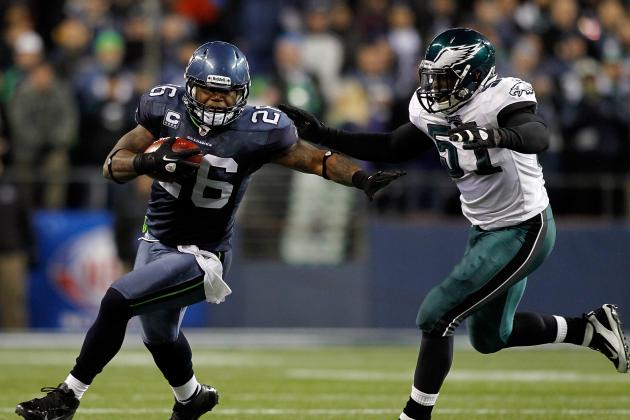 Jonathan Ferrey/Getty Images

Most Surprising Starting Outside Linebackers: Jamar Chaney (Philadelphia Eagles) and Sergio Kindle (Baltimore Ravens).
Brian Rolle was one of the better linebackers for the Philadelphia Eagles in 2011, but in 2012 he is facing a stiff challenge from a bigger competitor in Jamar Chaney. According to this story from Geoff Mosher at CSN Philly.com, the competition for the starting spot will boil down to a battle between Chaney and Rolle.
From a physical standpoint, Chaney is the bigger linebacker, as he goes 6'0" and weighs 242, while Rolle is 5'10" and weighs 227. Should make for an interesting battle to watch in camp, but the Eagles have demonstrated that they had to upgrade their linebackers to improve their chances at winning the NFC East division.
The Baltimore Ravens were forced to find new outside linebackers due to the Achilles' tendon injury to NFL Defensive Player of the Year Terrell Suggs and watching Jarret Johnson leave in free agency to San Diego.
There are three players under consideration for the two spots right now, and they are rookie Courtney Upshaw, Paul Kruger and Sergio Kindle.
While the Ravens are lining up Upshaw and Kruger as the starters in OTA's, Aaron Wilson of the Carroll County Times.com, writes that this year is a make-or-break year for Kindle, who is essentially healed now from his fractured skull. He has some issues with hearing, but physically is ready to mix it up in 2012.
Since Kindle was a second-round draft pick, you would think that the Ravens would like to see what he can do if he is allowed to see some snaps on defense. Kruger really hasn't proven to be anything special yet, as he has started just one game in three years with Baltimore, registering only 27 tackles in 36 NFL games.
Somebody will need to hold the fort down while Suggs rehabs his Achilles' injury, so the prediction here is that Kindle will be the guy that wins the job.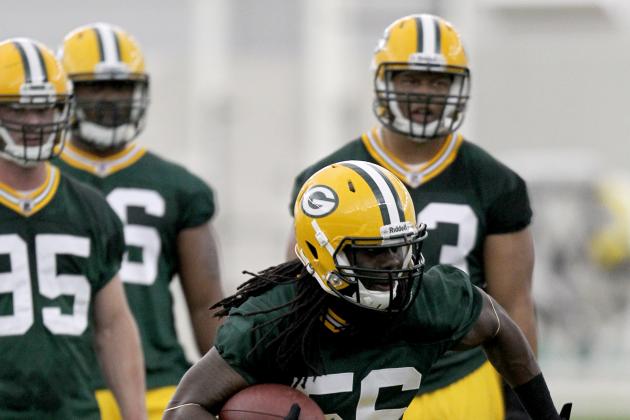 Mike McGinnis/Getty Images

Most Surprising Starting Inside Linebackers: Terrell Manning (Green Bay Packers) and Bruce Carter (Dallas Cowboys).
The Green Bay Packers have not been overwhelmed by the play of A.J. Hawk in 2011, so it would not be a terrible surprise to see somebody take the starting job away from him this year.
Of the various candidates in question for the job, there is rookie Terrell Manning, D.J. Smith and Rob Francois. Manning slid down the 2012 NFL draft to the fifth round due to concerns about his knee, which has required several operations.
As a result, Manning has a chip on his shoulder, and wants to show that he is ready to play at the NFL level now, according to this article by Mike Spofford of Packers.com.
Bruce Carter is not guaranteed of a starting job in 2012 with the Dallas Cowboys, as per this article by Charean Williams of the Fort Worth Star-Telegram.com.
Carter was drafted No. 40 overall by the Cowboys in 2011 knowing that he would miss a portion of the season due to his injured ACL.
Although he isn't medically cleared to practice yet, the Cowboys signed free agent Dan Connor to give Carter some competition. If Carter demonstrates that he is making too many mistakes in training camp, the job could easily go to Connor, who is the proven veteran.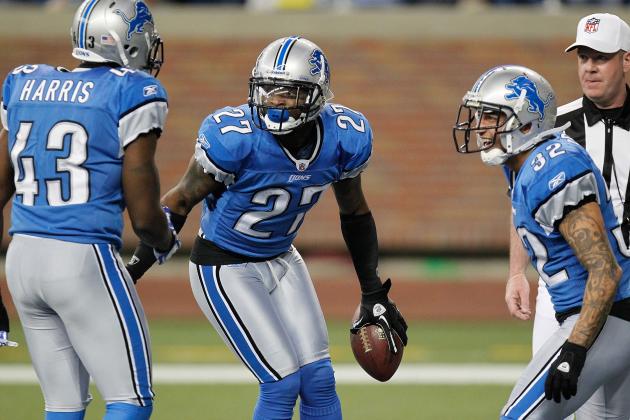 Gregory Shamus/Getty Images

Most Surprising Starting Cornerbacks: Aaron Berry (Detroit Lions) and Cassius Vaughn (Indianapolis Colts).
Aaron Berry was a rookie for the Detroit Lions in 2010, and appeared in just one game, making his only NFL interception to date in that contest. Last year, Berry appeared in 11 games, making 31 tackles with no interceptions and a pretty empty overall stat line.
Yet when the Lions had the players in for OTA's, it was Berry who was lining up as a starting corner for the team. If Berry does in fact wind up starting for Detroit, you might see Aaron Rodgers, Jay Cutler and Christian Ponder targeting his side of the field early and often.
Worse off than the Lions at cornerback are the Indianapolis Colts. We are listing Cassius Vaughn as the other surprise starting cornerback, but the reality is that the other starter for the Colts probably isn't on the roster yet.
The Colts will be active on the waiver wire, and due to their favorable wire position, will be looking to claim cornerbacks left and right throughout the offseason, until they can find a favorable upgrade.
Vaughn was just acquired recently in a trade with the Denver Broncos, and he might be the second-best cornerback on the team already. It could be a long year in Indianapolis, Colts fans.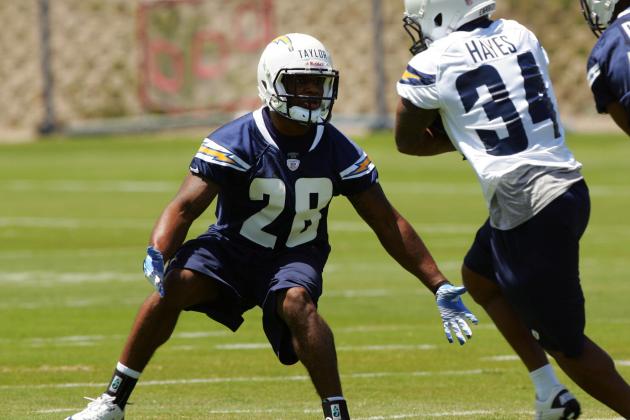 Kent Horner/Getty Images

Most Surprising Starting Safeties: Haruki Nakamura (Carolina Panthers) and Taylor Mays (Cincinnati Bengals).
As of now, the Carolina Panthers appear to be lining up Sherrod Martin as the starting safety. Martin demonstrated repeatedly in 2011 that he is a weak tackler, and since safeties are required to provide solid run support, you would have to imagine that the Panthers are leery about Martin proving that he still has trouble wrapping up tackles.
The Panthers signed Haruki Nakamura as a free agent from the Baltimore Ravens, who were loaded with top-end talent in the secondary. Given the chance to see more reps in Carolina, it wouldn't be a major surprise to see Nakamura pass Martin on the depth chart and take over the starting role.
He hasn't done very much yet in his NFL career to warrant being a starter, but when the Cincinnati Bengals began OTA's, they lined up Taylor Mays as a starting safety.
Mays has been in the NFL for two years, playing for San Francisco and Cincinnati. He is still looking for his first career interception, but the Bengals are high on his potential.
There is some other youthful competition in Bengals camp from Robert Sands and rookie George Iloka. Mays clearly hasn't been handed the starter's job. He will have to earn it. The rest of the summer will afford him the opportunity to prove that he is worthy of the starting role.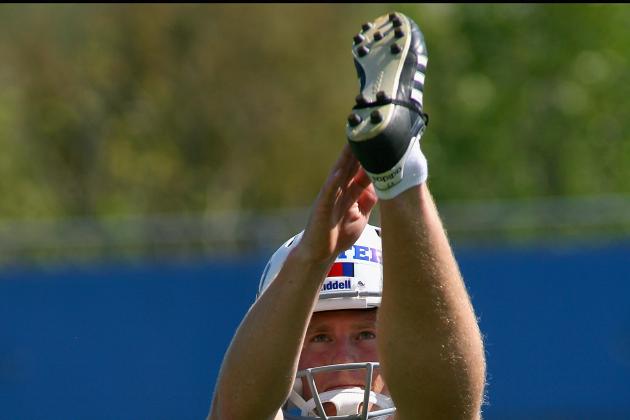 Rick Stewart/Getty Images

Most Surprising Starting Kicker: John Potter (Buffalo Bills)
If he is still on the active roster when Week 1 rolls around, then the most surprising starting kicker in the NFL will be John Potter of the Buffalo Bills.
Potter was a seventh-round draft pick (No. 251 overall) for the Bills in the 2012 NFL draft. The reason that the Bills drafted Potter was to focus on being a kickoff specialist. Granted, this is a luxury position that most teams probably can't afford to take up a valuable roster spot.
The Bills prefer to have Potter kick the ball out of the end zone and have the opposition start every drive at the 20-yard line, and then take their chances with the revamped defense from there.
The Bills will still use veteran Rian Lindell as their field-goal kicker, meaning that Potter only has to contend with kicking off. Assuming he does his job, he could wind up being the starting kicker for the Bills opening kickoff in 2012.
Of course, if he makes the active roster, he will need to give some thanks to Brad Smith, who takes the place of three players just by all of the different hats that he wears for the Bills.