Pacquiao vs. Bradley: Smartest Predictions for Epic Clash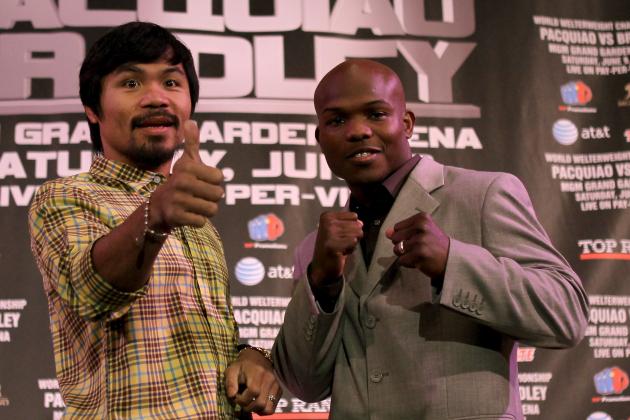 Stephen Dunn/Getty Images

The rapidly approaching championship fight between the 33-year-old Manny Pacquiao (54-3-2, 38 KOs) and 28-year-old Timothy Bradley (28-0, 12 KOs) at the MGM Grand in Las Vegas is not lacking for intriguing storylines.
From Pacquiao's zealous religious revival to Bradley's uncharacteristically arrogant rematch poster hyping Bradley-Pacquiao II, the fight's promotion has been steadily building momentum.
Personalities aside, what makes Pacquiao-Bradley so enticing is the actual skill level and pedigree of the boxers themselves. While Bradley has perhaps been trying too hard to turn himself into a marketable commodity, the true test of his future pay-per-view value will be his in-ring performance.
So, the question that begs asking is: What can we expect to see when the first-round bell tolls on Saturday night?
If you're curious about whether the fight will have knockdowns and point deductions, or wondering which punch will make the difference and what will happen in the championship rounds, you've come to the right place.
Let's find out what Pacquiao-Bradley has in store for us.
Begin Slideshow

»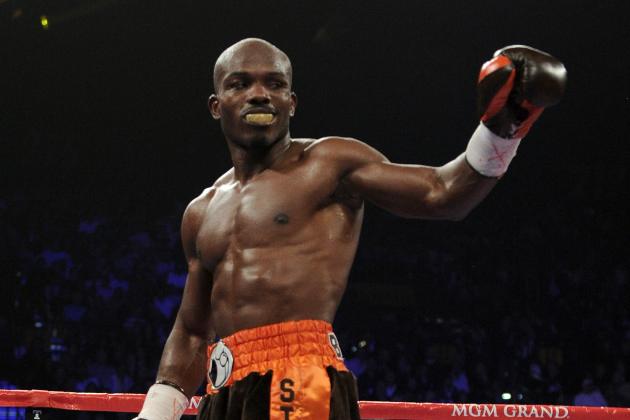 Harry How/Getty Images

As is the case with most high-profile championship fights, a laborious feeling-out process inevitably occurs over the first two to three rounds.
Expect both Pacquiao and Bradley to ease into the fight with an overreliance on feinting to prompt a misstep and create openings. The fight's first meaningful exchange will occur when either Pacquiao or Bradley are able to effectively counter the other and capitalize on a mistake.
The process of dictating the fight's tempo and establishing ring generalship is another reason to expect two rounds of posturing. Given each fighter's versatility, it is reasonable to expect that either could be the aggressor or counter-puncher.
Considering the success Juan Manuel Marquez had with right hand counters in his most recent fight against Pacquiao, Bradley is likely to adopt a similar early strategy and box off his back foot to see if he can time Pacquiao with right hands of his own. This will allow Bradley to assess Pacquiao's speed while working to set up his right hand—Bradley's best punch—behind a stiff left jab.
Pacquiao, as a seasoned veteran of megafights, will be content and comfortable to take what Bradley gives him in the early going before opening up with his full arsenal.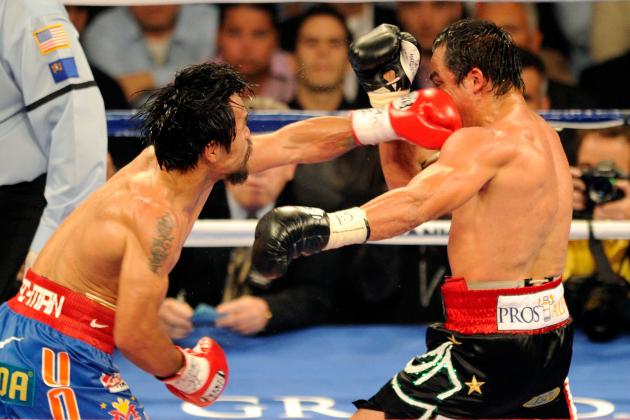 Ethan Miller/Getty Images

Bradley has a tendency to loop his punches when he engages in chaotic exchanges, and lunging forward generally precipitates his erratic punching. This often occurs with his head extended as he wings shots and tries to smother his opponent.
This can be effective in spots, and Bradley's dogged determination and superb conditioning generally allow him to succeed when fighting on the inside. That said, there is, at times, a discernible breakdown in his fundamentals, and Pacquiao is the kind of precise boxer who can take advantage of these lapses.
Expect Pacquiao's right hook to be effective in sneaking in past Bradley's looping left. Also, if Pacquiao is able to control the ring by circling to his right, he'll create angles for his straight left to stun Bradley as he moves forward with his head extended.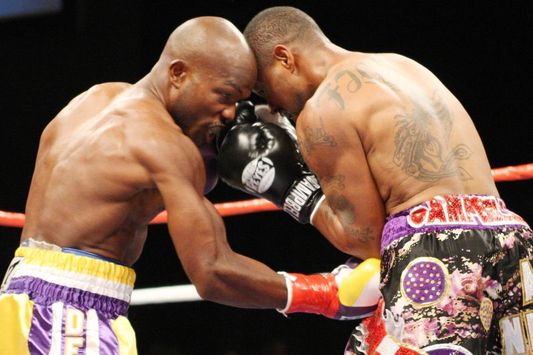 Photo courtesy of braggingrightscorner.com
While he certainly isn't a dirty fighter, some of Bradley's bouts have been marred with accidental head clashes due to his aggressive style and tendency to lead with his head when launching combinations while moving forward.
Considering that Bradley is an orthodox fighter and Pacquiao is a southpaw, the odds of a head clash are built in to their stylistic matchup. Adding Bradley's propensity for unintentional head-butts to this equation only increases the possibility of head clashes and potential cuts.
Both will have to be careful in how they initiate their offense. Given their respective speed and agility, sudden forward movement and in-fighting could very well lead to Bradley and Pacquiao striking each other with weapons other than their fists.
While a cut and some theatrical bleeding could enhance the fight's drama, the risk is also present for a disappointing and premature stoppage of the contest.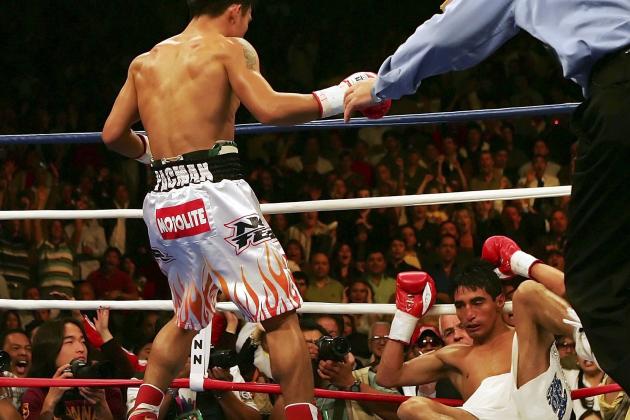 Jed Jacobsohn/Getty Images

Both Pacquiao and Bradley are exceptional athletes and come into every fight in supreme condition. While both men have been down in their career, they have shown the heart and fortitude to fight back under duress and survive rough patches with smart boxing.
Pacquiao certainly has the heavier hands, and it wouldn't be surprising to see him catch Bradley off-guard in the early going before the fight heats up. Still, while Pacquiao's power is well documented, it would be surprising to see him dust Bradley with an early knockout.
That said, if the fight does have a knockdown, expect it to involve Pacquiao stunning Bradley with a straight shot early in the fight. Knowing Bradley's chin and recuperation abilities, I suspect he will shake off the blow and regroup quickly.
A knockdown would most likely occur if Pacquiao catches Bradley off-balance, which is a possibility given Pacquiao's fleet movement and unconventional punching angles.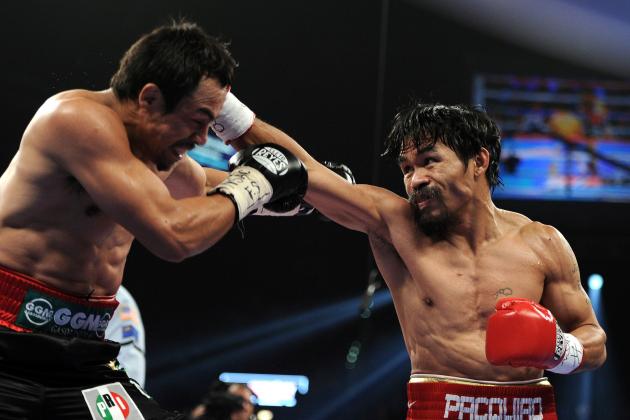 Harry How/Getty Images

After a cagey start, expect Pacquiao to be the first one to locate and begin to exploit a weakness in his opponent. While Bradley undoubtedly has a quality game plan in place, as well as a strong corner and good adaptability, the magnitude of the fight might lead to a more tentative start as he acclimates to fighting someone of Pacquiao's overall skill.
Between Rounds 4 and 8, Pacquiao has an opportunity to build a lead if he steps on the gas pedal. This will involved pressuring Bradley and moving intelligently to avoid counter right hands. If Pacquiao can combine superior ring generalship with his ability to throw and land lightning-quick combinations, Bradley will not have an easy time settling into the fight.
Pacquiao needs to use his megafight experience to put Bradley in a hole from the bout's beginning in order to force "Desert Storm" into taking reckless chances that can then be exploited.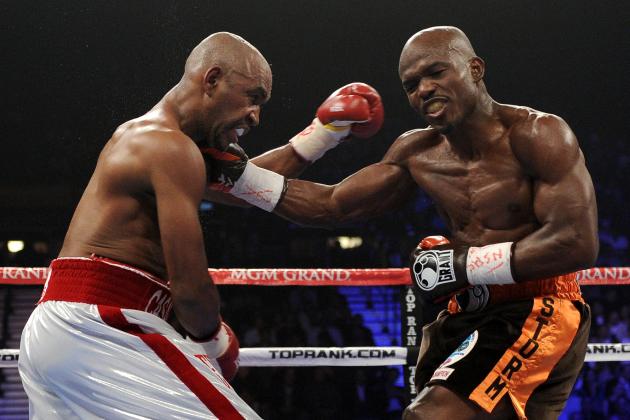 Harry How/Getty Images

In his most recent fight against Juan Manuel Marquez, Pacquiao was constantly tagged with counter right hands.
While Marquez is an elite counter-puncher, Pacquiao's propensity for getting hit in that fight had a lot to do with his stubborn insistence on stalking Marquez in predictable patterns. Furthermore, Pacquiao struggled in moving to his right and away from Marquez's counter rights.
Traditionally, the best punch against a southpaw is a straight right hand, and it just so happens that this is Bradley's most effective shot. While Bradley does not possess Marquez's surgical precision, he does have the ability to throw his right hand with sound technique, and the punch comes from various and unconventional angles.
Based on how Pacquiao was consistently hit with right hands for 12 rounds against Marquez, expect Bradley to have success with this shot as well. Bradley will have moments where he will be able to catch Pacquiao off-guard, and the biggest question stemming from Bradley landing right hands is whether the punch will have enough pop to actually hurt Pacquiao.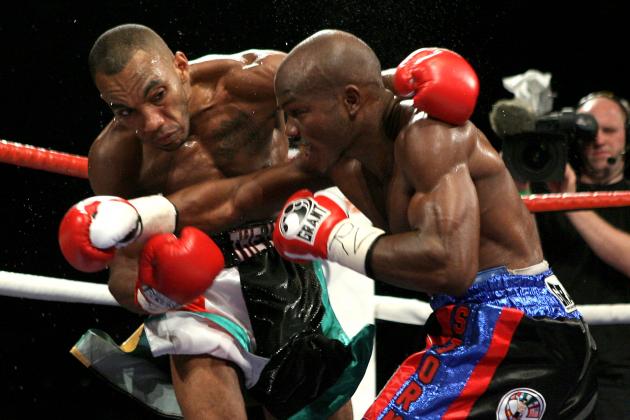 John Gichigi/Getty Images

If Pacquiao is able to control the middle rounds, expect Bradley to increase his work rate in the latter third of the fight. Bradley will have the stamina to initiate a furious rally, the only question is how effective will this late surge be?
Around the eighth round, Bradley might find himself in the position where he will need to take serious risks to initiate a highly effective offense. Bradley has the correct demeanor heading into the fight, and I'm inclined to believe in his supreme confidence and willingness to throw caution to the wind.
A Bradley surge does not automatically imply that he will dominate or even win the majority of the later rounds. Still, Bradley will need a strong showing in the championship rounds to secure a victory if the fight is remotely close.
Expect to see Bradley amp up his combinations and forward movement; the biggest issue for "Desert Storm" heading into the fight's late stages is whether he'll have the power to match his aggressiveness.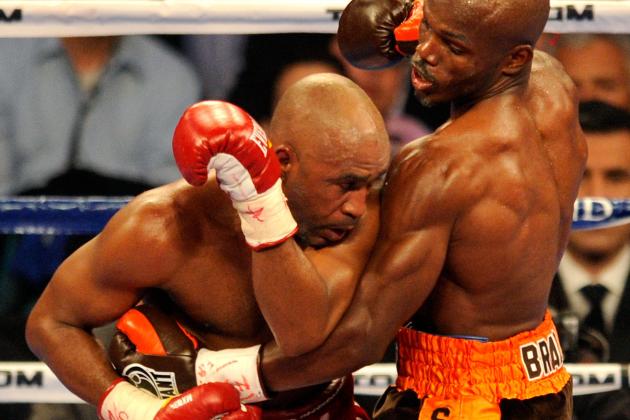 Ethan Miller/Getty Images

This follows much of the logic discussed in Bradley trying to rally and apply pressure in the later rounds. By swarming Pacquiao, Bradley can effectively negate—to a certain degree—Pacquiao's distinct advantage in punching power.
As long as Bradley doesn't abandon his fundamentals and technique, his forward movement and flurries can potentially be effective in disrupting Pacquiao's rhythm. If Bradley lets Pacquiao dictate the fight's tempo and distance, he will get stuck at the end of Pacquiao's punches and feel the full effect of the Filipino icon's power.
Bradley stands a chance to upset Pacquiao if he picks the correct spots to swarm Pacquiao and take the fight into the trenches. Bradley is relentless and aggressive, and this attitude and demeanor will be effective in limiting Pacquiao's ability to cleanly counter by taking away punching angles and forcing Pacquiao to fight off his back foot.
Obviously Bradley shouldn't spend the entire fight on the inside, and the prospect of moving forward against Pacquiao does carry risks. Despite this, Bradley will, at some point, have to close distance and initiate his offense.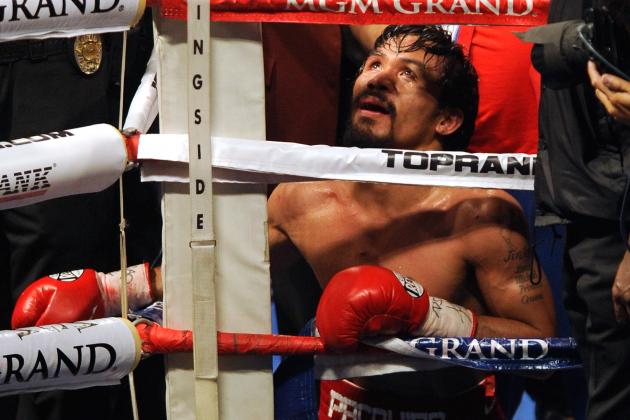 Ethan Miller/Getty Images

If Pacquiao wins the fight, it will be through exposing Bradley's weaknesses and capitalizing with his flashy combinations and sustained punch output.
Pacquiao surely understands that Bradley has not shown one-punch knockout power at an elite level, and this should bolster Pacquiao's assurance in applying pressure and realizing that he can walk through punches if need be.
If the fight becomes filled with heated exchanges, expect Pacquiao's heavier punches to make a greater impression on the judges and lead to a unanimous decision verdict.
While I don't see this fight necessarily having the same dramatic ebb and flow of, say, Pacquiao-Marquez (any of their fights), there is a chance that Pacquiao could score a late stoppage based on accumulated punches.
Viewers will likely get their answer to this question quickly; how well Bradley will handle Pacquiao's power should be evident from the early going.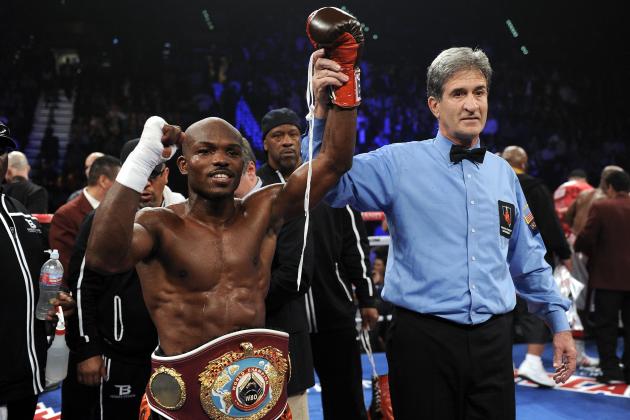 Harry How/Getty Images

Some might think it overly cynical to suggest that the boxing world will do anything it can to justify a Pacquiao victory to uphold the slim chance of an eventual fight against Floyd Mayweather.
Pacquiao's controversial majority decision win over Juan Manuel Marquez left many with sour tastes in their mouths, and it seems unlikely—given the business of boxing—that Bradley will win a wide decision.
Obviously that has a lot to do with Pacquiao's skill level and that fact that it would be shocking to see Bradley outclass him. Nevertheless, Bradley can win this fight, and I expect him to be competitive throughout.
Should Bradley figure out ways to score consistently against Pacquiao and embolden himself to take calculated risks, expect his youth, athleticism and natural boxing ability to allow him to eek out a split or majority decision.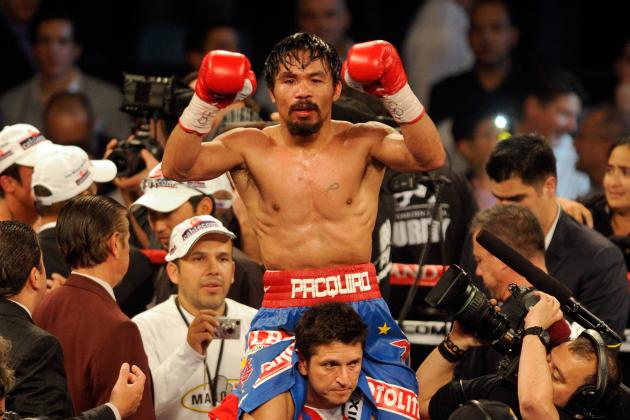 Ethan Miller/Getty Images

When the 12th-round bell tolls, expect Manny Pacquiao to triumph by decision (116-112, or 116-111 if we factor in a potential point deduction or flash knockdown).
This fight could unfold similarly to Mayweather-Cotto with a decisive winner despite several hotly contested rounds. It would be a major disappointment if Bradley were to get blown out, though this doesn't seem to be an especially informed concern since Bradley has proven himself as a world-class boxer at the championship level.
Bradley will force Pacquiao to earn a decision the hard way, and the matchup, despite not being a fight anyone was clamoring for, could be one of Pacquiao's toughest and most competitive outings.