His ball landed softly on the edge of the green and began to trickle down the slope. It ambled along until, on its last breath, it tumbled into the cup.
Watching intently, Tiger Woods bobbed to his left and unleashed a steady stream of his trademark fist pumps. He probably didn't hear the crowd erupt around him in jubilation.
Woods' miraculous comeback victory and chip-in birdie on the 16th hole at the Memorial Tournament Sunday sure seemed like more than one great round and one memorable shot. It seemed like the magic had returned. It seemed like he was finally back.
In fact, the entire week was vintage Woods. After riding consistent ball-striking to solid scores the first three rounds, he found himself in the thick of things coming down the stretch of a tournament he had won four times previously.
Woods saved his best for when he needed it most, carding a final round 67 that included three birdies in his last four holes. Just like old times.
However, recent declarations of Woods' return have been, while plentiful, inaccurate and premature. So what makes his performance at Muirfield Village any different?
It depends who you ask, but something just felt right Sunday. It felt as though Woods had never left.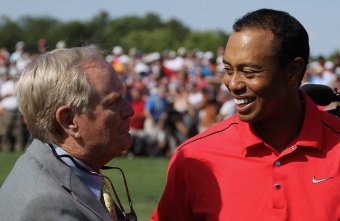 Scott Halleran/Getty Images
He looked like he was in complete control. He looked confident. He looked like Tiger Woods.
Never was that more evident than on the par-3 16th, when Woods holed his sand wedge from thick rough over the back of the green.
Missing short spelled disaster, and missing long would have put his ball in the water. The shot tied Woods with Rory Sabbatini atop the leaderboard and caught the eye of the tournament's host.
"That was one of the most incredible golf shots I have ever seen played," Jack Nicklaus said during Sunday's telecast on CBS. "It was where he had to land it, what he had to do, and what the penalties were if he didn't make it. Unbelievable."
Believe it. But as heroic as Woods was with his short game, Sunday will be remembered as the day he matched Nicklaus with the 73rd PGA Tour victory of his career.
And fitting it was that the Golden Bear was waiting to congratulate him beside the 18th green of the golf course he designed. Woods is now nine wins away from Sam Snead's all-time victory mark of 82.
Tiger will get the chance to notch his 74th at the U.S. Open at Olympic Club in less than two weeks, but right now, the story is what he did at the Memorial.
He may or may not be back, but Woods gave us a glimpse of his former self Sunday.
Phil Mickelson and Rory McIlroy were watching at home. World No. 1 Luke Donald was never a factor. Spencer Levin, Rory Sabbatini and Rickie Fowler faded during the final round. And all that was left was a Tiger. Although, which Tiger it was is not abundantly clear.
Was it the one who dominated golf for over a decade? Or was it the one who has had more downs than ups these past few years? Perhaps it was a new Tiger altogether.
After the trophy presentation, Woods was asked if he felt like the old Tiger Woods.
"I feel like an older Tiger Woods," he said with a smile.
But judging by his performance Sunday, that's not necessarily a bad thing.