Heat Model vs. Thunder Model: Which Is Better?
June 4, 2012

Mike Ehrmann/Getty Images
The Miami Heat and Oklahoma City Thunder could very well be facing off in the NBA Finals this year. Two teams with a great deal of success and in many ways a great deal of similarity, but teams which have gotten to that point in very different ways.
Both teams are led by two superstars and have a third player who is unquestionably a star.
The Heat stars are LeBron James, Dwyane Wade and Chris Bosh. The Thunder stars are Kevin Durant, Russell Westbrook and James Harden. 
The two trios put up amazingly similar numbers. The Heat stars combine for 67.2 points, 19.0 rebounds and 12.6 assists a game, a total line of 98.8. The Thunder threesome puts up 68.4 points, 16.7 rebounds and 12.7 assists per game for a total of 97.8. 
How the teams landed their respective trio of stars is the difference.
The Heat completely disassembled their team, save their one star, Dwyane Wade, and then added the other two stars. 
The Thunder developed their team through the draft, but spent more years in the basement than a pimply-faced computer nerd to do so. 
Looking at either "method" of building a team in the manner of either way these two teams did involves a bit of a risk and/or luck. 
The Heat took a huge gamble in hoping that they could get arguably the most coveted free agent in the history of the game. Other teams like the Chicago Bulls, Los Angeles Clippers and New York Knicks took close to the same risk to get the same reward, but none of those other teams landed the big prize. 
The Thunder's success is largely built around the success of Kevin Durant, who wasn't even the top overall pick in his draft. In fact, many projected him to be a "bust" because of his slight build. 
The point being, no matter what method you use there's going to be some luck involved and both teams had some. James picking Miami over the three largest markets in the country wasn't a given by any stretch. Durant's success wasn't, either. 
Having said that, there's also a degree of front office management that assembled these teams in an intelligent fashion and it raises the question: Which method is better?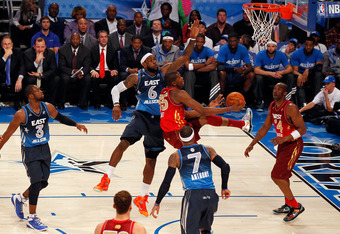 Mike Ehrmann/Getty Images
The truth is the answer is based on what you have and what you don't have. As similar as the Heat and Thunder are, there are also some very large differences. 
Mostly those differences concern age. This year, the average of the Heat trio was 28. The average age of the Thunder trio was 22.7. 
That means different things for both teams. The Heat trio are experienced and ready to win a title. They also have a shorter window. 
On the other hand, the Thunder might not have their window opened yet. No team has ever won the title with their three top scorers under 25.
While it's possible the Thunder could be the first, there's also a possibility that the reason that hasn't happened before is that it takes a certain kind of experience to win a title. 
Speaking of titles, neither trio has won one yet, so neither method has been "proven" yet. 
Most championship teams aren't built in a matter of a couple of years. They are built over time. The exception to the rule is the Boston Celtics, who had their three stars come together and won in the same year. 
However, even they had a core of players that had two additional stars added to them. They weren't a totally revamped team the way the Miami Heat were. 
Most championship teams are built over time, like the way the Dallas Mavericks were last year. The two teams contending with the Heat and Thunder, the Celtics and Spurs, include cores who have now played together for years and made many deep playoff runs together. 
In the end, you could argue the answer to the question of which way is better is neither. However, if you're going to do it one way or another, the answer seems to be "it depends." Is that too much of a cop-out?
The reality is that it really does depend, though. Who else is there? If your team has young stars or no stars, build through the draft. Suck if you have to. Draft well. Develop players. Create stars. 
If your team has a great player who is in his mid to late 20s, then the best option is to sever ties with everyone you can and add more stars around him. 
It also matters where you play. Miami might not be a "major market" (surprisingly, it's about the same size as Cleveland in terms of television markets), but it's a coveted landing spot because of taxes, weather and night life. 
Oklahoma City is not the type of city to land major free agents. It's the type of city to lose them. While Durant and Westbrook have, as expected, signed max deals to stay in Oklahoma City, it really means nothing as no one else could pay them as much. 
Those who have tried to celebrate Durant's quiet extension as an "anti-Lebron" statement ignore that James did the same thing with his first extension in Cleveland. Let's wait until his third contract to lionize Durant for staying. 
The right way depends on where you are and who you have. Any other answer is overly simplistic, ignoring the specifics. Sorry if that nuanced answer doesn't fit in the binary logic of internet-speak, but that's the way it is.