Novak Djokovic: Is Djoker Better on Clay or Hard Courts?
June 4, 2012

Mike Hewitt/Getty Images
Novak Djokovic has almost achieved the nearly impossible: winning all four major tennis tournaments, a consecutive Grand Slam.
The only thing standing in Djoker's way from this historic feat?
The red clay courts of Roland Garros, home to the only major tournament that he has never won.
The Serbian native grew up playing on clay courts, but after his performance Sunday against No. 22 Andreas Seppi, Djokovic looks like he is slipping on clay—literally.
In fact, despite growing up on clay, Djokovic's record in the four Grand Slam tournaments is much better on hard surfaces than on clay.
Throughout his career, Djokovic has collected five Grand Slam titles—four on hard court and one on grass—yet he has never gone past the semifinals at Roland Garros. Most recently, he was in the semifinals at the 2011 French Open, but succumbed to Roger Federer. It was Djokovic's only major loss of the year, and it was on clay.
Djokovic has done well on clay in the past—he has a 109-34-career record—but so far this year, Djokovic has been performing much better on hard surfaces.
Let's look at his clay performances in the 2012 season.
Djoker has played in three clay tournaments in 2012—one in Monte-Carlo, one in Madrid and one in Rome—and has failed to win any of them. With a 10-3 record, Djokovic's losses come from a quarterfinal defeat by Janko Tipsarevic, and two finals take downs courtesy of Rafael Nadal.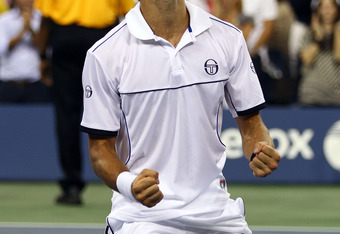 Clive Brunskill/Getty Images
If we compare Nadal's style of play to Djokovic's, we can see why Nadal will remain King of Clay and why Djokovic should stick to hard courts.
Nadal is known for his lefty forehand, killer topspin and effective net game. All of these tools help him to succeed on clay. Clay takes pace off the ball, so by adding spin, Nadal's shots tend to kick up, causing opponents to lose their offensive attack and revert back to defense. Nadal often then rushes the net to finish off a weak hit with either a well-placed drop shot or a penetrating volley.
Djokovic, on the other hand, is known for his exceptional backhand, flat first serve and quick side-to-side movements. Although, as mentioned, he has done well on clay, Djokovic's style of play is much better suited for hard courts. Hard courts are faster, so Djoker simply needs to hit a winner off of his backhand or an ace to end the point.
On clay, Djokovic's serve is rendered much less effective as well as his ability to link a string of points together. His speed generally gives him a distinct advantage, no matter what surface, but his speed is equaled by Nadal, thereby nullifying that edge.
Now that we've broken down Djokovic's game, it is easier to understand his mediocre clay court performances this year when considering his No. 1 world ranking.
During his latest match at Roland Garros, the No. 1 in the world quickly went down two sets to Italy's Andreas Seppi in part because of Seppi's solid footwork and surprisingly good play compared to Djokovic's inability to move as well and create winning angles.
Seppi's consistency baffled Djoker and forced him to come up with shots he simply did not have. As a result, Djokovic had 34 unforced errors in the first two sets—almost half the total number from the match.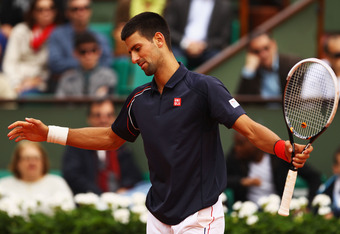 Clive Brunskill/Getty Images
Because of Djokovic's familiarity with the pressure of a Grand Slam tournament, he was able to rally his way back from the two-set deficit to win in five sets: 4-6, 5-7 (5-7), 6-3, 7-5, 6-3.
In the last three sets, Djokovic focused more on consistency than power. He upped his percentage of points won off of returns from 29 percent in the second set to 61 percent in the third by running around his forehand to set up his biggest weapon: his backhand.
Once Djokovic started to think of the match more as a chess game than as a hitting contest, everything seemed to fall in place.
Novak Djokovic is a champion. Plain and simple, he deserves to be the No. 1 in the world. However, if you were to bet where he would win: Australian Open or French Open, the answer would be Australia.
Djokovic's record speaks volumes. He is better on hard surface than clay.