Florida Football: 12 Opposing Players Florida Must Shut Down in 2012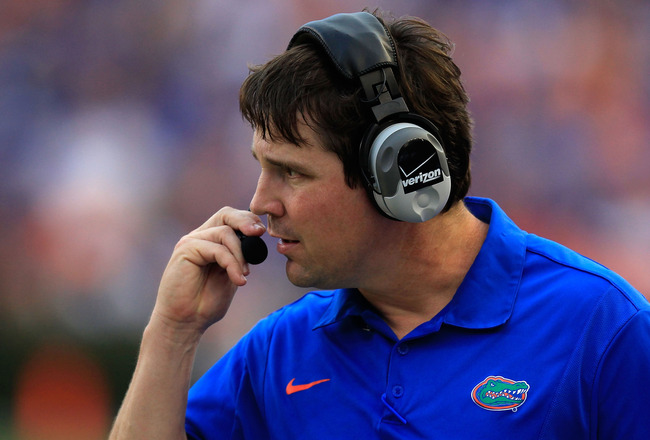 Sam Greenwood/Getty Images
As the Gators showed in 2011, it is easy for a team to fall into the trap of depending too much on one player. In 2011, the Gators leaned heavily on Chris Rainey and were unable to produce much offense when teams shut him down.
When dissecting the 2012 schedule and looking into each opponent, you start to find key players on each team that the Gators need to shut down if they want to win the game. The majority of players that make this list are on offense, but several are defensive players who could create pressure and wreak havoc to the Gators offense.
Without further ado, let's take a look at one player from each roster that the Gators need to shut down in 2012.
Matt Schilz, QB, Bowling Green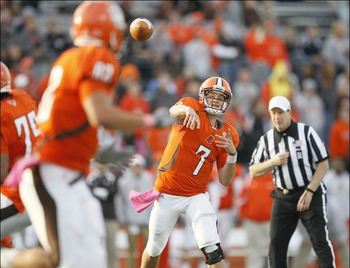 Photo Credit: Toledoblade.com
In what should be a tune-up game for the Gators, shutting down quarterback Matt Schilz should be top priority.
As a sophomore, Schilz completed 59.6 percent of his passes for over 3,000 yards and 28 touchdowns.
If the Gators can pressure Schilz and force turnovers, this game should be over by halftime.
Christine Michael, RB, Texas A&M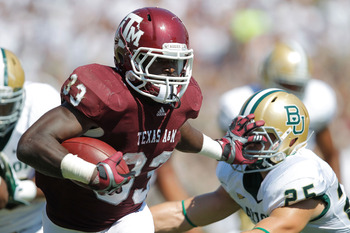 Sarah Glenn/Getty Images
Texas A&M is in a similar situation to the 2011 Florida Gators. The Aggies have a new head coach and will start an unproven quarterback in 2012. With inexperience at quarterback and moving to a new conference, the Aggies will rely heavily on their running game to start the season.
The Aggies will be looking for senior running back Christine Michael to bounce back after suffering back-to-back season-ending injuries in his sophomore and junior years.
Michael is a big physical back that will look to fill the shoes of the recently departed Cyrus Gray.
With no starting quarterback named for the Aggies as I write, the Gators must focus on stopping the run, and that begins with stopping Christine Michael.
Tyler Bray, QB, Tennessee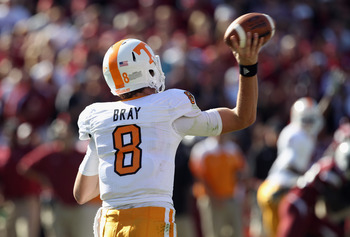 Streeter Lecka/Getty Images
Despite losing his best receiver in the first quarter against the Gators last year, Bray still had a solid game. Bray completed 26-of-48 passes for 288 yards and three touchdowns.
Bray is being talked about as having the potential to become one of the elite quarterbacks not only in the SEC, but in the nation. If Bray wants to make good on those projections, he will need to do something the greatest quarterback in his school's history couldn't do: beat Florida.
Both teams should come into this game at 2-0, and the winner will get a jump start on winning the SEC East.
If the Gators can pressure Bray, he has shown that he is apt to make poor decisions. Bray threw two interceptions last year, and if not for a few drops, could have thrown more. The Gators need to pressure Bray and force turnovers to come out of Rocky Top with a victory.
Donte Rumph, DT, Kentucky
Andy Lyons/Getty Images
As you can see in the picture above, Donte Rumph is a BIG boy.
Rumph is one of the premiere defensive linemen in the SEC, but goes under the radar because of how bad Kentucky's defense has been.
Rumph is not a player who will fill up the stat sheets, but he is constantly taking on double teams and clearing the way for blitzing linebackers. Rumph is a player that can be disruptive in the run game, and he must be dealt with if the Gators want to be a physical power running team in 2012.
Sam Montgomery, DE, LSU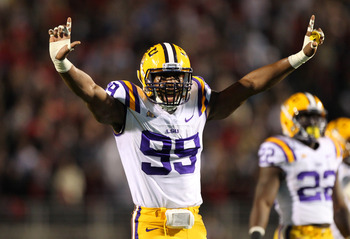 Joe Murphy/Getty Images
This pick was a toss up between Montgomery and Barkevious Mingo. Ultimately, I went with Montgomery because of the way he played against Florida last season, but Mingo would be an honorable mention here.
Montgomery wreaked havoc to the Gators offensive line in last season's contest, totaling three tackles a sack in the 41-11 blowout.
The Gators will get the benefit of having a bye week before they play LSU this season, and that week should be spent on figuring out a way to keep Montgomery out of Florida's backfield.
Jordan Rogers, QB, Vanderbilt
Al Messerschmidt/Getty Images
Head coach James Franklin has turned around the culture of Vanderbilt football, and he along with Jordan Rogers are looking for a breakout 2012 season.
Most people know Jordan because he is the little brother of Green Bay Packers quarterback Aaron Rogers. The community college transfer got his shot in 2011 and will look to make a name for himself in 2012.
Rogers completed 50 percent of his pass attempts last season for just over 1,500 yards and nine touchdowns. Rogers is a dual-threat quarterback who can extend plays with and hurt teams with his running ability. Rogers was second on the team in rushing attempts (117), yards (420) and third with four rushing touchdowns.
Rogers lit the Gators up last season, completing 19-of-28 passes for 297 yards and two touchdowns. He added another touchdown rushing and almost led the 'Dores to their first win over the Gators in over 20 years.
The Gators will need to limit Rogers if they want to extend their dominance over Vandy to 22 straight games.
Marcus Lattimore, RB, South Carolina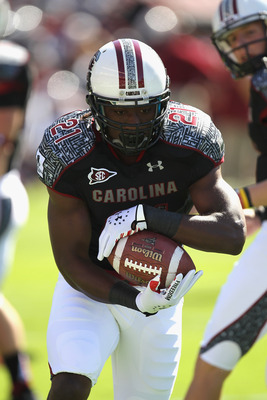 Streeter Lecka/Getty Images
Gone are the days of Steve Spurrier's fun 'n gun offense. Spurrier's offense since landing Lattimore has been more balanced than any team he has coached.
Lattimore rushed for 818 yards and 10 touchdowns despite only playing in seven games. After suffering an ACL tear, it still remains to be seen if Lattimore will be the same physical running back he was before going down, but when healthy, he has been one of the best tailbacks in the country.
As a freshman, Lattimore wore the Gators down, carrying the ball 40 times for 212 yards and three touchdowns.
When healthy, it is almost impossible to shut Lattimore down, but the Gators will need to slow him down if they want to end the Gamecocks' two-game winning streak over the Gators.
Aaron Murray, QB, Georgia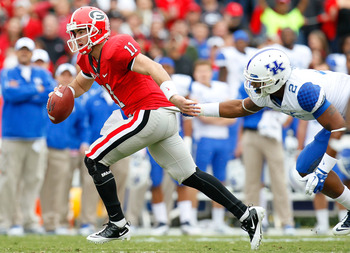 Kevin C. Cox/Getty Images
The preseason hype has people calling Dawgs quarterback Aaron Murray the best quarterback in the SEC. I think this is a little premature, but he is certainly the focal point and leader of Georgia's offense.
Murray completed 15-of-34 pass attempts for two touchdowns and an interception against Florida last season as the Dawgs ended a three-game losing streak to the Gators.
If the Gators can hold Murray to similar statistics in 2012, they will beat Georgia and put themselves in position to win the SEC East.
James Franklin, QB, Missouri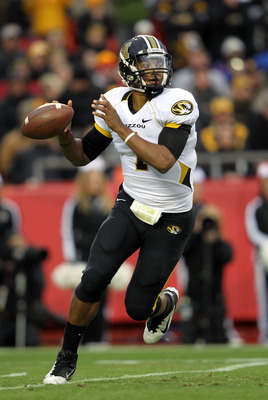 Jamie Squire/Getty Images
In their inaugural season as members of the SEC, Missouri will go as far as James Franklin's surgically-repaired shoulder and legs will take him.
Franklin accounted for 36 touchdowns last season, but the questions remain if his running style will allow him to stay healthy through an entire season in the SEC.
Missouri is coming from the offense-happy Big 12, where defense is an after thought. Franklin will get his first taste of a real SEC defense when he faces Georgia in Week 2, and it will be interesting to see how Missouri's spread offense fares in the SEC. It worked for Florida, but only with Tim Tebow at quarterback. Franklin is good, but he is no Cam Newton or Tebow.
Stop Franklin, and you will beat Missouri. That is the blueprint for not only the Gators, but every team in the SEC in 2012.
Blaine Gautier, QB, Louisiana Lafayette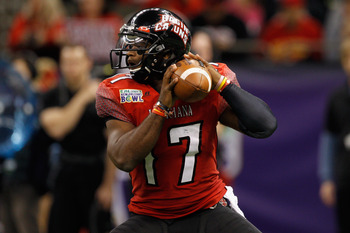 Chris Graythen/Getty Images
Gautier is an accurate passer who completed over 60 percent of his passes for 23 touchdowns and only six interceptions in 2011. Gautier can also hurt you with his feet, rushing 118 times for 486 yards and three scores.
The Gators had trouble with mobile quarterbacks Jordan Rogers and Connor Shaw last season and will need to focus their attention to the Ragin' Cajuns quarterback if they don't want to be upset at home.
Washaun Ealey, RB, Jacksonville State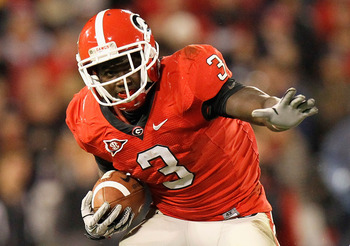 Kevin C. Cox/Getty Images
Ealey should be familiar with his opponent when the Gamecocks take on the Gators this season. Ealey, a transfer from Georgia, will be the feature back for Jacksonville State this season and the focal point of their offense.
A Division I-caliber athlete, Ealey will be the only player the Gators will need to focus on and shut down in order to come away with another win here.
Bjoern Werner, DE, Florida State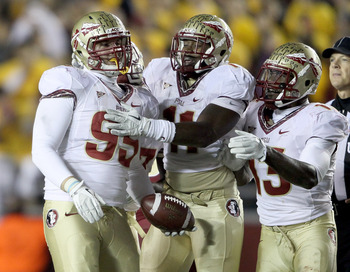 Elsa/Getty Images
There isn't a player on offense that the Gators need to focus on, as FSU managed just 95 yards offensively in their win over the Gators last season. The Gators gave the game away with turnovers and need to play better offensively to beat the Seminoles in 2012.
Starting with protecting the quarterback, the Gators should focus their attention on Bjoern Werner. Werner had a great game against the Gators, totaling four tackles, a fumble recovery and a pass broken up.
While all of the news about Florida's offensive line has been positive this offseason, they struggled mightily last season and need to be better to give their young quarterbacks a chance to be successful.
If the Gators can keep Werner and the rest of the FSU defense out of the backfield, they can steal a win in Tallahasee and end a two-game losing streak to the hated Seminoles.
Keep Reading

Florida Gators Football: Like this team?