Lil Wayne Dissed by the Thunder? Durant and Harden Try to Step Up to No Avail.
January 5, 2017
Al Bello/Getty Images
The hip hop industry's had a rough couple of days spent mingling with sports. First we had the vilification of Sean "Diddy" Combs and his son over Justin Combs' acceptance of a football scholarship to UCLA. Now the shabby treatment of rapper Lil Wayne.
Lil Wayne has refused to go back to the Oklahoma City arena after---prepare for the horror---the Thunder refused to give him tickets to Game Four of the series between the Thunder and San Antonio Spurs. Lil Wayne feels unwanted.
The team says that Lil Wayne asked for front row seats which weren't available.
These two stories are connected. As I wrote a couple of days ago, Combs' profession and lifestyle played a role in the negativity about Justin's scholarship. While I applaud Justin, it's selfish, ridiculous behavior like Lil Wayne's that make so many think so poorly of the whole industry.
Apparently Thunder players Kevin Durant and James Harden offered Lil Wayne tickets to the game. Not good enough. "That's not the point though," he told The Associated Press on Friday night. "It's the players stepping up but of course the players aren't white. I don't want to be sitting there on behalf of you, and I'm sitting next to a (person) that's like 'I don't want this (guy) sitting next to me.' (Forget) you…I'm in Forbes."
What? I don't even know what that means other than he played the race card which is absurd.
I so struggle with things like this because I just can't get to a point where I can understand people acting like such jerks. Lil Wayne's inflated sense of self importance and entitlement is disgusting. To throw the race card in is reprehensible.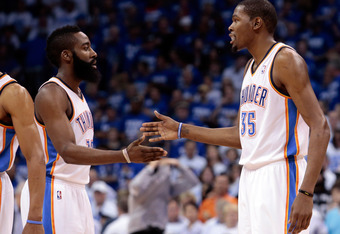 Brett Deering/Getty Images
The reality is that stars like Lil Wayne think this way because they're treated this way. They're generally allowed to get what they want and are treated like gods and the blame for that falls on the fans whose priorities are out of whack.
This doesn't just apply to hip hop rappers. It applies to all entertainers, and I'm including athletes in that category. They have a sick talent that puts them in the spotlight and makes them millions of dollars. That's okay. What's not okay is for any of these entertainers to behave poorly and have it accepted. They should be held to the same behavioral standards as anyone else. That's not asking too much. Don't have a "relationship" with any entertainer. Enjoy their performing. Nothing more.
Follow me on Twitter@sprtsramblngman.