Tampa Bay Buccaneers: Missing Pieces the Team Could Still Get
June 3, 2012

Chris Trotman/Getty Images
I don't have to go too deep into my "expert" analysis to prove that the Bucs had a Grade A offseason. 
All I have to do is name five players the team signed.
Carl Nicks. 
Vincent Jackson.
Eric Wright.
Mark Barron.
Doug Martin.
No further explanation needed.
However, this doesn't mean that Tampa Bay will go out and win a Super Bowl any time soon. There are still some very deep holes that need to be filled before the team can even hope to reach the playoffs. 
The biggest hole is experience. With the youngest roster in the NFL, the Bucs lack veteran firepower, as the team only has three players over the age of 30.
Two of those guys were signed this offseason, and the other is the far-over-the-hill Ronde Barber. Greg Schiano himself is only seven years older than Barber, and, to put that into perspective, there is a 15-year age gap between Barber and rookie safety Mark Barron.
Short on mentors, the Bucs should try to sign vets, even if they don't play. LaDainian Tomlinson may never play a significant down again, but his experience is worth at least a solid million. The venerable running back has the fifth-best career rushing total in NFL history, and each of his 13,000+ yards would be a textbook for youngsters Martin and LeGarrette Blount.
If not Tomlinson, OP (Original Patriot) Kevin Faulk would have a positive impact on the young RBs.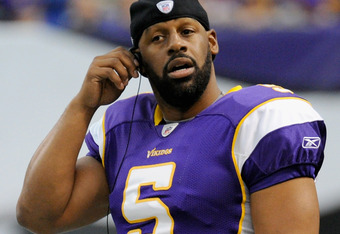 Hannah Foslien/Getty Images
Josh Freeman may want to get himself a mentor, so why not Donovan McNabb? All he has ever done is pass for 37,276 yards and never throw more than 15 interceptions in a season. Freeman had some turnover issues in 2011, so McNabb could give him some pointers on how not to throw directly to opposing cornerbacks. 
And if the Bucs want a free agent who can produce tangible results, they must look no further than Matt Roth, formerly of the Jacksonville Jaguars. The eighth-year defensive end excels against the run, which just happens to be Tampa's greatest weakness. Given second-year Da'Quan Bowers's Achilles' injury, Roth would be able to step onto the field immediately, as well as mentor second-year DE Adrian Clayborn.
The free-agent class is dwindling, and the Bucs will have to move quickly if they want to put the finishing touches on a great offseason. The biggest hole is experience, and there's a wealth of it available, if you know where to look.