Justin Blackmon, the NFL and How Roger Goodell Must Handle DUI
June 3, 2012

Rick Dole/Getty Images
Justin Blackmon was busted for his second DUI in Oklahoma in the early hours of Sunday morning, according to the Associated Press (h/t ESPN). Blackmon, who was pulled over in Texas for DUI in 2010, was charged with aggravated DUI. In the state of Oklahoma, anyone found driving with a blood alcohol content greater than .15 is charged with aggravated DUI.  The legal limit in Oklahoma is .08.
There are three things that make me ask a few questions about this whole ordeal:
1. This is his second DUI.
2. He was pulled over in Stillwater, OK.
3. This happened shortly after 3am.
First, this is his second DUI. While drinking and driving is not something I condone, I do know people that have driven drunk. Some have gotten caught and some have not. I get it; everybody makes mistakes. I am not throwing stones because I am not perfect. However, I am saying if you are a repeat offender for DUI, there is an issue with that. I am not saying Blackmon has a problem when it comes to consumption of alcohol, but I am saying Blackmon has an issue with decision making while consuming alcohol.
Why did Justin Blackmon think he would be able to walk out of a bar at 3am and drive? Blackmon was just selected fifth overall in April's 2012 draft by the Jacksonville Jaguars, so you know he has money. Why not ask someone to be your personal driver?
If I were ever fortunate enough to be an NFL player I could, at minimum, name ten people that would serve as my full time driver, before I would need to pause and think of a name.  Point is be smarter than the people that can catch you.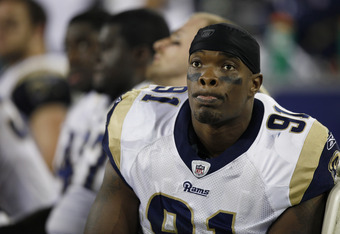 Joe Robbins/Getty Images
Booze and athletes is not a new development. From Babe Ruth to Joe Namath to Chris Mullin any many in between. Drinking and driving is nothing new to sports, look at Leonard Little and his problems with getting behind the wheel after one too many drinks. Little has had to live with the fact that he killed a mother because of drinking and driving. A few years back, Donte Stallworth plead guilty to DUI manslaughter. Stallworth hit a man after a night of partying and got 30 days in jail for his actions. So, with those two cases to learn from one would think Blackmon would be a little more smart with how he goes about conducting his nightlife.
Another odd twist in this story to me is that Blackmon got pulled over in Oklahoma. College is college. I understand that college is a blast and some people never want to leave, but there comes a time in everybody"s life when they need to grow up. Blackmon is now an NFL player. He should be in Jacksonville developing a rhythm with his QB and learning the playbook. Getting in trouble off the field before you ever play in an NFL game is not making a good impression on team management, the coaches and fellow teammates.
The third issue I have with this is the 3am time frame. Growing up my parents always said, "Nothing good happens after midnight."
And they are right.
I have been out after midnight and had some awesome times, but for the most part I understand the logic in the statement. When law enforcement officials pulled Blackmon over he was alone in the car his reported breathalyzer test resulted in a .24 blood alcohol content. Blackmon needs to reevaluate his priorities and figure out where football fits in. Another item to incorporate into his life is that saying my parents said to me an abundance of times.
Roger Goodell is known as a stern disciplinarian and now is a time for him to take a stand against DUI in the NFL. He came down hard on Stallworth and must do the same with Blackmon. I don't think Blackmon deserves a season long suspension without pay, but he needs some kind of discipline. The discipline I would suggest is a suspension for the pre-season and first six games of the regular season (without pay) and he must complete a substance abuse program before he can become eligible to return to the field.
There have been plenty of people that have lost their life in a car crash that involved alcohol and the pain it brings to the friends and family is unbearable. The NFL needs to step up and send a message to Blackmon and Nick Fairley, who was arrested for DUI in Alabama in May 2012, for their lack of judgment. The NFL supports so many great causes and charities and the time is now for Goodell and the NFL to add DUI awareness to their list of causes.