WWE History: Examining Members from the Second Incarnation Nation of Domination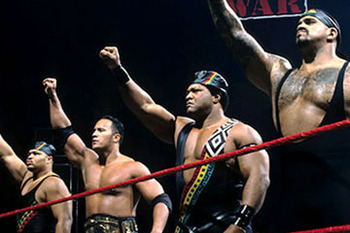 bleacherreport.com
The Nation of Domination's second run in the WWE ran from June of 1997 until March of 1998. In that time, they were one of the best heel groups at that time, playing to a Black Panther-like gimmick.
In the third incarnation, the group consisted of The Rock, Faarooq, D'Lo Brown, Kama Mustafa (The Godfather) and Mark Henry. All men would have long runs with the WWE, which will be examined through this article.
So, let's take a look at these five men's career in the WWE.
Mark Henry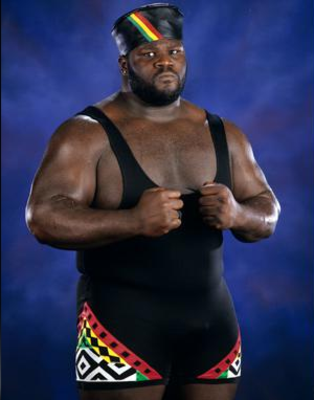 wrestlingchamps.blogspot.com
Obviously, Henry's strongman career is well-documented, as he competed in the 1996 Olympics. He arrived in the WWE in 1996, thus beginning a now 16-year career.
Before entering the Nation of Domination, Mark Henry spent the beginning of his WWE career not doing much. Coming to the Nation was a blessing for Henry, who began to be noticed by fans of the WWE.
Henry's entry to the group saw him support The Rock's usurping of power. He was on in the group for a short time before the group disbanded.
He then went on to become the "Sexual Chocolate." He would be involved many risque angles with females of the WWE, including Chyna and Mae Young. He was not taken very seriously at this time, as he would be put in stories where he impregnated Mae Young, who would give birth to a hand.
Eventually, especially more recently, Henry finally got pushed, winning the World Heavyweight Championship at recently as last year. He is a powerhouse heel with his typical brute strength.
He is currently recovering from injuries, but he is the only current full-time competitor from this run of the Nation of Domination.
Accomplishments:
World Heavyweight champion, ECW champion and European champion
D'Lo Brown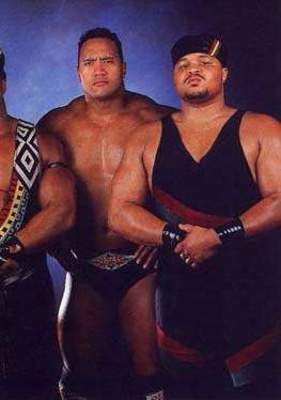 Brown is on the right. prowrestling.wikia.com
When you talk about a talented guy who started off hot in the WWE before fizzling out, D'Lo Brown is a guy that should be brought up.
Brown debuted with the group in 1997, thus officially beginning his WWE career. In 1998, he held both the European and Intercontinental championships simultaneously, a feat that would only be accomplished by Jeff Jarrett, Kurt Angle and Rob Van Dam.
Unfortunately, in 1999, Brown inadvertently paralyzed Droz after botching a power bomb. This was something that extremely upset Brown, as stated in Mick Foley's book.
For the rest of his run in WWE, Brown would not receive a push. He was stuck in low-card hell until his release in 2003. He made a brief return in 2008, mostly wrestling dark matches until again being released in 2009.
He is currently working for TNA as their lead agent.
Accomplishments:
Intercontinental champion, four-time European champion
The Godfather
thisisgettingold.net
The Godfather's journey in WWE was an interesting one, which saw him in a couple of interesting gimmicks.
From 1991-1993, he was the voodoo-practicing Papa Shango, which saw him go nowhere in the company. He would return to the WWE in 1994 as Kama, a shoot fighter in Ted DiBiase's Millor Dollar Corporation stable.
He joined the Nation in 1997, extending his name to Kama Mustafa. That name would be changed later to The Godfather, a pimp. This is his best known gimmick to this day.
After competing in the Brawl for All tournament, he began making ring entrances with hos, which enhanced his pimp gimmick.
His inclusion in the heel stable, Right to Censor, was his last big run in the WWE. He changed his name to the Goodfather, as the stable was like the Parents Television Council that was beefing with the WWE.
He would make a return to his Godfather gimmick before retiring in 2002. He's made an appearances sporadically since his retirement, but he is currently the owner of a strip club in Las Vegas.
Accomplishments:
WWE Tag Team champion, Hardcore champion, Intercontinental champion
Faarooq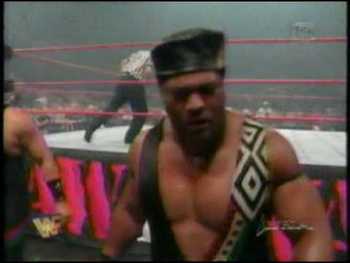 wn.com
Faarooq, also known as Ron Simmons, was a former NFL player who had a nice run in WCW before making his debut in the WWE.
In 1996, Faarooq formed the Nation of Domination. He was the leader of this group until The Rock usurped the power in 1998. When the group disbanded, Faarooq would go onto his most well-recognized part of his career.
Faarooq would join Bradshaw to form the Acolytes, who would be a part of the Ministry of Darkness. This would eventually become the APA (Acolytes Protection Agency), who were beer drinking, cigar smoking, bar brawlers that would protect people for money.
He would retire in 2006 after an unsuccessful singles run. 2012 would be Faarooq's crowning achievement, as he would enter the WWE Hall of Fame.
Accomplishments:
Three-time WWE Tag Team champion, WWE Hall of Famer
The Rock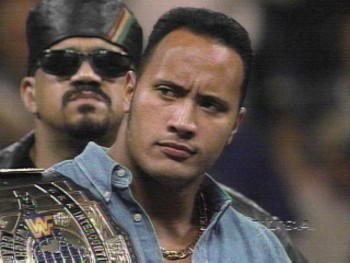 headofrothchild.com
The Rock's storied career has been long and successful, so I will keep this brief.
The son of Rocky Johnson and grandson of Peter Maivia, The Rock made his debut in the WWE in 1996 as Rocky Maivia, a "blue chipped" face that bored fans and earned him chants of "Die Rocky Die!"
He would then turn heel and become The Rock. He joined the Nation in 1997, eventually taking power from Faarooq. His early career was marked by his various Intercontinental championship runs.
He joined the Corporation in 1998, which greatly turned fans against him. It was during this time he had great success.
He went on to form the Rock n' Sock Connection in 1999, win the Royal Rumble in 2000 and continue as a top performer with the company. He would retire from full-time wrestling in 2003.
Since then, he makes part-time appearances when he is not making movies in Hollywood. He last wrestled at WresleMania this year, defeating John Cena by pinfall.
He will forever be remembered as a "jabroni beater" and a "pie eater."
Accomplishments:
2000 Royal Rumble winner, five-time WWE Tag Team champion, two-time Intercontinental champion, seven-time WWE champion, two-time World Heavyweight champion
Keep Reading