Milwaukee Bucks: A Look at Their Current Big Men
June 3, 2012

Chris Chambers/Getty Images
Most Bucks fans can concur that Milwaukee's biggest need to be filled is big.
As in frontcourt big.
At the end of last season, the Bucks put together what should be one of the highest-scoring backcourts in the NBA with the pickup of Monta Ellis to compliment Brandon Jennings.
In doing so, the Bucks gave up then-injured Andrew Bogut and left the center position with much to be desired.
However, the Bucks are no stranger to playing undersized.
Bogut only appeared in 12 games last season, putting pressure on Milwaukee's front court. The result was almost okay.
Almost.
Milwaukee missed the playoffs while faltering down the stretch, leaving the Bucks with some problems to sort out.
While the Bucks will probably look to improve in size in the draft or free agency, some of the answers still may be in house.
Larry Sanders
Larry Sanders hasn't popped off the stat sheet in the last two years, but a lot of fans have high hopes for the 6'11" center from Virginia Commonwealth.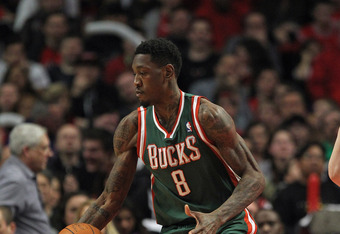 Jonathan Daniel/Getty Images
Only averaging about 13 minutes a game in the last two years, Sanders hasn't been given much opportunity behind Andrew Bogut.
Averaging four points and three rebounds per game in his sparse minutes, Sanders could be ready to step into a bigger role.
That role could be largely filled on the defensive end. Even with his low minutes, Sanders still averages a block-and-a-half per game.
While offensive production would be nice, it may not be as imperative in the upcoming season.
With a Jennings-Ellis backcourt and an offensive minded Drew Gooden, the Bucks will be looking for a solid role player that can be effective without the ball.
Ekpe Udoh came to the Bucks in the trade with the Golden State Warriors.
At 6'10", Udoh boasts a 7'4 1/2" wingspan. He was the Big 12 leading shot blocker in 2009-10 at Baylor and led the Big Ten in his freshman season at Michigan with 2.88 blocks per-game.
He is another big man who has only seen sparing minutes in his career at about 13 minutes a game. He's been slightly more productive than Sanders at 5.6 points, 4.2 rebounds and 1.7 blocks per game.
Also a career 72 percent free-throw shooter, he's a much better option than Sanders in that respect.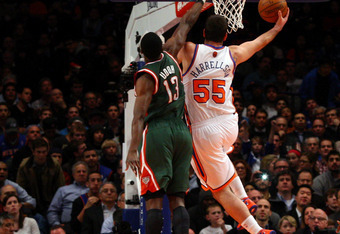 Chris Chambers/Getty Images
As a player who can have an impact without the ball, Udoh looks to get more minutes this year.
Drew Gooden
The well traveled 6'10" veteran was surprisingly productive last season at the power forward spot.
The starter for most of the year, Gooden averaged a little over 13 points and a career high 2.6 assists per contest.
While not a huge presence in the post, Gooden's mid-range game helps to spread the floor. Drew is entering his 10th season in the NBA and will need to spread his minutes out.
The biggest pressure on him moving forward will be rebounding, where he posted one of his worst years in his career at 6.6 boards a game last season.
The Bucks will be working with inexperienced big men, and Gooden could provide some valuable leadership.
Bucks fans preferably would like to upgrade through the draft in some low post presence—and I'm not going to argue.
Most likely, though, whoever the Bucks end up getting is going to need some time for development, and some of the existing guys will be called upon to be productive this season.
The cupboard isn't as bare as you think.