10 Players Sure to Lose Their Starting Spots as the 2012 Season Progresses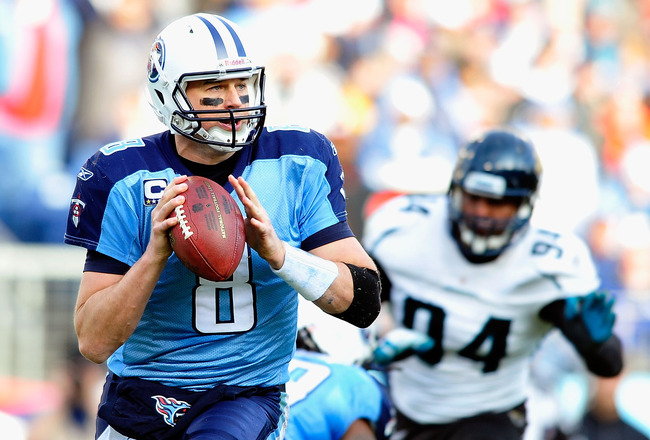 Grant Halverson/Getty Images
Following the 2012 NFL Draft and free-agent pickups, 10 starters around the league will find their job in jeopardy.
In a sport where youth, size and speed mean absolutely everything, it's rather difficult to remain a prominent starter on an NFL club.
With that in mind, these are the NFL players that will transition from starter to benchwarmer in 2012.
Michael Crabtree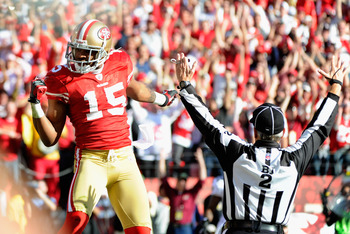 Thearon W. Henderson/Getty Images
Michael Crabtree just hasn't lived up to the hype.
Unlike previous and post dominant college football receivers like Larry Fitzgerald, Calvin Johnson and A.J. Green, Crabtree has yet to leave a mark in the NFL.
Instead of racking in great statistics like those men, Crabtree has had his troubles with simply catching the football. In 2010, he dropped 12.7 percent of the passes thrown his way, which was one of the league's worst.
And San Francisco 49ers fans can thank the good Lord that they had Vernon Davis on their roster against the New Orleans Saints in the playoffs, because they didn't win that game off of any efforts from Crabtree. No. 15 was targeted 10 times in that game and had three drops.
Entering 2012, the pressure is on Crabtree. The 49ers added Mario Manningham and Randy Moss to their roster, and that doesn't bode well for San Francisco's slippery-handed receiver.
Shaun Phillips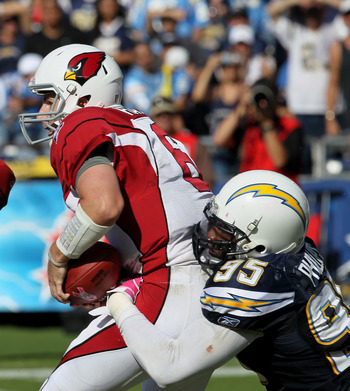 Stephen Dunn/Getty Images
All too often players find themselves from being on top of the world to an average Joe in the NFL.
This will be the story of Shaun Phillips in 2012. In 2010, Phillips led the San Diego Chargers with 11 sacks and went to the Pro Bowl. But after dealing with a nagging foot injury in 2011, Phillips only played in 12 games.
To make matters even worse, the Chargers selected one of the most explosive defensive players in the draft, Melvin Ingram.
Last season at South Carolina, Ingram was one of the premiere defensive players in the SEC. At 6'2", 276 pounds, Ingram showed off his athleticism with 10 sacks and two interceptions.
When it comes to Phillips' job in 2012, I'm afraid he won't be able to keep up with the young lion to play opposite of Antwan Barnes.
Colt McCoy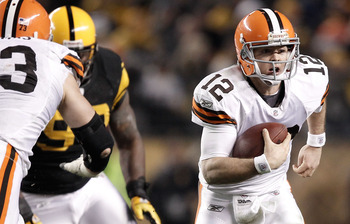 Jared Wickerham/Getty Images
Brace yourselves Cleveland Browns fans.
If it's one thing I've learned from writing on Bleacher Report, it's that you don't talk badly about Colt McCoy or there will be hell to pay in the comment section below.
Well, allow me to add fuel to the flame. I'm all for giving McCoy a second chance, but what happens when he doesn't deliver in the first four games?
Are we just going to pretend like the Browns didn't draft Brandon Weeden in the first round? And from the sound of things, it doesn't seem like McCoy will even start over Weeden to begin the season.
Browns general manager Tom Heckert told ESPN that "the best guy is going to play and we fully expect Brandon to be that guy." Don't look now Browns fans, but the beginning of the end for McCoy might be upon us.
Andre Roberts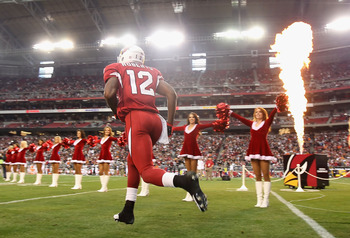 Christian Petersen/Getty Images
Andrew Roberts isn't a No. 2 receiver.
And just in case you think his 51 receptions, 586 yards and two touchdowns might suggest otherwise, let me remind you that the Arizona Cardinals drafted Michael Floyd with their first-round pick.
You don't draft a running back or a wide receiver in the first round if you don't expect them to come in right away and produce, and that's exactly what fans should expect Floyd to do.
First-round pick aside, Floyd has the tools to be Larry Fitzgerald's best compliment yet. I know that's saying something because Anquan Boldin used to play alongside him, but did you see this guy play at Notre Dame?
In the past two seasons, Floyd garnered 2,172 receiving yards and 21 touchdowns with the Fightin' Irish, and with a body built to make impact plays, Floyd will easily become a starter for Arizona.
Nate Washington
Kevin C. Cox/Getty Images
Nate Washington had a great season in 2012.
When Kenny Britt went down with an injury, Washington stepped up and recorded 1,023 yards and seven touchdowns for the Tennessee Titans.
So why would he be in trouble of losing his job?
Well, when Britt reaches 100 percent and becomes the featured wideout again, Washington most likely won't be the receiver playing opposite of him.
Rather, it will be the Titans' first-round draft pick, Kendall Wright. Just about every scout out there was blown away by Wright's abilities and Washington's playing time will diminish as a result.
Matt Hasselbeck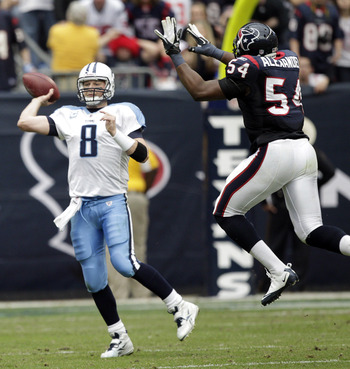 Bob Levey/Getty Images
Matt Hasselbeck might be better than Jake Locker right now, but he's not younger than him.
Locker is obviously the future, so don't expect the Tennessee Titans to be very patient with Hasselbeck.
Last season, Hasselbeck threw for over 3,500 yards, 18 touchdowns and 14 interceptions, while Locker threw for 542 yards, four touchdowns and zero interceptions in the limited time he received.
Locker showed off a strong arm and a few glimpses of greatness. It's also worth noting the poise he showed at the age of 23.
Keep in mind that Hasselbeck is 36 years old, and it's not a very hard sell to predict Locker as the starter midseason.
Mike Jenkins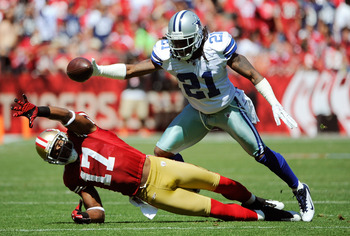 Thearon W. Henderson/Getty Images
The Dallas Cowboys' secondary was grotesque in 2012.
Teams averaged 244.1 passing yards a game against the 'Boys, so Dallas knew they had to upgrade their secondary in a big way during the 2012 NFL draft.
They did just that by selecting the best cornerback in the draft, Mo Claiborne. Claiborne is good enough to start immediately, so who will the odd man out be?
Judging by his injuries last season and lack of production because of it, Mike Jenkins will be the one to ride the pine.
In the 12 games that he did play in, Jenkins only recorded 24 tackles and one interception.
Cary Williams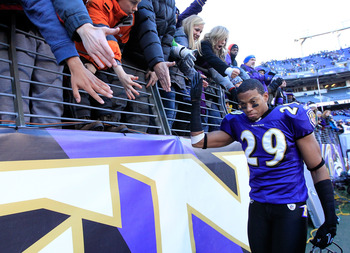 Chris Trotman/Getty Images
As you know, the Baltimore Ravens are absolutely stacked in the secondary.
So stacked that a great player like Cary Williams will find himself without a starting position in 2012.
I know what you're thinking. That's ludicrous simply because the Ravens locked him up with a second-round tender worth $1.97 million last month, and yes, you're right.
However, what are the Ravens going to do with Lardarius Webb and Jimmy Smith? Webb has solidified his starting position with his amazing performance in the playoffs last year that saw him lead the league with three interceptions.
As for second-year first-round pick Smith, he came on strong late and finished the 2011 season with two interceptions. The future is bright for Smith and Webb, but I'm afraid I can't say the same for Williams.
Brian Rolle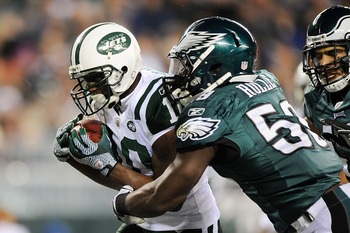 Patrick McDermott/Getty Images
The Philadelphia Eagles' "Dream Team" in 2011 wasn't exactly dreamy.
A large reason for that was because of their defense, or lack thereof.
The Eagles have made it a priority this offseason to fix the problem by adding Mychal Kendricks, Vinny Curry, Fletcher Cox and DeMeco Ryans to the roster.
Brian Rolle, along with defensive coordinator Juan Castillo, was made out to be the scapegoat for the Eagles' less than spectacular performance defensively.
Adding a guy like Ryans to the roster should see Rolle's defensive role reduced.
LeGarrette Blount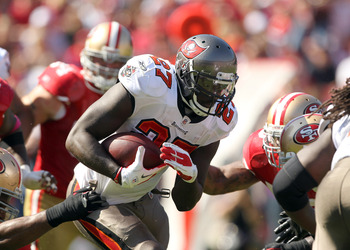 Ezra Shaw/Getty Images
LeGarrette Blount's days as a starter are numbered.
This one might seem like a bit of stretch, but hear me out on this one. Last season, Blount had 781 yards rushing with five touchdowns, but only rushed the ball 46 times for 137 yards during at the last five games of the season.
That's roughly three yards per carry, which are not exactly eye-popping numbers from your featured back.
Add in the fact that the Tampa Bay Buccaneers drafted Doug Martin in the first round, and there's plenty of room to speculate whether or not Martin or Blount will be the starter midway through the season.
You don't draft a running back in the first round if you're not planning on using him as a featured back, do you?
Keep Reading