Brazil vs. Mexico: Score, Highlights, Twitter Reaction and Analysis
June 3, 2012

Brandon Wade/Getty Images
Brazil dominated possession against Mexico and got off nearly three times as many shots as Mexico.
Yet it was El Tri that emerged from Cowboys Stadium in Arlington, Texas with a thrilling 2-0 victory over the South American giants.
Giovani Dos Santos was responsible for both of Mexico's scoring plays on the day. He first put El Tri ahead with a beautiful chip off a pass from Pablo Barrera from the left side of the box over the head of Selecao goalkeeper Rafael Cabral in the 22nd minute, which Brazil coach Mano Menezes dismissed as a ''fortunate'' strike.
''Giovani was crossing it into the box and scored,'' Menezes said via FOX Soccer.
All of 11 minutes later, Dos Santos drew a foul on Juan Jesus that resulted in a successful penalty kick by Chicharito.
Brazil dominated shots in the first half, 7-2, but had only one on target—a strike from outside the box by Oscar in the 42nd minute that was stopped by Mexico keeper Jesus Corona.
That trend continued in the second half, as the Canarinho failed to send a string of golden opportunities past Corona's mitts. All told, Brazil outshot Mexico, 16-5, and possessed the ball for 67 percent of the match, but was stifled by the last line of El Tri's defense time and again.
A minor row broke out on the pitch in the 81st minute when Neymar went at Mexico's Severo Meza following a hard foul, for which both players earned bookings.
That was the most anyone heard from Neymar all day. He and Hulk both came close to scoring goals on free kicks that were stuffed by El Tri keeper Jesus Corona, who came up with yet another clean sheet. 
Tweets of the Night
Mexico's success against Brazil shouldn't have come as much of a surprise. At least for those who had the foresight to check Opta Sports' Twitter feed:
5 - Mexico have beaten Brazil five times since 2000, more than any other side (PAR 4, ARG & FRA 3 each). Nemesis

— OptaJoão (@OptaJoao) June 3, 2012
Who knew that Colombian actor Manolo Cardona was such an enthusiastic supporter of El Tri?
Gooooooooollll de Mexicoooo!!!2 - 0 le Gana Mexico a Brasil!!! Vamosssssssss MEXICO

— Manolo Cardona (@ManoloCardona11) June 3, 2012
No silly rationalization can fool Robert Burns of FOX Soccer into thinking that Mexico isn't the best squad in CONCACAF right now:
Mexico up 2-0 on Brazil. I'd like to think the US just loosened 'em up for El Tri, but we all know that's not true. We're #2 in CONCACAF.

— Robert Burns (@RobertWFD) June 3, 2012
Must-See Highlight
Most professional footballers would have trouble enough pulling off a shot like this by themselves, against an empty net. For Giovani Dos Santos, even a yellow-clad defender and a 22-year-old wunderkind in goal (Rafael) were no match for this perfect, left-footed chip to put Mexico ahead in the 22nd minute.
Grades for Key Brazil Players
Neymar: B+
Rob Carr/Getty Images
Neymar was a marked man against Mexico, and it showed throughout the match. The 20-year-old Santos sensation was harassed by Mexico's defense throughout and seemed frustrated at times, particularly during a brief tiff with El Tri's Severo Meza in the 81st.
Neymar drew a remarkable six fouls but managed just two shots on the day, one of which nearly resulted in a score off a free kick in the 91st minute.
Hulk: B+
Hulk was as active as one might expect the world-class striker to be, though even he couldn't find an opening against Mexico's desperate defensive effort. The aptly-named soon-to-be-Chelsea star accounted for almost as many shots (five) as the entire Mexican side (six).
Though he came agonizingly close on a left-footed free kick in the 71st minute, Hulk couldn't smash a shot into the opposing net.
Grades for Key Mexico Players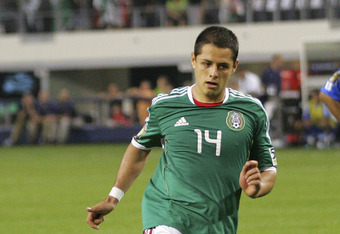 Rick Yeatts/Getty Images
Javier Hernandez: A
Mexico's attack wasn't heard from all that often on Sunday, though that hardly kept Javier Hernandez from having an impact on the proceedings. He slotted home a penalty kick in the 33rd minute to put El Tri up two-nil and nearly scored another on a breakaway chance in the 75th minute. Chicharito fired off a left-footed shot assisted by a through ball from Aldo De Nigris, but was blocked Brazil keeper Rafael.
Giovani Dos Santos: A+
Giovani Dos Santos had a hand (or foot, rather) in both of El Tri's scoring plays. He put through Mexico's first goal on a breathtaking left-footed chip and drew the foul that led to Chicharito's penalty kick in the 33rd.
All told, then, a job well done for the Tottenham Hotspur man.
Deciding Factor: Resilience
Brazil's nearly overwhelming edge in world-class talent at nearly every spot on the pitch wasn't enough to overcome Mexico's side-wide industry and resolve in the face of a relentless attack. The Selecao held the ball twice as long as El Tri and got off 10 more shots, but couldn't find quite enough daylight against keeper Jesus Corona and the back line that did so well to block as many shots as it did.
That resilience allowed Mexico to take advantage of Brazil on the counterattack when they had the ball at their feet, with Giovani Dos Santos applying the offensive pressure that proved to be the difference.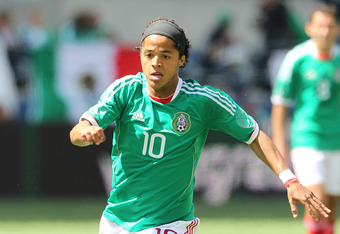 Otto Greule Jr/Getty Images
Man of the Match: Dos Santos
If you hadn't noticed already, Dos Santos was key to Mexico's cause against Brazil, what with his actions leading (directly or indirectly) to both of Mexico's goals. For that, he earned distinction as Man of the Match.
What's Next?
Brazil will regroup for a massive rivalry match against Argentina on June 9, their last before heading to London for the Olympics. With a big friendly win under its collective belt, Mexico will return to Estadio Azteca to take on Guyana in World Cup qualifying.