Clive Brunskill/Getty Images
June 3, 2012
Another great day of tennis at the French Open. There were upsets and some great matches. I expect more of the same on Monday. I went 5-1 with my picks and am now 47-15 for the tournament.
Here's my look at Monday's matches.
No. 6 David Ferrer vs. No. 20 Marcos Granollers: Ferrer has looked razor sharp throughout the tournament. Granollers has been solid as well, but he just doesn't have enough game to beat Ferrer on clay.
Winner: Ferrer in three sets
No. 2 Maria Sharapova vs. Klara Zakopalova: Sharapova hasn't dropped more than two games in any one set so far. She's lost only five games in three matches. The domination will continue.
Winner: Sharapova in two sets
No. 4 Andy Murray vs. No. 17 Richard Gasquet: This should be a five-setter. Murray has struggled with an injury, and with a lack of match play over the last few months, he is vulnerable to the upset. Gasquet has been playing great, and he will have the home crowd on his side.
Winner: Gasquet in five sets
No. 4 Petra Kvitova vs. Vera Lepchenko: The last American remaining will go down. Kvitova will have too much firepower. Kvitova may finally be ready to surge to the top of the tennis world.
Winner: Kvitova in two sets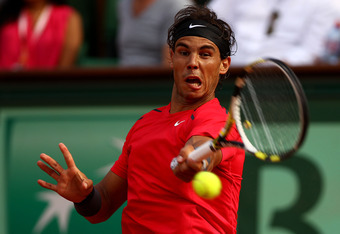 Clive Brunskill/Getty Images
No. 8 Janko Tipsarevic vs. No. 12 Nicolas Almagro: This should be an entertaining and interesting match. I think Almagro is a better clay-courter and that will prove to be the difference.
Winner: Almagro in five sets
No. 7 Li Na vs. Yaroslava Shvedova: Na has looked good in this tournament, and I don't think Shvedova will give her any problems.
Winner: Na in two sets
No. 2 Rafael Nadal vs. No. 13 Juan Monaco: Nadal has cruised through this tourney, and I will be completely shocked if he isn't holding up the trophy next Sunday. Monaco is good on clay, but simply doesn't do anything as well as Nadal does.
Winner: Nadal in three sets
No. 13 Kaia Kanepi vs. Arantxa Rus: Kanepi is playing really well, and she has advanced to the quarters before (at Wimbledon). I think that experience will help her against Rus.
Winner: Kanepi in two sets
Like the new article format? Send us feedback!