Shane Carwin: Six Possible Fights for His Return
Jeff Zelevansky/Getty Images
It's been a year since we've seen former UFC interim heavyweight champion Shane Carwin in the Octagon, due to a severe back injury. But now he's announced his long-awaited return, telling UFC matchmaker Joe Silva that he'd like to fight sometime in the autumn.
It's been a long road to recovery for a fighter who posted a 12-0 run, which included victories over top heavyweights Gabriel Gonzaga and former UFC champion Frank Mir. But back-to-back losses to Brock Lesnar and Junior dos Santos left him looking for his place in the division.
With his return imminent, Carwin says he spent his time off rounding out his skills and making himself an even better fighter, ready to take on the elite of the division once again. Here's a look at possible fights for his return.
Winner of Fabricio Werdum/Mike Russow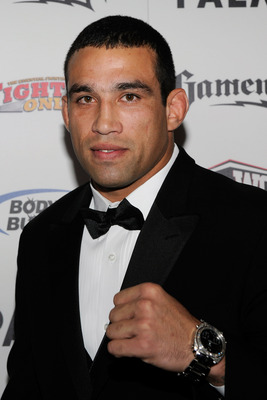 Ethan Miller/Getty Images
It took just one knockout at the hands of Junior dos Santos for Fabricio Werdum to be ignominiously dropped from the UFC. But since then he's notched a career-defining victory over Fedor Emelianenko and, most recently, a three-round decision win over Roy Nelson. These wins have propelled him into contender status.
Werdum is due to fight Mike Russow in UFC 147 in Brazil. Russow himself is on an 11-fight win streak, with four of those in the UFC. Werdum would be the biggest fight in his career, and a win over him would put Russow decisively "in the mix," so to speak.
Both fighters will be looking for another big fight after UFC 147, and Carwin would be a perfect candidate. Despite his poor performance against Junior dos Santos, Carwin is still a former champion and was within seconds of handing Brock Lesnar his first loss since he became champion.
Werdum and Russow are not in the top three, but they are heavyweights in the ascendancy. For Carwin, a win over either would make a statement, legitimately giving him the right to ask for a top-three opponent.
Roy Nelson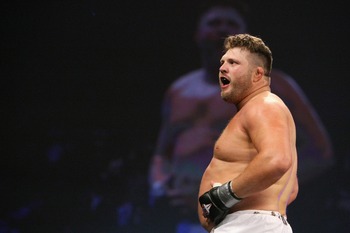 Al Bello/Getty Images
Roy Nelson has a chequered history in the UFC, but his three losses out of seven fights came at the hands of the best in the division: Junior dos Santos, Frank Mir and Fabricio Werdum. He's credited as having the best chin in MMA as well as some of the most powerful fists—traits which have made him one of the biggest draws in the UFC.
A match with Carwin has the potential of being a barn-burner. Neither fighter is known for their gas tank, but both always come out looking to finish it in the first round. This one has Fight of the Night written all over it and would make a great fight for Nelson after his convincing win over Dave Herman.
Herman is a small name in MMA, but Carwin still carries some cache. While knocking out second-tier heavyweights such as Brendan Schaub and Stefan Struve may have been easy, Nelson has struggled with the best in the division, such as Dos Santos and Mir. These inconsistent performances could be set right with a victory over Carwin.
With his loyal fan following, "Big Country" would make a big-name opponent for Carwin, one he could definitely get motivated to fight.
Mark Hunt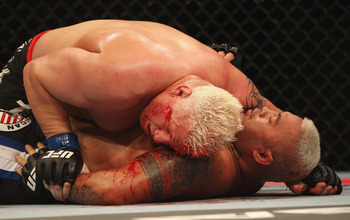 Mark Kolbe/Getty Images
This one is a wild card. We may all now feel silly to have thought Mark Hunt should have fought Junior dos Santos at UFC 146; he is still on a three-fight winning streak in the promotion, and not many heavyweights can boast that.
His fight against Stefan Struve would have been a launchpad into the top five—as Dana White promised—but injury put paid to that idea. Instead it is Struve, with a victory over Lavar Johnson, who is now hunting a top five.
Carwin is looking for the same thing, and Hunt could lead him there. Carwin has faced much tougher opposition than Hunt in the UFC and would be more than up to the challenge. Neither fighter is good on the ground, so both will be looking for the knockout.
While Hunt might be the overall superior striker, I can see Carwin using his wrestling to hold him up against the cage and beat him like he did Frank Mir.
Daniel Cormier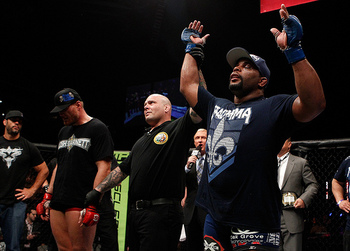 Photo by Esther Lin/Forza LLC/Zuffa LLC via Getty Images
Daniel Cormier has one fight left on his Strikeforce contract before he's parachuted into the UFC. As the Strikeforce Heavyweight Grand Prix winner, he can legitimately demand a title shot.
Cormier is already being considered one of the top three heavyweights in the world, and he's more than capable of beating the best in the division. If the championship isn't awaiting his arrival, then another top-three fight should be.
But that's where it gets tricky. The top three contains Cain Velasquez, and there's already a rally to have Velasquez fight Junior dos Santos for the title next. Cormier is Velasquez's training partner as well as his wrestling coach. Both fighters have sworn not to fight each other, so realistically this means Cormier will either stay out of the top three for now or drop down to the light heavyweights.
Fighting a heavyweight not in the top three but with a marketable name—such as Frank Mir, Roy Nelson, Fabricio Werdum, Stefan Struve or Shane Carwin—would make an obvious contest for Cormier.
Cormier might be too much for Carwin to handle, but he'd certainly be eager to prove himself against the former champion. But as good as Cormier looked against Josh Barnett in his last fight, the size of the competition just is not as big in Strikefore as it is in the UFC.
Cormier might have displayed exceptional talent in his short career, it may still be too soon to throw him to the lions. Carwin could make that perfect interim fight before he decides whether to go for the title or drop down a division.
Stefan Struve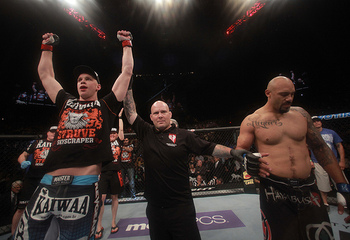 Photo by Donald Miralle/Zuffa LLC/Zuffa LLC via Getty Images
Still only 24 years old, Stefan Struve has been a pro since 2005. This gives him the enviable position of being both a young fighter and an experienced one.
In his career in the UFC, which has included losses to Junior dos Santos, Roy Nelson and Travis Browne, Struve has developed into one of the most well-rounded fighters in the heavyweights. His exceptional stand-up skills are now equal to his submission game, making him so much more dangerous than he was when he lost to Roy Nelson two years ago.
Coming off three straight wins—Pat Barry, Dave Herman and Lavar Johnson—Struve is now ready for the top five.
There are several fighters that are hovering around the No. 5 spot, and Carwin is certainly one of them. Both fighters have a lot to gain, but would lose little in a match with each other. They stand as the gateway fighters in the division and each could turn the other instantly into a contender.
Antonio Rodrigo Nogueira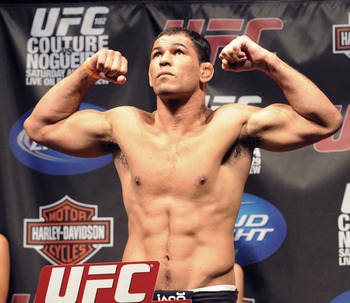 Jon Kopaloff/Getty Images
He's lost three of his last five fights, but he's still considered a legend of the sport. Former UFC heavyweight champion and former PRIDE champion, Antonio Rodrigo "Minotauro" Nogueira has a lot of chips still left to cash before he's considered a has-been.
He lost his last fight against Frank Mir, gaining a broken arm in the process, but his performance was still something he could be proud of. He had Mir all but beat until, instead of looking for the TKO, he made the wrong decision to go for the submission and came out on bottom.
Whether he deserves a fight against the likes of Shane Carwin matters less than the fact that he could beat him. He has both the boxing skills, as seen in his performances against Mir and Brendan Schaub, and the grappling skills to take Carwin down.
And while this would not be one of the more lucrative fights for Carwin to take, it would still be a big test against a big-name fighter.
Keep Reading