Stanley Cup Finals 2012: Kings Must Use Emotional Wins to Their Advantage
June 3, 2012
Jim McIsaac/Getty Images
The Los Angeles Kings can't get lax.
In the 2012 Stanley Cup Finals, LA took a commanding 2-0 series lead over the New Jersey Devils after their second-straight 2-1 overtime triumph. Each team's response to the emotions that stem from a pair of dramatic finishes will ultimately decide the series.
New Jersey will respond in one of two ways. They'll either be crushed over the fact that they could easily be up 2-0 in the series or they'll keep their heads high and continue to fight. The former would guarantee a Kings victory, but it looks like the Devils will respond with the latter.
Katie Strang of ESPN reported that New Jersey team captain Zach Parise is determined to bounce back. He said after the Devils' latest loss: "It's hard. But we're not going to quit."
Martin Brodeur sang the same tune and said (via ESPN): "We've got no shame in the way we've been playing. We've just got to find a way to win. Hey, we're still alive."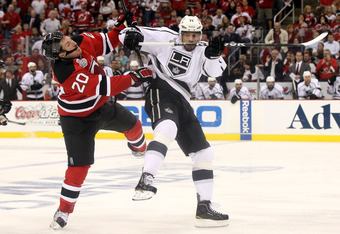 Elsa/Getty Images
New Jersey isn't rolling over. While the Kings have a comfortable two-game lead, they must not coast. If they do, they'll find themselves flying back to Newark with a tied series.
Los Angeles will respond in one of two ways as well. They'll either have an emotional hangover from putting their heart and soul into a pair of memorable extra periods or they'll ride their momentum, keep their foot on the gas pedal and won't let the Devils breathe. If they enter Game 3 on Monday night with the latter as their mindset, the Stanley Cup already has their name written on it.
The Kings are the more talented hockey team. New Jersey's only hope was that their experience and grit would give them the edge. But LA has the Devils where they want them and must not hesitate to go in for the kill.
David Daniels is a featured columnist at Bleacher Report and a syndicated writer.