Notre Dame Football: 5 Keys to a BCS Bowl Appearance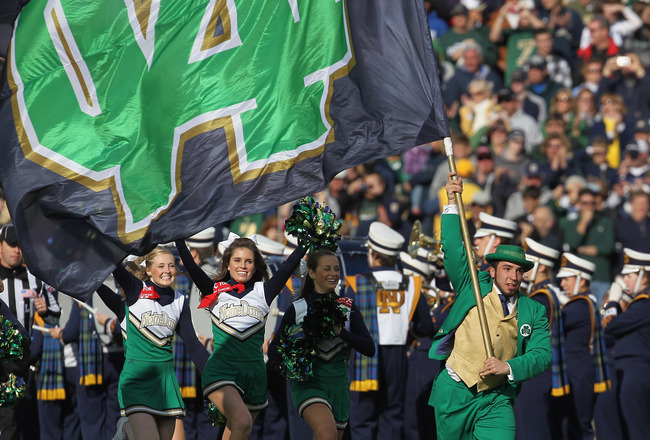 Jonathan Daniel/Getty Images
Heading into the 2012 college football season, Notre Dame is in a familiar position under third-year head coach Brian Kelly.
The team has yet to return to the national spotlight.
Kelly still has not decided on a quarterback.
Fans are still convinced that this will be the year.
And there continue to be off-the-field issues with key players to Notre Dame's hope at returning to glory.
Regardless of all these negatives, Notre Dame still has what it takes to compete at the highest level and return to a BCS bowl this season.
First, the schedule gives Notre Dame the opportunity to receive a BCS bowl bid if they can win nine or 10 games. The Irish's schedule is arguably the hardest in the country (Ole Miss has a tough one as well), with five of their opponents ranking in the Top 12 of ESPN's Mark Schlabach's preseason poll.
Next, Notre Dame has its special circumstance under the BCS system (which I believe is horrible) that, if it finishes in the Top Eight, the Irish are guaranteed a selection to a BCS Bowl. That shouldn't be too difficult if they can win nine or 10 games with their schedule.
Finally, the Irish return some key starters from last year on both sides of the ball that should help ease new starters into their roles. They have some major holes to fill in the secondary and at the quarterback position, but otherwise, this is a rather solid team with a chance at making unexpected strides this year.
Win the Turnover Battle
Jonathan Daniel/Getty Images
Last year, the Irish had an unremarkable 29 turnovers (17 INTs, 12 lost fumbles), with 19 of those coming in their five losses. That is 3.8 turnovers per game in those losses, and they lost those five games by a combined 39 points.
If Notre Dame could have limited the mistakes last year, then the Irish would have probably finished with 10 wins and been in a BCS bowl. However, they had to settle for the Champs Sports Bowl, where they continued to turn the ball over and handed the game to Florida State.
Therefore, if the Irish have any aspirations of making a BCS appearance, then ball security has to be the focus.
The offense also must realize they are better than what their record showed last year. This offense racked up an average of 413 YPG while ranking 19th nationally in first downs and third down conversions. If the Notre Dame offense can put up those same numbers this season with fewer mistakes, there is no reason they will not average between 35 and 40 PPG.
In addition, holding onto the ball means keeping your defense off the field. Too many times last season Notre Dame's defense shut down opposing offenses only to be put immediately back onto the field due to a fumbled punt return or quick interception. Then, the opposing offense was able to march down the field on an exhausted Irish defense.
It's pretty simple—win the turnover battle, and you automatically improve your chances of winning the game.
The Secondary Needs to Play Big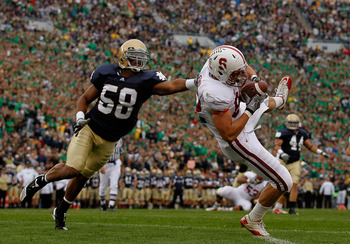 Jonathan Daniel/Getty Images
Not only is Notre Dame's schedule brutal but the quality of quarterbacks the Irish defense will be facing are top notch.
Looking at the schedule, three potential Heisman Trophy candidates will be lining up under center against the Irish this fall. Denard Robinson (Michigan), Landry Jones (Oklahoma) and Matt Barkley (USC) will look to prey on the less-than-stellar Irish secondary, and Brian Kelly knows it.
It also doesn't help that they have to replace first-round NFL pick Harrison Smith at the safety position, who was a ball-hawk for the Irish last season.
However, with the return of a strong front seven, all the Irish secondary needs to do is be in position and not get beat.
Now, that is easier said than done, especially, with younger players stepping into starting roles and wide receivers converting to defensive backs to help add some depth. If the secondary can limit the big plays that Robinson, Jones and Barkley will try to make, the Irish will find themselves fighting for upset bids against these Top 10 teams.
A signature win against any of these teams would be key to a BCS bid.
Beat Michigan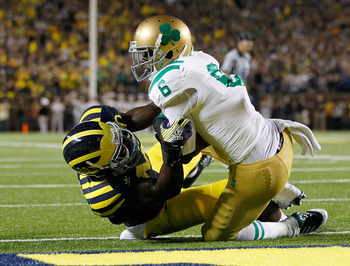 Gregory Shamus/Getty Images
It's that simple. Michigan has given Notre Dame the most trouble over the past few seasons, and a win against one of its biggest rivals would be a springboard for a BCS berth.
If football were played in 59.5 minutes rather than 60 minutes, Notre Dame would be 3-0 against the Wolverines over the last three years.
Instead, the Irish have found ways to give the game to the Wolverines and practically deflated their aspirations at previous BCS runs. Last year, Michigan used its come-from-behind win against the Irish to propel them to an 11-2 season and a Sugar Bowl win. I do not see any reason why the Irish cannot do the same thing.
A win against Michigan would be a huge boost to the team's morale, giving them a signature win and momentum going into a brutal October schedule (against Miami in Chicago, home games against Stanford and BYU, at Oklahoma).
If the Irish cannot beat the Wolverines in September, their hopes of a BCS bowl are not over. But, once again, Brian Kelly will be feeling the heat from the Irish faithful on his inability to win the big game.
Brian Kelly Must Keep His Cool
Ezra Shaw/Getty Images
I love that he is a passionate coach, and I do believe he really cares about his players, but Brian Kelly needs to keep his calm when it seems like things are getting out of hand.
Early last season when Notre Dame handed games to South Florida and Michigan, Coach Kelly lost his composure with his players for turning the ball over and their lack of execution.
He expressed his anger and frustration with them, but he only compounded the mistakes his players were already making. His ball-handlers began playing scared, afraid to make a mistake in front of Kelly in fear of what he might say or do. This led to more turnovers and, ultimately, more losses for the Irish.
That being said, Kelly is a great football coach, he is a proven winner and he is the right man for the job. If he remains calm when things seem to be getting out of hand during the season, his players will play focused.
If they play focused, they might just win a few more games.
Everett Golson
Jonathan Daniel/Getty Images
I know this is out there, but Everett Golson was built for Brian Kelly's offense. Although he still has a lot of raw talent and has not taken a snap under center for the Irish, he needs to be the guy out on the field when Notre Dame opens the season against Navy.
Golson has the dual-threat capability, with a stronger arm and more speed than both Andrew Hendrix and Tommy Rees. With Navy being the season-opener and Purdue at home the following week, Golson will have time to work out the kinks before going up against the likes of Michigan State, Michigan and so forth.
Hendrix will be an excellent second option with his dual-threat capability, but he only has two years of eligibility remaining, while Golson has four. If Kelly can cultivate the talent that Golson possesses over a four-year period, you will be looking at one dangerous dual-threat quarterback.
So, not only is Golson the best option for this year, but he is also the best option for the future, along with Gunner Kiel (whom I hope redshirts this year).
Kelly needs to be a head coach; he needs to make a decision, and he needs to pick Everett Golson to be the starting quarterback for Notre Dame and roll with it.
Conclusion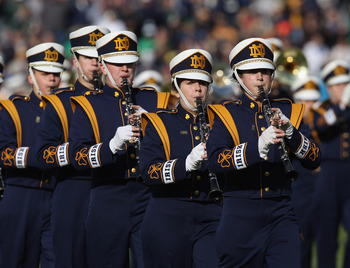 Jonathan Daniel/Getty Images
I know, just the thought of Notre Dame in a BCS bowl this season is a major major "if."
Not only will the Irish have to win some big games but a lot of pieces will have to fall into place.
The Irish come into this season just like any other, with tons of speculation on their "return to glory." I think a successful season would be an 8-4 campaign with a bowl win to top it off.
However, I would not sell this team short with the amount of talent on their sideline. If Notre Dame can accomplish the five keys that I discussed, hopefully we will see the Irish in their first BCS bowl game in six years.
Thoughts?
Keep Reading

Notre Dame Football: Like this team?