2012 MLB Mock Draft: Top Talents Sliding Down the First Round
June 3, 2012

Chris Chambers/Getty Images
With the 2012 Major League Baseball draft June 4-6, the excitement over which young stars will slide down the first round has every MLB fan on the edge of their seat.
While most fans never want to see someone suffer through uncertainty, their true thoughts revolve around their team getting the falling star.
The players that will end up being the biggest steals of the draft will be italicized.
1. Houston Astros (56-106): Mark Appel, RHP, Stanford
The unquestionable No. 1 overall pick in 2012 is Stanford right-hander Mark Appel. He is MLB's Anthony Davis—minus the unibrow.
2. Minnesota Twins (63-99): Kevin Gausman, RHP, LSU
Arguably the most MLB-ready pitcher in this draft, Kevin Gausman dominated at LSU and will continue to dominate at the next level. Easy pick for the Twins and their ailing rotation.
3. Seattle Mariners (67-95): Byron Buxton, OF, Appling County High School (GA)
Seattle needs a slugging outfielder to add to their already-young offense, and Byron Buxton could be the long-term project that yields huge results.
4. Baltimore Orioles (69-93): Carlos Correa, SS, Puerto Rico Baseball Academy
Buck Showalter's rebuilding process will continue with a new stellar infielder in Carlos Correa that can really field his position and make solid contact. Great addition at the top of a lineup.
5. Kansas City Royals (71-91): Mike Zunino, C, Florida
Kansas City needs plenty of help, but drafting a player like catcher Mike Zunino who can start in the majors next season is a nice place to start.
6. Chicago Cubs (71-91): Albert Almora, OF, Marion Christian Academy (FL)
Cubs GM Theo Epstein knows that the rebuilding process takes a long time, and will select a raw player in Albert Almora with as much upside as anyone in this year's draft.
7. San Diego Padres (71-91): Lucas Giolito, RHP, Harvard-Westlake (CA)
The San Diego Padres are in a full-blown turnover on their roster and have no real direction. Contention is far away, so they can wait for Giolito to develop.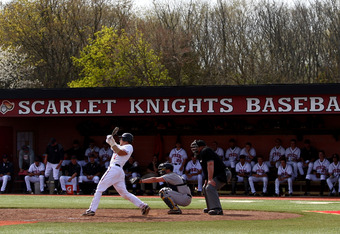 Chris Chambers/Getty Images
8. Pittsburgh Pirates (72-90): Deven Marrero, SS, Arizona State
With some really solid pieces in place for the Pittsburgh Pirates, adding a potential star like Deven Marrero is a great pick.
9. Miami Marlins (72-90): Max Fried, LHP, Harvard-Westlake HS (CA)
The Marlins already have a strong pitching staff, but if the risk of taking Max Fried pays off, it will be a huge move for the future. If it pays off.
10. Colorado Rockies (73-89): Kyle Zimmer, RHP, San Francisco
The Colorado Rockies haven't had an ace on their staff in a long time, but many people think that Kyle Zimmer could be the caliber of pitcher to change that.
11. Oakland Athletics (74-88): Courtney Hawkins, RF, Carroll HS (TX)
Every team needs a big bat in the outfield, and Courtney Hawkins has that in spades. If Oakland lands this star and can develop him properly, he could be an All-Star.
12. New York Mets (77-85): Gavin Cecchini, SS, Barbe HS (LA)
With Jose Reyes taking his talents to South Beach, the Mets will reach on high-school shortstop Gavin Cecchini.
13. Chicago White Sox (79-83): Richie Shaffer, 3B, Clemson
While there are a few scouts who absolutely love the talents of Clemson third-baseman prospect Richie Shaffer, there is a good chance he could drop as far as the No. 24 if the picks fall a different way.
There have been questions about upside and potential, but whatever team is lucky enough to snag Shaffer will be getting a potentially great player. For a team like the White Sox, he offers consistency.
With an incredible lack of consistency in Chicago over the last few years, Shaffer could be a top-of-the-lineup hitter with an impressive on-base percentage. The White Sox shouldn't let him go past No. 13.
14. Cincinnati Reds (79-83): Marcus Stroman, RHP, Duke
The Cincinnati Reds need a consistent pitcher who is ready for a trip to the major leagues almost immediately. They will get that with Duke star Marcus Stroman.
15. Cleveland Indians (80-82): Andrew Heaney, LHP, Oklahoma State
The Cleveland Indians need all the help he can get, and left-handed pitcher Andrew Heaney is exactly what the doctor ordered.
16. Washington Nationals (80-81): Chris Stratton, RHP, Mississippi State
The Washington Nationals are getting better sooner than anyone expected, so they will take a college-trained starter like Chris Stratton hoping he can make an instant impact.
17. Toronto Blue Jays (81-81): Matt Smoral, LHP, Solon HS (OH)
As far as left-handed pitchers go in this draft, Matt Smoral is the biggest risk/reward prospect. It will be Toronto that rolls the dice.
18. Los Angeles Dodgers (82-79): Lance McCullers, RHP, Jesuit HS (FL)
There are questions about whether high-school hurler Lance McCullers is going to sign with a team or go to college, but it's a risk the Los Angeles Dodgers must take.
While some scouts have questioned his stamina, the Dodgers need the majority of their help in the bullpen; McCullers has closer written all over him.
The Dodgers may try him as a starter first, but his ability to blow the ball by batters and follow it with nasty breaking balls is the repertoire closers need.
19. *St. Louis Cardinals (90-72): Michael Wacha, RHP, Texas A&M
St. Louis realizes the way back to the top will be through their pitching staff. That's where Texas A&M star right-hander Michael Wacha fits so well.
20. San Francisco Giants (86-76): Joey Gallo, 3B/RHP, Bishop Gorman HS (NV)
While many have him as a better hitting prospect than a future pitching star, the Giants have such luck developing stars that they would be foolish to pass of Joey Gallo's starting potential.
21. Atlanta Braves (89-73): D.J. Davis, OF, Stone HS (MS)
If D.J. Davis decides to sign with the Braves, Jason Heyward will not be alone in the outfield anymore. This will be a great combination.
22. **Toronto Blue Jays (81-81): Hunter Virant, LHP, Camarillo HS (CA)
Another left-hander for their arsenal. The Blue Jays adding Hunter Virant is a great move for all parties involved.
23. St. Louis Cardinals (90-72): Nolan Fontana, SS, Florida
The rebuilding process in St. Louis will continue as the team looks to add bats to the lineup in hopes of replacing the skill lost with Albert Pujols' departure.
24. Boston Red Sox (90-72): Carson Kelly, 3B, Westview HS (OR)
The need for a third baseman in Boston is self-evident. Carson Kelly is a risky pick, but one that could turn out to be a huge steal.
25. Tampa Bay Rays (91-71): Lucas Sims, RHP, Brookwood HS (GA)
The Tampa Bay Rays love to develop young arms, and Lucas Sims could be their next right-handed Frankenstein.
26. Arizona Diamondbacks (94-68): Pierce Johnson, RHP, Missouri State
The Arizona Diamondbacks are an up-and-coming team with many great pieces already in place for the future. Adding a star-caliber prospect like Pierce Johnson is never a bad thing.
The pitching staff needs more depth and Johnson can fill in as a reliever until the organization finds his perfect niche.
No matter where Johnson finally ends up—the rotation or the bullpen—he will make an impact immediately in the majors. That's a great pick for No. 26 overall.
27. ***Milwaukee Brewers (96-66): Stephen Piscotty, 3B, Stanford
The Milwaukee Brewers need help at the hot corner, and Stephen Piscotty could be a big bat in the lineup to alleviate the loss of Prince Feilder.
28. Milwaukee Brewers (96-66): Clint Coulter, C, Union HS (WA)
The Brewers rebirth continues with outstanding catching prospect Clint Coulter. Solid pick if he signs.
29. Texas Rangers (96-66): Corey Seager, 3B, Northwest Carrabus HS (NC)
The infield transformation will continue with new third-baseman Corey Seager. The Rangers will turn this kid into the next Adrian Beltre.
30. New York Yankees (97-65): Addison Russell, SS, Pace HS (FL)
Derek Jeter is getting close to old in normal-people years and is reaching antique levels in baseball-years. Addison Russell is the shortstop of the future for the Yankees.
31. ****Boston Red Sox (90-72): Zach Eflin, RHP, Hagerty HS (FL)
Boston needs all the pitching help they can get. Period.
*Compensation from Los Angeles Angels for Albert Pujols
**Compensation for failing to sign 2011 first-round pick Tyler Beede
***Compensation from Detroit for Prince Fielder
****Compensation from Philadelphia for Jonathan Papelbon
Check back for more on the Major League Baseball as it comes, and don't miss Bleacher Report's MLB page to get your fill of all things baseball.