TUF Season 1 Retrospective: How Things Have Changed and How They Remain the Same
June 3, 2012

It's hard to believe that it's been close to seven years since the first season of The Ultimate Fighter made its debut on SpikeTV.
Back then, it was all any MMA fan could talk about. We were finally getting a look inside the training and the lifestyles of MMA fighters looking to make their way to the biggest stage.
Granted, it played out in ways we didn't expect. The challenges that were all about sawing logs and not fighting, and the general uncertainty of how the match ups would be made: it all seemed to be done on the fly.
But it was still about the fights back then, just as it is now.
Gone are the challenges, and in their place is the fights. The tension is still there, as are the in-house antics of the fighters who will do almost anything to stave off boredom between fights.
Sometimes it is hard to look at a fighter during a current season and imagine that they can enjoy the kind of career fighters like Forrest Griffin, Stephan Bonnar, Rashad Evans and others have enjoyed.
That's not to say that their talent isn't self evident; looking back on Griffin and Bonnar, I had the same reservations. it simply means that watching fighters on a reality show is a different kind of animal than following their career after.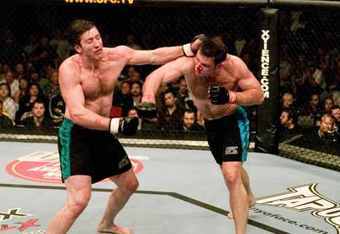 But in retrospective, it was an incredible idea. Season 1 produced some incredible fighters: Griffin and Bonnar, Diego Sanchez, Kenny Florian, Josh Koscheck, Mike Swick, Nate Quarry and Chris Leben, they all have enjoyed great careers in the UFC.
While other seasons have not faired as well, the idea is still compelling, which is why people still tune in to watch.
Now, another season has finished, and we look to the future.
Other countries are being included into the mix, and if Dana White's idea of holding a TUF World Cup comes to fruition, then it will be much more than a simple reality show: it will be an event all unto itself.
And I know I'll be tuning in to watch, hoping they can recall shades of TUF 1.
Perhaps Quarry said it best during the first episode of season 1, when he called it "the ultimate fighting college."
One thing is for sure: the final exams are just as demanding as any in the Ivy League.