Fantasy Baseball Waiver Wire: 8 Players Who Are Available and on Fire
Koji Watanabe/Getty Images
With four months left in the 2012 MLB season, there is still plenty of time to find players on the waiver wire who can help win your fantasy baseball league.
While the window to add guys like Edwin Encarnacion and Lance Lynn closed, there are still valuable free agents who can provide your team with a much-needed boost in the final two-thirds of the year.
At this point of the season, you're extremely fortunate if your team doesn't contain a hole caused by injuries or a deficiency in a certain category.
Some of the following players could fill a gap in your roster as you work toward earning a fantasy title. Act now before the rest of your league catches on to these players' success.
Jarrod Saltalamacchia
Gail Oskin/Getty Images
Do you need a catcher to replace the injured Carlos Santana or Jonathan Lucroy?
Or maybe, without a top catcher on your team, you just like to play the hot hand at the position.
Either way, Jarrod Saltalamacchia could solve your problem.
Owned in only half of Yahoo! leagues, Saltalamacchia is finally showing why he was once regarded as an elite prospect behind the backstop.
The 27-year-old has already hit 10 home runs with 25 RBI and a .559 slugging percentage. He hit .308 in May to raise his season average to a respectable .265. He's producing like a top-10 catcher, so why are owners so hesitant to grab him?
Perhaps owners burned by Saltalamacchia in the past are still holding a grudge. I know it hurts, but it's time to give the young catcher another chance.
Can I promise that he will continue this level of productivity throughout the season? No, but a catcher with this much power and potential should not sit on the waiver wire.
Justin Smoak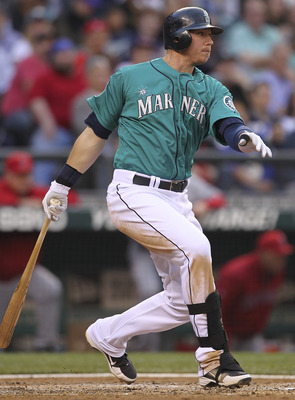 Otto Greule Jr/Getty Images
While I'm preaching second chances, let's look at another post-hype sleeper who is quietly making an impact this year.
Smoak, the main piece the Seattle Mariners acquired in exchange for Cliff Lee, offered enough upside to convince the Mariners to trade a star to a divisional foe.
While Smoak has yet to deliver on the resulting expectations, writing him off now would be premature.
In the last 30 days, Smoak has blasted seven homers with 19 RBI for the offensively challenged Mariners.
He has hit half of his 10 home runs this season in his last nine games. Some owners took notice, but his ownership rate still stands at 30 percent in Yahoo! leagues.
Until Smoak, who started last year strong before drastically cooling down, can prove his worth over a longer stretch, he doesn't deserve to be universally owned. He still strikes out at an alarmingly high rate of 22.1 percent, so you can't expect his .238 average to improve that much.
But again, I'm drawn to young power hitters with upside. In a deeper league, Smoak can help out by approaching 20-25 home runs by the year's end.
Michael Brantley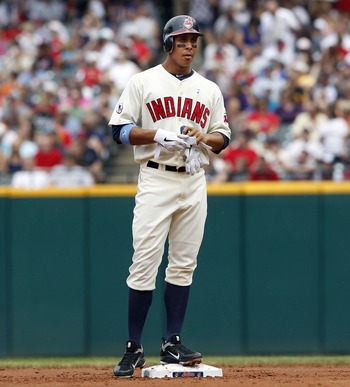 David Maxwell/Getty Images
Maybe your team lacks speed and you're searching for another source of stolen bases to climb up the ranks in the category.
Can I interest you in Michael Brantley?
With nine stolen bases this year, Brantley is still available in 76 percent of Yahoo! leagues occupied by owners who are falling asleep at the wheel.
After a cold April, Brantley hit .296 and swiped seven bags in May. The young outfielder does not walk as much as I would like for a guy whose value depends on reaching base so he can display his speed, but he has slashed his strikeout rate to 9.4 percent.
When a fast player can consistently put the ball in play, good things will happen.
We still might not have witnessed the full potential of Brantley, who stole 49 bases in Triple-A during 2009. He also hit seven home runs in the big leagues last year, so don't expect his long-ball total to stay at zero all year.
You might be able to get a sneaky five homers and 20 steals from Brantley in the remaining four months.
Alfonso Soriano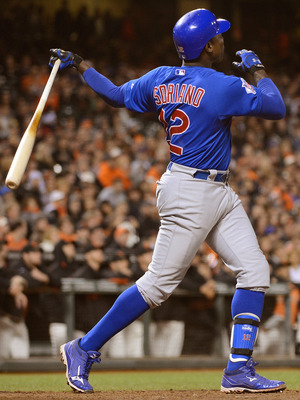 Thearon W. Henderson/Getty Images
They can't all be young and exciting.
If it seems like Alfonso Soriano has been around forever, it's because he has.
Soriano is looking to hit 20 home runs for the 11th straight season, and he appears poised to reach that plateau again with eight blasts this year.
Even in his prime, Soriano showed poor plate discipline with a career .323 on-base percentage. At this junction of his career, consider yourself lucky if he maintains his .263 batting average. Also, his speed vanished years ago.
So wait, why am I writing about him again?
Despite his flaws, Soriano still hits for power. Are any other players who consistently hit 25 home runs with around 75-80 RBI available in more than half of Yahoo! leagues?
He's a shell of the 40/40 hitter from 2006 whose name left the draft board in the first round, but his power keeps him relevant.
I love chasing prospects as much as the next guy, but owning a player or two with a lower ceiling but higher floor will benefit your fantasy squad.
R. A. Dickey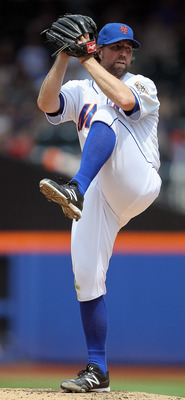 Jim McIsaac/Getty Images
He is owned in most leagues, but R. A. Dickey should be taken in all leagues.
Fresh off the New York Mets' first no-hitter, Johan Santana is currently receiving all the attention in Queens, but Dickey's dominance should not go unnoticed.
In 11 starts, the 37-year-old knuckleballer boasts an 8-1 record with a 2.69 ERA and 1.06 WHIP.
Those numbers don't even fairly represent Dickey's phenomenal pitching lately. Shattering all preconceived notions of a knuckleballer, Dickey sports an eye-popping 38 strikeouts compared to only two walks in his past four starts.
The veteran is making a strong case for an All-Star appearance, winning five of his last six games with a 1.45 ERA.
The boom in strikeouts seems odd for an old pitcher with a career 5.79 K/9 ratio, but is it a fluke?
According to FanGraphs, his Swinging Strike Percentage (SwStr%), which measures the amount of times a pitcher causes a batter to swing and miss, spiked from 7.8 percent in 2011 to 11.4 percent this year. Dickey has developed pinpoint control of his specialty pitch that opposing hitters are struggling to decipher.
Maybe this is just an unusual hot streak, but maybe Dickey is perfecting his craft.
Either way, whoever plays in the 21 percent of Yahoo! leagues where Dickey still resides on the waiver wire should add him the second this sentence ends.
Felix Doubront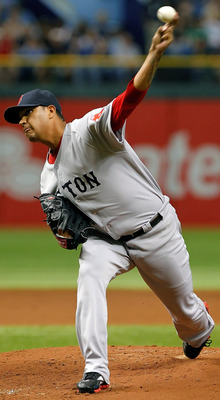 J. Meric/Getty Images
Rarely does a Boston Red Sox player fly under the radar, but their top pitcher at the moment is finding a way.
While the rest of Boston's rotation disappoints, Felix Doubront, the pitcher with the lowest set of expectations, continues to improve as the season unfolds.
The left-handed rookie is 6-2 with a 3.75 ERA and 9.53 K/9 ratio this season.
After stumbling out of the gate, Doubront possesses a 2.40 ERA and 1.13 WHIP in his last five starts. His 25 walks in 62.1 innings causes some reason for concern, but he only allowed four walks in his past three outings.
His vulnerability to the long ball could hold him back, as he has yielded eight home runs this season. He's not an ace, but Doubront can strike out batters and experiences the luxury of pitching for a team that will offer him plenty of run support.
Doubront, taken in 42 percent of Yahoo! leagues, could provide owners in need of pitching depth with a solid option to round out their rotation.
A. J. Burnett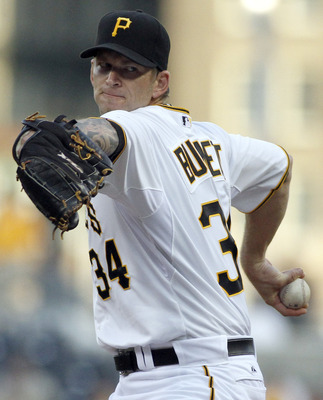 Justin K. Aller/Getty Images
I'm as surprised as you are about this slide.
Following three disastrous seasons with the New York Yankees, few fantasy owners cared when the Pittsburgh Pirates acquired A.J. Burnett.
If anything, many figured that the struggling pitcher's career would deteriorate from bad to worse without a loaded offense to offer him some cheap victories.
Through eight starts, Burnett looks revitalized in Pittsburgh, posting a 3.60 ERA and 1.24 WHIP. Always a bountiful source of strikeouts, Burnett has fanned 42 batters in 50 innings, but the low 2.52 BB/9 ratio has fueled an impressive run tainted only by a 12-run shellacking by the St. Louis Cardinals on May 2.
After spending six years in the American League East, the 35-year-old seems to be loving life in the National League. Burnett especially enjoys pitching in PNC Park, where he boasts a 1.02 ERA and 0.85 WHIP in five home starts.
He never experienced a home-field advantage pitching in New York's bandbox while fans booed him after every poor pitch.
I can't blame owners for their suspicions, which are evident by his 29-percent ownership rate, but now is the time to give Burnett another shot. Even if it's just for a spot-start.
Casey Janssen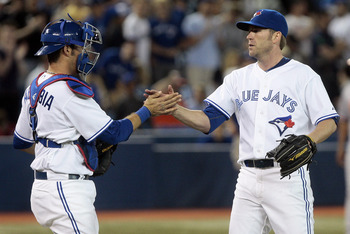 Abelimages/Getty Images
Casey Janssen is the undisputed closer in Toronto, so why is he still only owned in 40 percent of Yahoo! leagues?
He's no Craig Kimbrel, but Janssen offers quality numbers across the board and should reside on someone's roster in every league.
In 21.2 innings, Janssen holds a 3.32 ERA and 1.06 WHIP with five saves.
Since seizing the job from an injured Sergio Santos and a struggling Francisco Cordero, Janssen has nailed down every save opportunity, allowing only two earned runs in his last 11 appearances.
After serving the Blue Jays honorably as a middle reliever since 2006, Janssen now has a firm grip on the job while sporting a 3.8 K/BB ratio. That all adds up to a player worthy of a spot on your team.
Keep Reading