Miami Heat vs. Boston Celtics Game 4: Live Score, Analysis and Reaction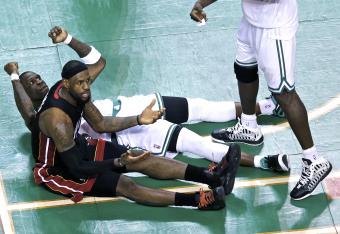 Game 4 is a pivotal game for both teams, and you can follow all the action here. There will be starting lineups and pre-game notes. Tipoff is at 8:30 p.m. ET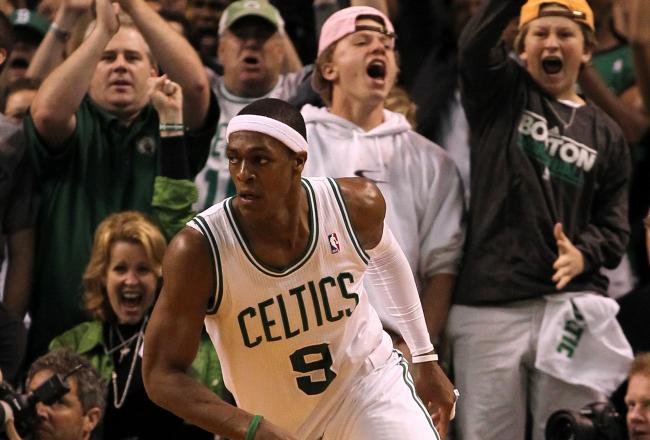 Final Score Celtics 93 Heat 91
The Miami Heat and Boston Celtics are now playing a best-of-three series.
Game one is Tuesday in Miami and the pressure is on Miami to bounce back from a wasted trip up north.
The Heat got beat for nearly all of Game 3.
Tonight was different. The Heat fell down by 18 but stormed back to take the lead. They couldn't hold it though.
The Celtics got a great game from Rajon Rondo.
Here are all the numbers.
Boston Celtics:
Rajon Rondo- 15 points, 15 assists, 5 rebounds.
Ray Allen- 16 points, 6/16 from the floor, 4/11 3 point range.
Paul Pierce- 23 points, 6 rebounds.
Brandon Bass- 11 points, 7 rebounds, 3 assists
Kevin Garnett- 17 points, 14 rebounds, 5 blocks
Boston shot 41.2 percent from the floor and grabbed 39 rebounds.
Miami Heat:
Mario Chalmers- 12 points, 4 assists
Dwyane Wade - 20 points, 7 rebounds, 6 assists.
LeBron James- 29 points, 6 rebounds, 3 assists, 7 turnovers
Shane Battier- 6 points, 0 rebounds
Joel Anthony - 2 points, 3 rebounds
Udonis Haslem - 12 points, 17 rebounds
Miami shot 42.5 percent and had 40 rebounds. They scored only two points in the overtime period.
Game 5 is Tuesday Night at 8:30 p.m. ET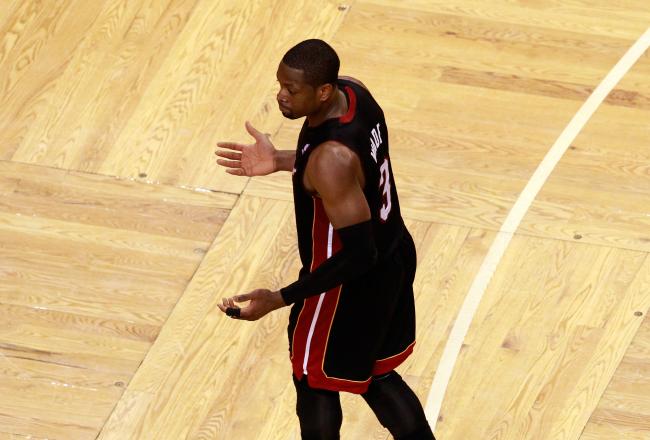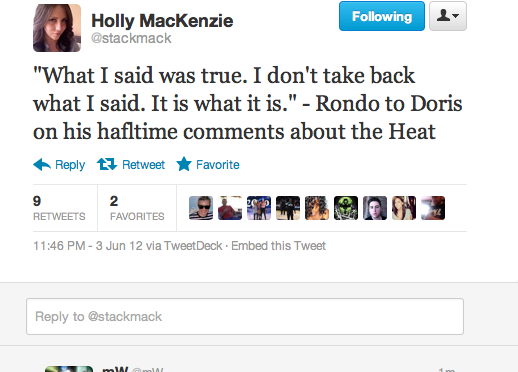 Final Score Celtics 93 Heat 91
In what will most definitely be a classic game the Boston Celtics came away with a huge two point victory to tie up the Eastern Conference finals two games each.
In a game that saw Paul Pierce foul out for Boston and LeBron James foul out for the Heat the Celtics managed to come away with a much needed overtime victory.
The Celtics who scored 61 first half points managed to only score 32 in the second half and the overtime period.
The Heat put on a tremendous push to get back into a game in which they trailed by as much as 18 at one point.
LeBron James kept the Heat in the game through an ugly first half for Miami but in the second half the Heat got contributions from Dwayne Wade, Norris Cole, Mario Chalmers and most importantly Udonis Haslem.
Haslem was a beast on the glass tonight. He finished with 12 points and 17 rebounds.
In the end it wasn't enough.
This has to go to Dwayne Wade but he's got some decent guys who can hit open shots on the court.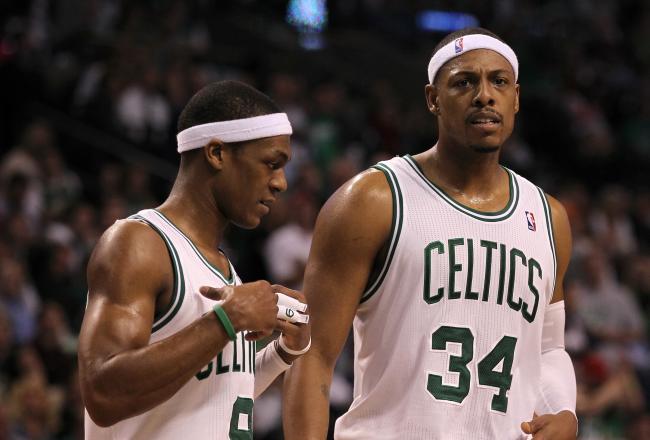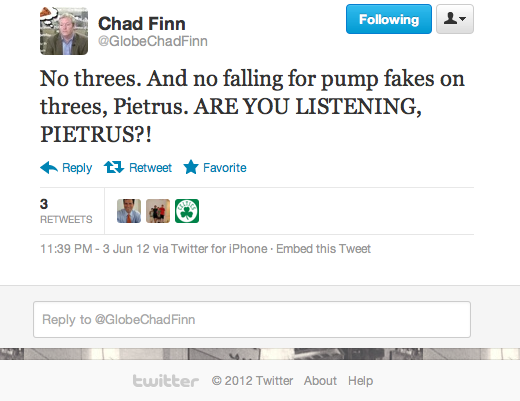 Celtics 93 Heat 91: 21.4 seconds OT
Rondo hits 1/2 from the line.
Celtics 92 Heat 91
Rajon Rondo on the line for two of the biggest free throws of his career.
Celtics 92 Heat 91: 21.4 seconds
All game, no all season the Celtics couldn't come up with big rebounds but Michael Pietrus came up with two big offensive rebounds. The Celtics still could not score but Shane Battier missed an open three and Boston has the ball back with less than 24 left.
Celtics 92 Heat 91: 1:38 OT
Celtics ball in a huge possession.
LeBron James has left the building with 1:51 left in OT. Fouling out on an offensive foul.
Heat 91 Celtics 89: 3:14 OT
Paul Pierce fouls out less than a minute into overtime.
The Celtics can't worry about that.
A Udonis Haslem dunk gives the Heat the first lead of OT.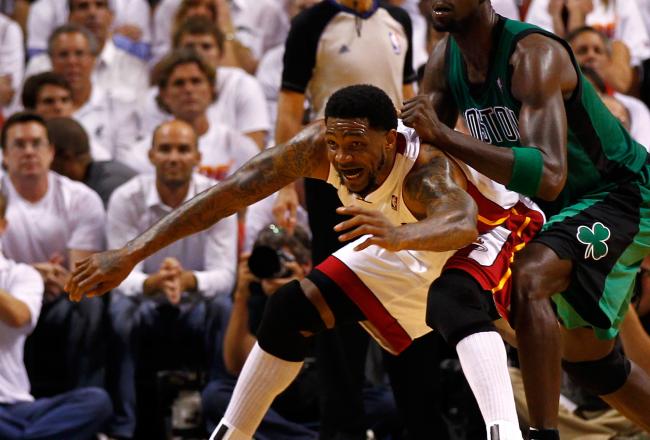 LeBron James stepped up and hit a huge three to tie the game.
He couldn't replicate that as time expired.
James passed off to Udonis Haslem for a chance at a buzzer beater to win the game but his pass was weak and Boston's defense was solid.
Get ready for overtime.
The Celtics look gassed but the Heat haven't looked so crisp down the stretch. Key players have foul trouble as well.
For Boston Pierce, Bass and Pietrus each have five.
LeBron James has five for the Heat.
Celtics 89 Heat 89: 21.1 Seconds
Another offensive foul on Kevin Garnett late in the game has put Boston's back up against the wall. A LeBron three pointer has tied the game. Now it's Miami ball with 21.1 seconds left.
Celtics 87 Heat 86: 1:01 4th Quarter
The Celtics need points. In the first half it was no problem but in the second half the Celtics have only scored 26 points.
They're nursing a one point lead and have the ball with under two minutes remaining.
Celtics 87 Heat 84: 1:17 4th Quarter
LeBron James is laboring at the free throw line. In spite of a fantastic game James is only 4/8 from the line.
It's tough to be a go-to guy if you can't hit free throws.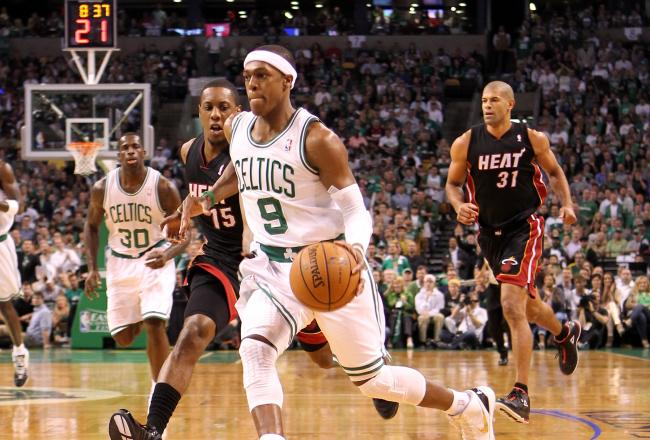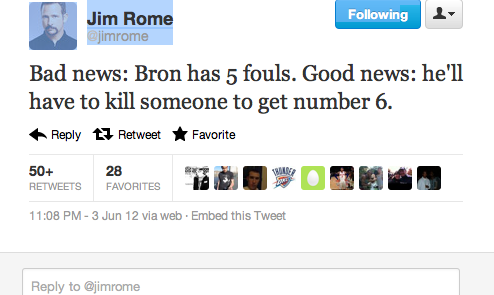 Celtics 85 Heat 83: 3:07 4th Quarter
LeBron went to the bench. Paul Pierce went to the rim.
The Celtics had a chance to take the lead but Shane Battier made a great defensive play and drew the fifth foul on Paul Pierce.
Rondo eventually scored on a layup to give Boston the lead.
Celtics 81 Heat 81: 5:00 4th Quarter
LeBron James gets his fifth personal with 5:52 left in the game. How James and the Celtics handle this may very well determine the outcome of the game.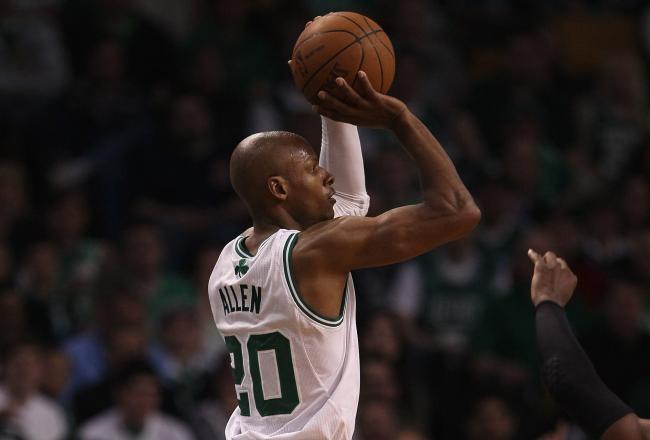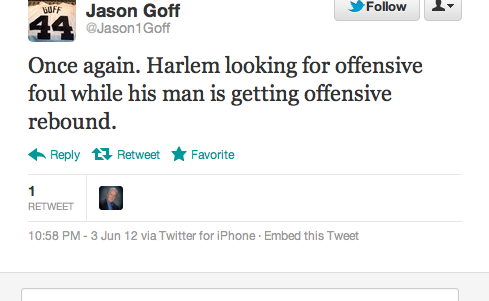 Celtics 81 Heat 78: 6:24 4th Quarter
Nothing wrong with a little bit of luck.
An errant pass by Kevin Garnett skipped through the hands of Brandon Bass and ended up in the hands of Ray Allen who promptly drained a corner three-ball.
The Celtics have reclaimed the lead and more importantly the crowd seems to have awakened.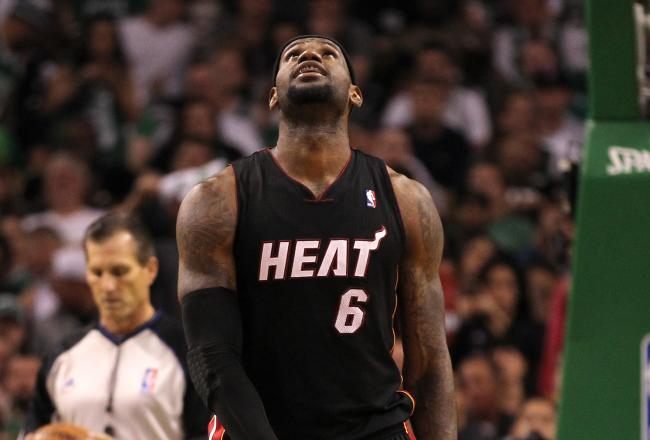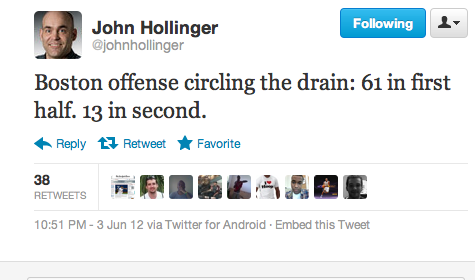 Celtics 74 Heat 74: 8:59 4th Quarter
The Heat have outscored the Celtics 26-13 since the half.
It's been a little of everything. The Celtics have had foul trouble, poor shooting and some flat out poor play. Kevin Garnett just threw a careless pass out of a double team which led to an easy transition basket.
It's a new game, all tied at 74-74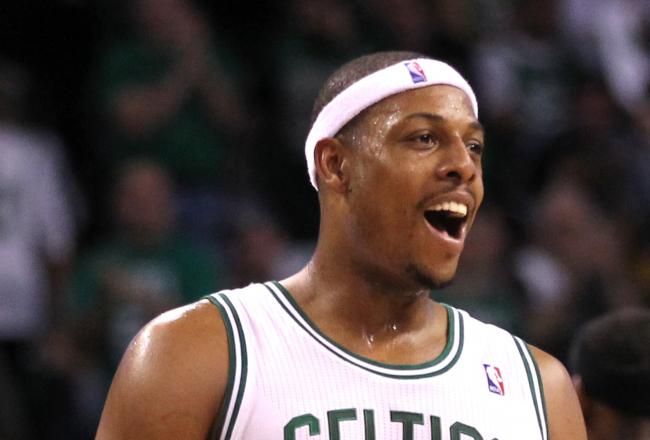 Celtics 73 Heat 69: 9:48 4th Quarter
The Celtics look tired. They've been beaten to a few balls since the fourth quarter started. They also just seem a step slow compared to Miami.
The frequent tipped passes and loose rebounds of the first half seem to be a distant memory. Miami has slowed the game and slowed the Celtics offense to a crawl.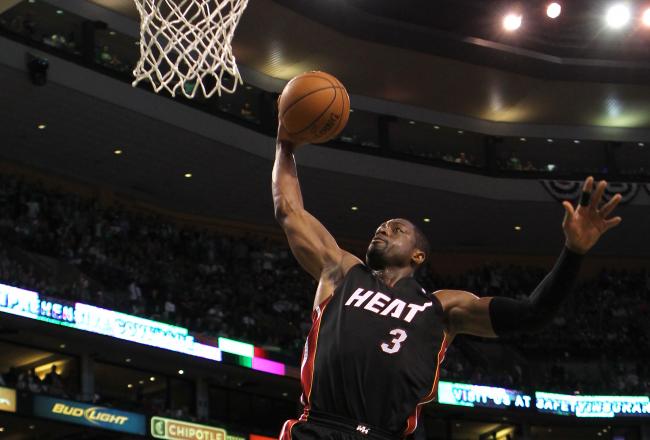 Celtics 73 Heat 68: End of 3rd Quarter
As Walt Frazier might say, Dwyane Wade is percolating. The other part of the Heat's big two had a miserable first half with only eight points. He scored nine in the third quarter, including some tough jumpers.
Boston struggled from the floor for the entire third quarter. They still played hard and fought for every loose ball. The stagnant offense caught up with them though.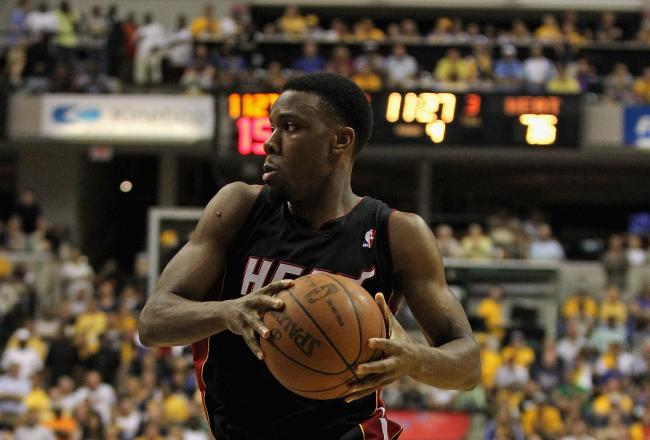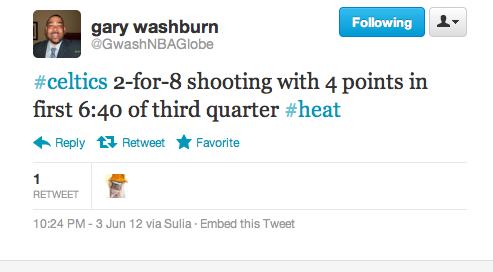 Celtics 69 Heat 61: 3:09 3rd Quarter
Give Miami Head Coach Erik Spoelstra credit.
He inserted Norris Cole into the game and did it to draw fouls on Rajon Rondo and it worked. Rondo got a silly offensive foul when he over-zealously tried to get position on Cole.
That gave Rondo four fouls and forced Doc Rivers to put Rondo on the bench.
Celtics 65 Heat 56: 5:20 3rd Quarter
The Celtics were bound to cool off. It's happening. Boston has only scored 4 points this quarter and none since the 8:04 mark.
In that time Miami hasn't caught fire but they've chipped away at the lead.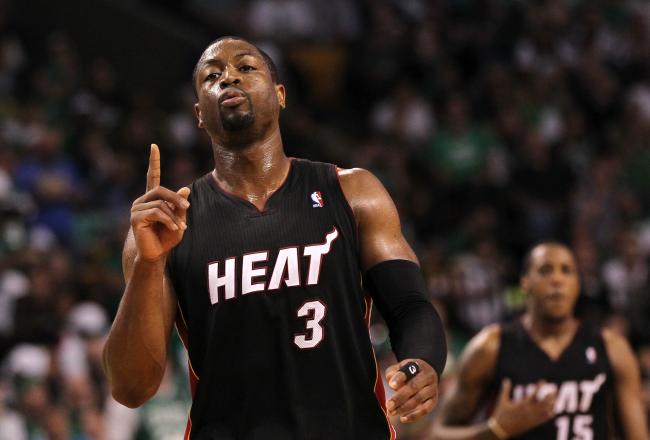 Celtics 65 Heat 49: 8:11 3rd Quarter
Neither team could seize any momentum early in the second half.
Both teams had some turnovers, some missed shots, and some tough fouls.
Then Rondo scored on a nice low post move, Miami turned the ball over and Rondo hit Pierce for a nifty layup.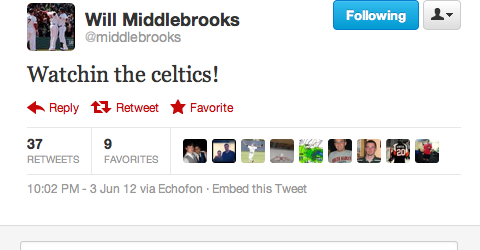 At The Half: Celtics 61 Heat 47
What a first half. The Celtics came out gunning and they haven't stopped. They could be up by well over 20 points but the Heat have this guy, his name is LeBron James.
James has carried the Heat tonight. He has 19 points and is 9/13 from the floor. The rest of the Heat have scored 28 points on 10/27 from the floor.
The Celtics on the other hand have had a balanced attack. That's what happens when Rajon Rondo is operating at the level he is tonight.
Rondo has 8 points, 4 rebounds, 10 assists and only 1 turnover.
Paul Pierce has been great. He's 18 points and he's 6/13 from the floor.
Kevin Garnett has 9 points and 8 boards and Ray Allen has 11 points. Allen is 4/7 from the floor and 3/5 from long range.
The Celtics are winning the rebounding battle 22-15 and 8-3 on the offensive glass. Miami has also committed 10 turnovers to the Celtics 7.
At The Half: Celtics 61 Heat 47
For Boston this was a fantastic half of basketball highlighted by their 7/16 from three-point range. Even with that this is only a 14 point game.
As the teams headed to the locker rooms Rajon Rondo was interviewed by Doris Burke. When asked about the first half Rondo had this to say about the Miami Heat and where the Celtics are taking advantage of them.
"Them complaining and crying to the referees in transition" - Rajon Rondo
Wonder if the Heat will be able to listen to that in the locker room.
Celtics 61 Heat 47: 40 seconds half.
The Miami Heat are only in this game because of LeBron James. He's the only player making things happen on offense. James has 19 points on 9/13 shooting.
This article is
What is the duplicate article?
Why is this article offensive?
Where is this article plagiarized from?
Why is this article poorly edited?