Brazil vs. Mexico: Hulk and Company Will Overpower Mexicans
June 3, 2012

Rob Carr/Getty Images
Bosnia-Herzegovina is a distant memory.
A pair of dominating wins by Brazil has the international football club confident in its ability to roll over all opposition in this summer's Olympic games. The next opponent victim in their path just happens to be Mexico.
Last week against Team USA, Brazil embarrassed the Americans and proved that they were simply on another level. Brazil defeated the US 4-1 in match in which they overwhelmed the Americans from start to finish.
In the contest, the 20-year-old forward Neymar left no doubt that he was the best player on the field. He scored a goal and recorded an assist on two more.
The gifted young superstar will be giving opposing goalies nightmares for a long time. Mexico's defense will have their hands full.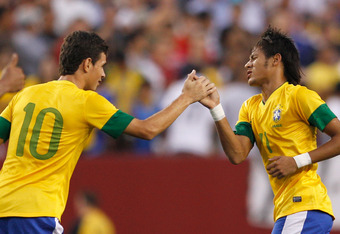 Rob Carr/Getty Images
Another Brazil stud who will ruin the Mexicans' afternoon is Hulk. In Brazil's previous match against Denmark, Hulk was an absolute force as he single-handedly outscored the opposition. He rocketed home two goals in the Brazilians' 3-1 victory.
According to ESPN, Hulk expressed confidence in himself and his teammates going into their friendly match with Mexico. He said: "I'm at my 100 percent, enjoying playing in this team with the huge players we have. Besides, Mano helped me to play in the position where I feel more comfortable, and that helps me a lot."
With transfer rumors swirling at this time of the year, it's often difficult for a football player to focus. While Hulk isn't necessarily putting on the blinders to such talk, his focus of helping the Brazilians compete is unwavering. He said (via ESPN):
"Every day we hear news about that, but that's the responsibility of my agent. I only have to think about giving my best to be in the Olympic squad.''
Brazil is a force to be reckoned with and they'll continue to reign supreme throughout the coming months.
David Daniels is a featured columnist at Bleacher Report and a syndicated writer.