Anthony Davis Eyes Kobe Bryant: Looking at Other Famous Sports Challenges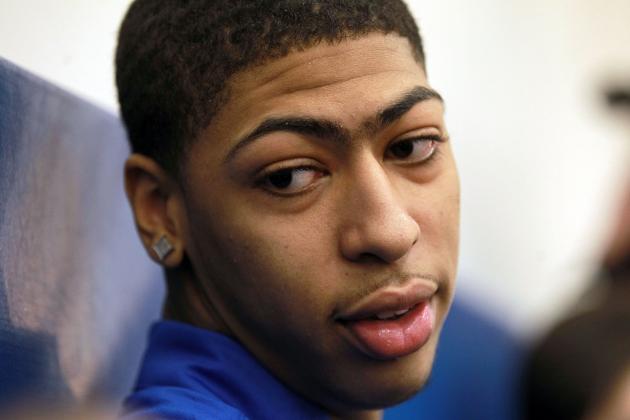 Andy Lyons/Getty Images

We've all been called-out or challenged for different things in our lives, no matter how silly or how serious. It starts early with duck-duck-goose and red rover and continues from there.
Former Kentucky center and current No. 1 NBA draft pick to be Anthony Davis is the latest in a long line of sports call-outs, or challenges, if you will.
The shot he fired is much more funny than it is serious.
His target?
None other than the Black Mamba, Kobe Bryant himself.
Davis made an appearance on The Dan Patrick Show, and the topic of players he would most like to go against or shut down came up. Davis, never lacking in the humor or confidence departments, aimed high. Kobe was at the top of his list.
The line of the interview was when he told Patrick: "Tell him I'll be waiting."
For those outside of Big Blue Nation, Davis chose to keep his famous unibrow because he felt it made him unique. It is part of his brand. Brow-themed Twitter accounts and T-shirts soon followed, again this just emphasizes that confidence isn't lacking.
I love A.D. as much as anybody, but let's be honest: Kobe is going to get him.
It's not a matter of if Kobe dunks on him, even at this stage of his career. Ask Yao Ming, Dwight Howard and Emeka Okafor.
It's a matter of where and when.
Will it be at Staples Center or down in N'awlins? Will it be in the first quarter or the fourth?
For this, I applaud A.D. He went big and he took that youthful, confident approach that you can't help but love.
For more call-outs, check out the following slides.
Begin Slideshow

»
This never gets old. Liston, Frazier, Foreman, Norton, Cooper.
As we all know, it didn't matter.
Ali had something for everyone, and if they didn't know, they eventually found out.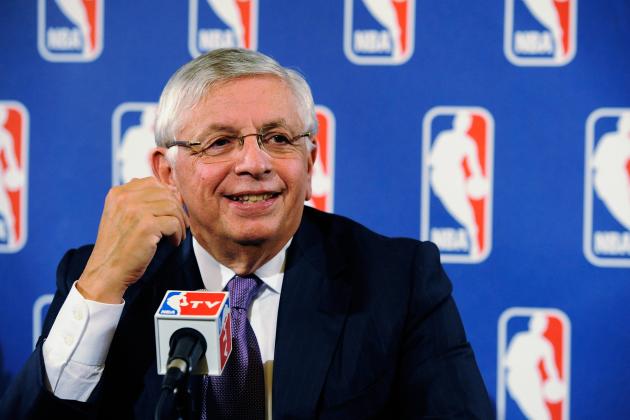 Patrick McDermott/Getty Images

Ah yes, it's that time of year again already. The time when David Stern is on the receiving end of shots fired from his critics.
The 1985 draft lottery is always a popular topic.
It is accompanied by LeBron James being selected by the Cavs, as well as officiating in the playoffs. There are murmurs questioning the Hornets winning the lottery this year.
It's just the usual rite of spring/summer.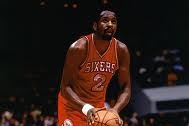 ruckingball.com
Moses Malone called out the entire 1983 NBA playoff bracket.
In true Muhammad Ali fashion, Moses didn't just predict a win, he also predicted how many games it would take for the Sixers to K.O. the opponent.
Fo, fo, fo! The only blip in the radar was a second-round loss to the Bucks.
The talk was talked and for the most part the walk was walked.
No matter the team you root for or the division or conference you may be partial to, you have to respect Bears-Packers.
The Packers definitely had respect for Singletary, one of the all-time great linebackers.
This video is from the 1992 season, Singletary's last season as a pro, in his last game against the hated Packers.
Singletary always brought it.
Just like he said, all day, every play, even at the very end.
Another gem from the never-gets-old department.
Mike Gundy got on his soap box and let everyone know what he thought of the staff at The Oklahoman.
Garbage that makes him want to lose his lunch.
Still no lunch dates set with him and the editor who let this out.
Lastly, here's further proof why Davis and Bryant will cause history to repeat itself.
From the what was he thinking department, Dikembe Mutombo provides this classic.
Deke must have temporarily lost his mind because he actually informed MJ that he had never dunked on him before.
Earlier in the season as Eastern Conference teammates at the All Star Game Mutombo just felt compelled to confess for some reason still unknown.
One baseline back door cut later and he's on the receiving end of a finger wag from His Airness.