Why Edwin Encarnacion Is Not Just an Early Season-Fluke for the Blue Jays
June 5, 2012

Brad White/Getty Images
What's gotten into Edwin Encarnacion?  On May 30, he connected off Baltimore's Jason Hammel for his 17th home run of the season in his 198th at-bat, matching his entire 2011 output (134 games and 481 at-bats).
He's always had the potential to be a productive hitter and appeared ready to emerge as one of the MLB's rising stars in 2008, as he belted 26 homers with the Cincinnati Reds. 
Injuries have slowed him since his breakout season, as he missed 58 games the following year with a wrist injury.  He was later acquired from the Reds on July 31, 2009 and has missed almost half a season's worth of games due to various ailments as a member of the Blue Jays.
So far, he's been able to avoid the nagging injuries that have plagued him in the past and has appeared in every game (54).  However, he was hit in his right hand/wrist area on June 3 by Boston's Daniel Bard.  According to Sportsnet's Mike Cormack, X-rays came back negative and Encarnacion is listed as day-to-day with a bruised right hand.
"God blessed me with my talent,"  he stated via thestarcom. "I just need to be healthy."
He had a strong finish to his 2011 season, as he hit .291 with 11 home runs and 36 RBI after the All-Star break.  One major difference from previous seasons is that he's being counted on to be one of the team's major offensive contributors.  He wrestled the cleanup spot from Adam Lind early in the year and hasn't looked back.  In the past, Encarnacion often batted at or near the bottom of the order, which presented him with fewer at-bats and RBI opportunities. 
Blue Jays hitting coach Dwayne Murphy believes Encarnacion's results can be attributed to his timing at the plate.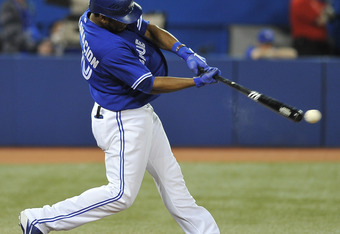 Brad White/Getty Images
"When he got here he was late, hitting everything (opposite) field," he said via thestar.com.  "For the last two years, he has been working on getting ready early, getting his foot down early, and I tell you, he's got it. He knows how to get ready on time and he knows how to put the barrel on the ball." 
Historically, he's been an aggressive hitter, but has been more patient this season.  According to baseball-reference.com, he's averaging 4.10 pitches per plate appearance—the most he's seen as a Blue Jay. In 2010 and 2011, he averaged 3.84 and 3.73 respectively and has already seen 15 3-0 counts, six shy of his 2011 total.
Typically a second half hitter, he is currently on pace to bat .279, hit 51 home runs and drive in 129 runs.
Although he's unlikely to continue at his current pace, he certainly appears to be a different hitter, as he's been able to put it all together this season.
Encarnacion has done his part, and if the Blue Jays are to remain in contention for the AL East title, they will need more production from other key players.