UFC: One Weight Division Main Cards to Consider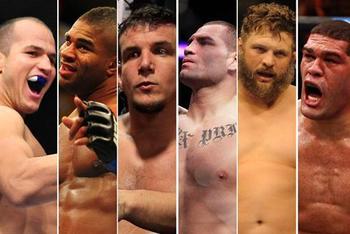 FightHubTV.com
UFC 146 was one of the most entertaining nights in MMA history. For the first time since the institution of weight classes, the UFC featured a card of all heavyweights.
Heavyweights aren't known for their cardio, and nobody wants to see a series of bouts where a pair of exhausted fighters throw sloppy punches at one another in hopes that it's nearly over. For that reason, fans across the world were both excited and terrified about what they might see.
Instead, we were treated to a thrilling night of fights that both entertained and made an impact that will echo through the division for years to come.
That impact has made us wonder about the other weight classes in the UFC. What other classes have enough talent for the UFC to give them their own event? What would those cards look like?
This is a look at the best single-division events that the UFC can create.
Flyweight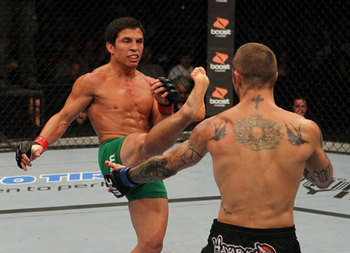 fiveouncesofpain.com
Admittedly so, the flyweight division has a talent pool the depth of a Slip and Slide, and the UFC should not consider having a card of all flyweights mostly due to the lack of name recognition. This style main-card would be a ratings disaster, no matter how good the fights actually are.
If you were to create an all-Flyweight event on the same show where we crown an inaugural champion and the event aired on FX, you could pull off a five-fight main card that would draw in hardcore fans and casual viewers alike. After all, who wouldn't watch a UFC title fight on free television?

UFC Flyweight Championship: Joseph Benavidez vs Ian McCall

Demetrious Johnson vs Yasuhiro Urushitani

Title Eliminator: Louis Gaudinot vs John Dodson

Tim Elliot vs John Lineker

Darren Uyenoyama vs Chris Cariaso

Clearly, this card assumes that Ian McCall wins the upcoming semi-final bout on Friday night. While Benavidez vs. Johnson would be the bigger name fight, McCall is a star who has certain marketability based on his fan-appealing style and personality.
You could use a co-main event with the tournament's other fighters who did not advance to the finals as a way to give someone the bronze medal.
Aside from the tournament fighters, the most recognizable faces in the division are Ultimate Fighter winner John Dodson and fellow housemate Louis Gaudinot. Each man won an entertaining battle in their last bout and could earn a title shot with a win. After all, with very few fighters coming off of wins, the winner of this contest would have more momentum than anyone else.
The card would be rounded out by a Fight of the Night candidate between Tim Elliot and John Lineker. Both fighters performed admirably in their UFC debuts, and it makes sense to pair them against one another.
The final fight features Darren Uyenoyama, a fighter known for his ground domination of KID Yamamoto last year. With few fighters available to face him, we turn to divisional newcomer Chris Cariaso. Cariaso has gone 4-2 under the Zuffa banner, but his losses came to top bantamweight contenders Michael McDonald and Renan Barao.
Bantamweight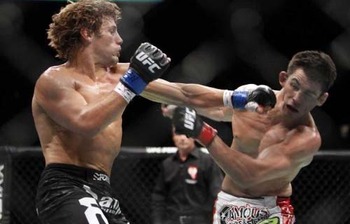 thefightnerd.com
Moving up in weight, we reach the Bantamweight division, known for endless cardio and ever-growing roster depth.
With some bigger stars in this division, we can make a formidable card that is both exciting and competitive. If this card were to see the light of day, it would definitely be something worth plopping down 55 of your hard-earned dollars for.
UFC Bantamweight Championship: Dominick Cruz vs Urijah Faber III
Renan Barao vs Michael McDonald
Scott Jorgensen vs KID Yamamoto
Ivan Menjivar vs Mike Easton
Brian Bowles vs Miguel Torres II
The biggest two names in the division battling it out in a rubber match is exactly the kind of fight that Joe Silva loves to book. After all, it was the original main event of UFC 148.
Just beneath that, we see an interesting battle of top-notch contenders. Both McDonald and Barao were considered to face Urijah Faber for the interim title before the Zuffa brass picked Barao. Michael McDonald has looked unbeatable through his young career, while his opponent has been unbeatable. Barao hasn't lost in 29 consecutive bouts, and his only loss came via split decision in his professional debut.
How about a battle between two bantamweights who are more than willing to throw leather until the other can't move anymore? Who has the better Mohawk? Who can absorb the harder punches, and who can land the better shots? We can answer all of these questions with a fight between Scott Jorgensen and KID Yamamoto.
Ivan Menjivar is a gritty veteran who was scheduled for a big fight with Barao but got cancelled. Could he handle the attack of rising prospect Mike Easton?
If that's not enough, let's throw in a rematch of one of the most shocking results in WEC history. When Brian Bowles knocked out Miguel Torres, few could believe how easily the 37-1 champion was disposed of. Torres was riding the success of 17 consecutive wins and had defended his title three times already. Torres claims that he came out too aggressive and it cost him. Could he win the rematch?
Featherweight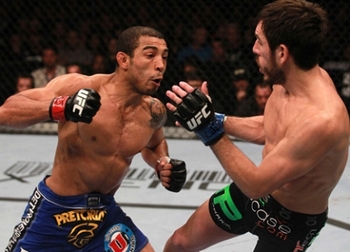 portaldovt.com
We continue our upward move through the classes and land in the Featherweight division. The boys who fight at 145 have incredible striking skills, from well-rounded fighters like Jose Aldo and Charles Oliveira to the pure strikers like Dennis Siver and Diego Nunes.

The standup battles are a treat for fans of major knockouts. This event could sell a PPV, but due to the lack of elite challenges for the champion, this event would be perfect for a UFC on Fox card.

UFC Featherweight Championship:
Jose Aldo vs Chan Sung Jung
Hatsu Hioki vs Chad Mendes
Leonard Garcia vs Cub Swanson
Erik Koch vs Dennis Siver
Charles Oliveira vs Jim Hettes
Nam Phan vs Diego Nunes
In the main event, I've thrown the most fan-friendly title matches possible. Jose Aldo is a pound-for-pound great, while The Korean Zombie has an enormous following and has improved leaps and bounds since joining the boys over at Team Alpha Male. As far as free main events go, this is the cream of the crop.
The co-main event features a rising challenger with an immaculate 26-4-2 record squaring off against a former title contender whose only loss is to the current champion. A battle between Hatsu Hioki and Chad Mendes not only illustrates how good Hioki really is, but it will show the world that has the most controlling grappling in the division. Hioki wanted another challenge before stepping in for a title shot. Be careful what you wish for.
Erik Koch was the best of the available options to challenge Jose Aldo. A pairing with kickboxer Dennis Siver is a better match-up for him. The two would engage in an intriguing standup battle if the fight doesn't work its way to the ground. Koch needs to be wary, though, as Siver has nine submission wins of his own.
How about a duel between rising prospects? Charles Oliveira is a stud who has only lost against elite fighters in a division too heavy for him. Now that he is fighting at featherweight, he is going to be a nightmare for many, as he scored back-to-back submissions since debuting back in January. Jim Hettes absolutely massacred Nam Phan in his last fight and could have the skills necessary to tear through Do Bronx.
In a fan-friendly contest, the show would open with a fast paced contest between technical striker Diego Nunes and the always-entertaining Nam Phan.
Lightweight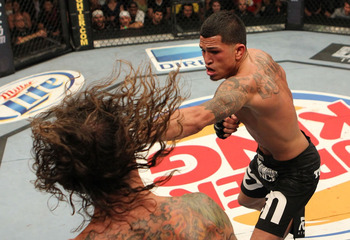 ifightsite.com
Not only is the lightweight division stacked, but there is so much talent that you could fill the main card of a PPV and have plenty of top guys available in the event that a fighter gets injured. For the sake of having some fun, I threw in a sixth bout for an all-lightweight PPV.
UFC Lightweight Championship: Benson Henderson vs Frankie Edgar
Title Eliminator: Nate Diaz vs Anthony Pettis
Sean Sherk vs Gray Maynard
Jim Miller vs Clay Guida
Donald Cerrone vs Evan Dunham
Melvin Guillard vs Takanori Gomi
The main event is a highly anticipated rematch between Benson Henderson and former champion Frankie Edgar. This is undoubtedly the biggest selling match-up that the lightweight division can put together without breaking Gilbert Melendez's contract with Strikeforce.
In the co-main event, fans would be treated to an exciting bout that has been asked for since Nate Diaz defeated Jim Miller: Diaz vs Pettis. Diaz has an incredible ground game, and his boxing skills have somehow found a way to catch up. It's unlikely, however, that he will standup with Rufusport prodigy Anthony Pettis. "Showtime" has highlight reel striking that put him on the map, but his biggest wins are outside of the UFC. A victory over Nate Diaz is the kind of signature win that earns him a shot at the belt.
Gray Maynard would meet another standout wrestler who happens to also be a former world champion: Sean Sherk. Sherk has lost only four times in his extensive career, and only champions have been able to get the job done. "The Muscle Shark's" losses have come to Matt Hughes, GSP, BJ Penn and Frankie Edgar. Can Maynard prove that he is elite enough to join that prestigious club?
Did I mention that this card is stacked from top to bottom? A pair of well-rounded fighters who possess intimidating stand-up and scary grappling takes place between Donald Cerrone and Evan Dunham.
Meanwhile, the card would open with a striking display between KO artist Melvin Guillard and Japanese legend Takanori Gomi.


Welterweight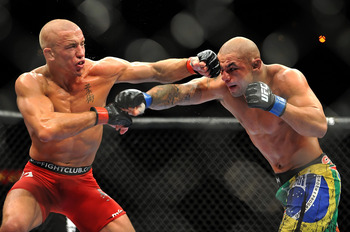 Jon Kopaloff/Getty Images
Thanks to Martin Kampmann's victory of Jake Ellenberger last weekend, along with recent losses for Jon Fitch and Josh Koscheck, the logjam at the top of the welterweight division is clearing itself up nicely. Let's imagine a card that definitively cleans things up and establishes order at 170 pounds.
With Johny Hendricks willing to sit on the sidelines in anticipation of his promised title shot, it is unlikely that he would take a fight in the meantime. For that reason alone, he has been left off of this list.
UFC Welterweight Championship: Georges St Pierre vs Carlos Condit
Nick Diaz vs Martin Kampmann
Jake Ellenberger vs Josh Kocheck
Diego Sanchez vs Matt Hughes
Jon Fitch vs Rory MacDonald
The long awaited title unification bout between Carlos Condit and Georges St. Pierre could take until February to come to fruition. Assuming the worst, this PPV event would take place in February of 2013.
The co-main event would feature the return of Nick Diaz against another fighter who has recently made waves and is looking for a title fight: Martin Kampmann. Before you count out the Dane, keep in mind that few expected him to be able to handle Jake Ellenberger and Thiago Alves, but he finished both men.
Jake Ellenberger has a few options for his return, but few are better than Josh Koscheck, who is also in need of some momentum. Both fighters are high-level wrestlers who have knockout power, so this one is anyone's game.
Matt Hughes isn't ready to hang it up, so let's get him back into the cage in a fight that was scheduled to take place last year. Hughes vs Sanchez was originally the co-main event of UFC 135 before Sanchez broke his hand. Don't ask "what if?" Instead, ask "why not?"
The fifth fight on this impressive card features an interesting match-up between powerhouse Rory MacDonald and longtime contender Jon Fitch. Although Fitch hasn't won a fight in two years, he is a dangerous fighter who can grind with the best of them. Is MacDonald hype? A bout with a stifling competitor like Fitch is a good way to find out.
In the event that someone needs to back out due to injury, you've got John Hathaway, Mike Pyle, Josh Neer, Thiago Alves, Siyar Bahadurzada and Demian Maia waiting in the wings.
Middleweight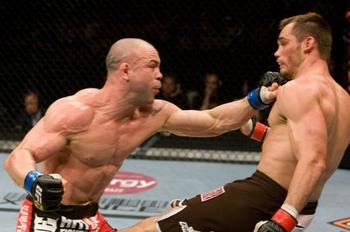 CamelClutchBlog.com
Remember when the UFC Middleweight division was depleted to the point of stagnation? Now, you could fill a main-event and throw a pair of high-level fights onto the FX preliminaries with strictly middleweight fighters. Let's check it out.
UFC Middleweight Championship: Anderson Silva vs Chael Sonnen II
Michael Bisping vs Rich Franklin
Wanderlei Silva vs Vitor Belfort II
Chris Leben vs Cung Le
Alan Belcher vs Mark Munoz
The rematch between longtime Middleweight kingpin Anderson Silva and Chael Sonnen is a bout that will draw huge numbers on PPV. It's a rivalry surrounded by controversy and fueled by disrespect. What bigger match-up could be made at 185?
The co-main event is a fight that I thought should have been made at UFC 148 anyway, seeing British contender and Ultimate Fighter winner Michael Bisping look to finally win a fight against a former world champion. Rich Franklin may be nearing the end of his career, but he is a dangerous opponent who has been in the Octagon with the very best, including Anderson Silva, Dan Henderson, Chuck Liddell, Forrest Griffin and Wanderlei Silva.
With the trash talk bubbling after the fight was cancelled, a rematch between Wanderlei Silva and Vitor Belfort is a must-have for this card. Silva claims that Vitor is scared, despite the quick pummeling that he gave "The Axe Murderer" more than a decade ago.
Chris Leben is eligible to return to the Octagon this year, and as the kind of fighter who wants to throw leather and entertain the fans, he should always be paired up with a fellow striker. Who better to match him with than the famed Cung Le?
How do you kick off a card of this magnitude? Take top contender Mark Munoz and put him in the cage with a fighter whose only loss in his past seven bouts is a highly controversial decision nearly three years ago. Munoz vs Belcher is a great fight that will keep Munoz busy while the title picture sorts itself out but could launch Belcher into the stratosphere.
If the injury plague hits this event, you've got some excellent backups available who are dangerous and have name value: Brian Stann, Hector Lombard, Jake Shields, Chris Weidman, Rousimar Palhares and Patrick Cote, just to name a few.
Light-Heavyweight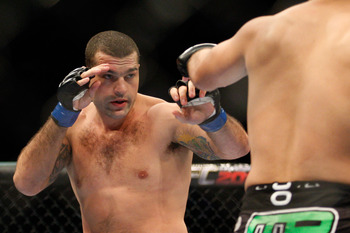 Richard Wolowicz/Getty Images
The light-heavyweight division is full of elite fighters and rising stars who are aching to get to the top of the mountain. Outside of the Top 15, there isn't a lot of big name talent, nor are there many fighters on big winning streaks. However, an all Light-Heavyweight card could make some excellent scraps that are important for rankings and highly entertaining.
UFC Light-Heavyweight Championship: Jon Jones vs Dan Henderson
Rashad Evans vs Lyoto Machida II
Forrest Griffin vs Rampage Jackson II
Shogun Rua vs Alexander Gustafsson
Ryan Bader vs Phil Davis
The main event sees the UFC champ vs. the Strikeforce champ when Jon Jones takes on Dan Henderson. Many have said that Jones beating Hendo is the last fight he needs to take before attempting to conquer the heavyweight division. A title unification fight with enormous legacy on the line? Yes, please!
The co-main event sees a rematch from a title fight that took place back in 2009. Evans and Machida have each been champion, and they've both fallen to current champion Jon Jones. Can Evans avenge the loss to "The Dragon", or does the karate kid simply have "Suga's" number?
When the same guys have been at the top of the division for a long period of time, rematches are inevitable. How about a double-retirement fight between Forrest Griffin and Rampage Jackson? Rampage is definitely on his way out of the UFC after several disputes, and Forrest has a lot of avenues for income outside of fighting. Their first fight was extraordinary, and many argue that the decision was unjust. Let's set the record straight and let them go at it once again.
Fans of Swedish fighter Alexander Gustafsson have been aching to see him fight a true contender. There are few fighters with a more established and respected name than Shogun Rua. The former champion is a striking wizard who poses threat on the ground as well. "The Mauler" gets his chance to prove himself as a contender, and Shogun gets a fresh match against a rising contender.
In the battle of wrestling prodigies, we would kick off the night with NCAA All-Americans Ryan Bader and Phil Davis. Davis has the reach advantage, but Bader has the kind of explosive knockout power that can end fights quickly.
Reserves for the light-heavyweights: Thiago Alves, Lil Nog, Tito Ortiz, Glover Teixeira, Igor Pokrajac, Stephan Bonnar
Keep Reading