French Open 2012: What 3rd-Round Upsets Mean to the Draw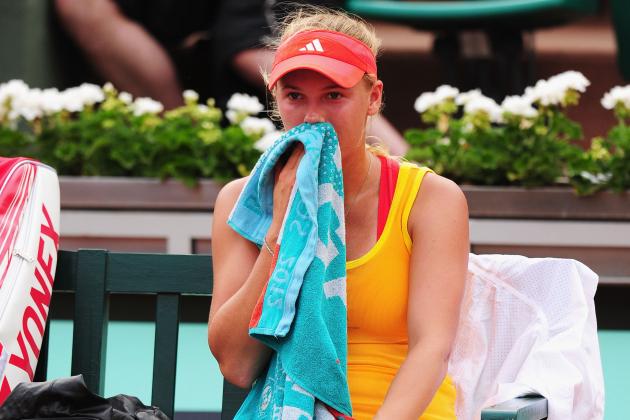 Mike Hewitt/Getty Images

The third round saw more shocking upsets, mostly on the women's side.
Out are Caroline Wozniacki, who finished the year with the top ranking in 2010 and 2011, and former French Open champions Ana Ivanovic and Francesca Schiavone.
With a lot of the seeds out and some new faces still remaining on the red clay, the fourth round of the French Open promises to have a few surprises waiting.
Let's review the third-round upsets.
Begin Slideshow

»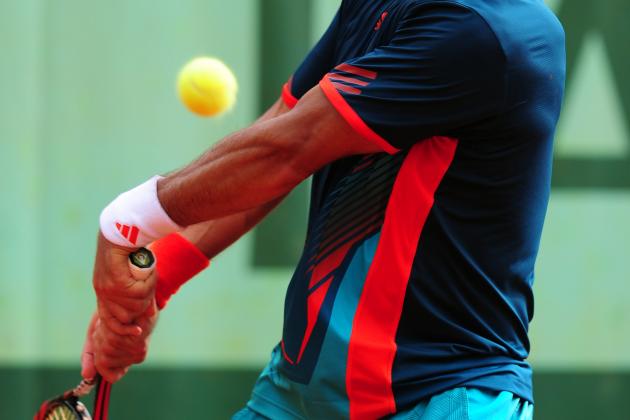 Mike Hewitt/Getty Images

Why He Won: He was more aggressive. Seppi hit 57 winners to 36 for Verdasco. He was also more effective at the net. Seppi converted 19 of his 24 approaches to the net to just eight of 19 for Verdasco. It was Seppi's first win against Verdasco after six consecutive losses.
Who Benefits: Novak Djokovic. Djokovic has yet to lose a set in the French Open this year and has a 7-0 career record against Seppi. He's lost only two sets to the Italian in those seven matches. He is only 5-4 lifetime against Verdasco. With a string of three straight Grand Slam titles and 11 straight Grand Slam quarterfinal appearances Djokovic's experience on the big stage should allow him to roll.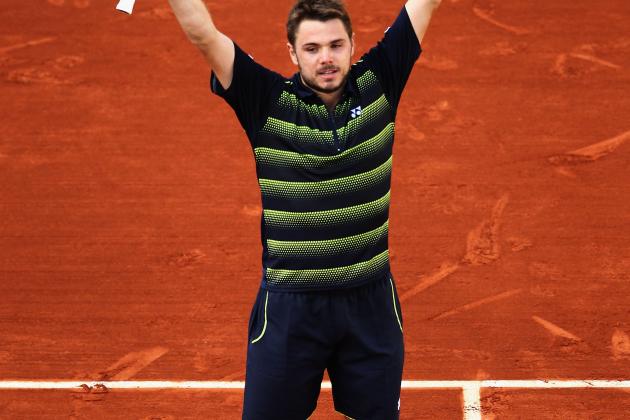 Matthew Stockman/Getty Images

Warwinka came from two sets to one to prevail in two fairly easy sets in the fourth and fifth. Wawrinka will have to pull another upset to advance to his third Grand Slam quarterfinal.
Why He Won: Wawrinka played a more aggressive match. He had nine aces to Simon's two and 82 winners to Simon's 23. He also committed 88 unforced errors to just 49 for Simon.
Who Benefits: Although not a huge upset, Wawrinka's win was important. With his compatriot Simon out of the way, the crowd should be behind Jo-Wilifred Tsonga in his fourth-round match with Wawrinka.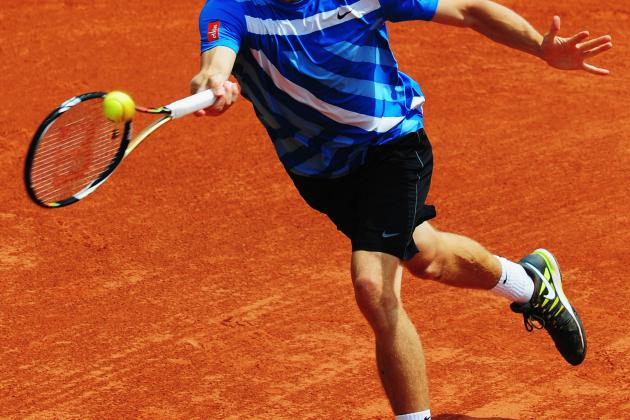 Mike Hewitt/Getty Images

Although not an upset in the sense that either player was seeded, Goffin is the true Cinderella story of this year's French Open. Goffin is the first "lucky loser" to advance to the fourth round of a Grand Slam since Dick Norman did it at Wimbledon in 1995.
Why He Won: Kubot played more consistently and was able to convert his break chances. Goffin committed just 25 unforced errors to 47 for Kubot. He did a much better job on his second serve, winning 58 percent compared to just 42 percent for Kubot. He also converted 42 percent of his break-chance points to just 29 for Kubot.
Who Benefits: Roger Federer. Federer will have a chance to advance to his 29th consecutive Grand Slam semifinal without playing a seeded player through the first four rounds. A tough quarterfinal looms. He will face the winner of Tomas Berdych vs. Juan Martin DelPotro.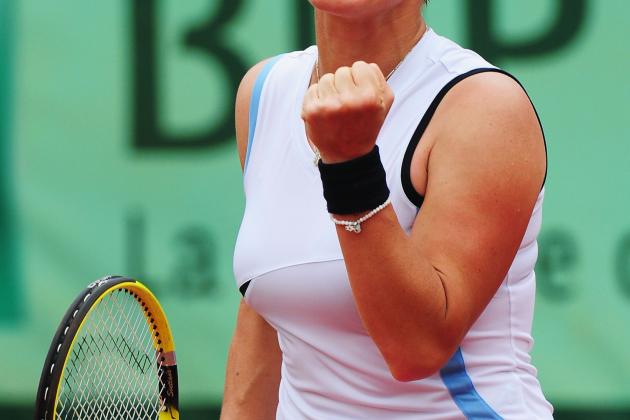 Mike Hewitt/Getty Images

Quietly one of the biggest upsets of this year's French Open. Kuznetsova, the 2009 French Open champion, ousted the third-seeded Radwanska decisively. Radwanska has never advanced past the quarterfinal of a Grand Slam.
Why She Won: Kuznetsova had higher percentages on her serve and the return game and hit 27 winners to just 11 for Radwanska.

Who Benefits: By Seed, Sara Errani, Angelique Kerber and Victoria Azarenka. All three are higher-seeded players than Kuzetsova. Kuznetsova is the most experienced of any of the three. She has won two Grand Slams titles and has two runner-up finishes. That makes her the most experienced player in her half of the draw.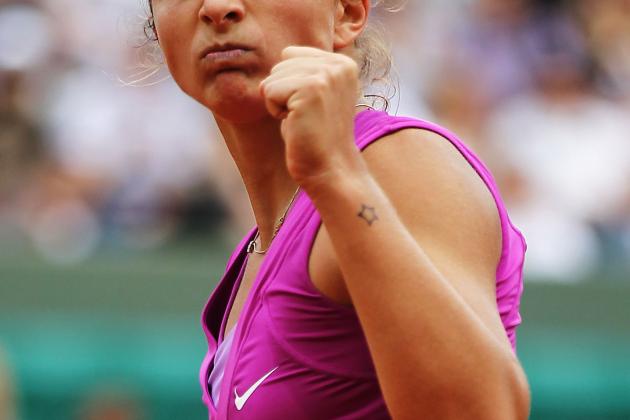 Matthew Stockman/Getty Images

Why She Won: Errani was better on her first serves, limited her unforced errors and played better at the net. The Italian converted 81 percent of her first serves, while Ivanovic was only able to get 52 percent of her first serves in. She had only 18 unforced errors to 40 for Ivanovic, and she won 81 percent of her approaches to the net to just 46 percent for Ivanovic.
Who Benefits: Kuznetsova. With Ivanovic out of the way, Kuznetsova will meet a player with way less experience than her on the big stage.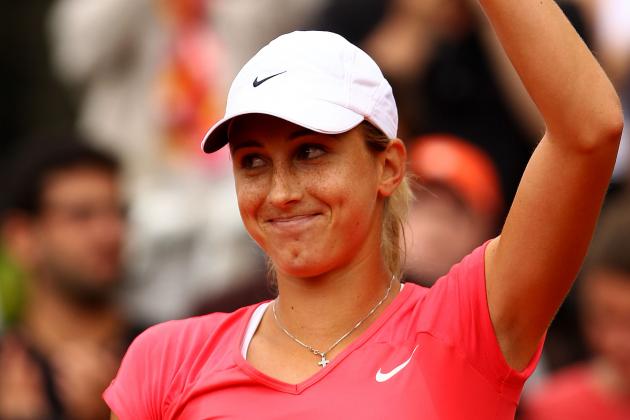 Clive Brunskill/Getty Images

Why She Won. Martic dominated the match by winning big on her service points and playing big on break points. She won 67 percent of the points on her serve and converted five out of eight break points.
Who Benefits: Angelique Kerber. Kerber will now face the unseeded Martic instead of the more experienced Medina Garrigues. Kerber is on a good run after reaching the semis at the U.S. Open last fall.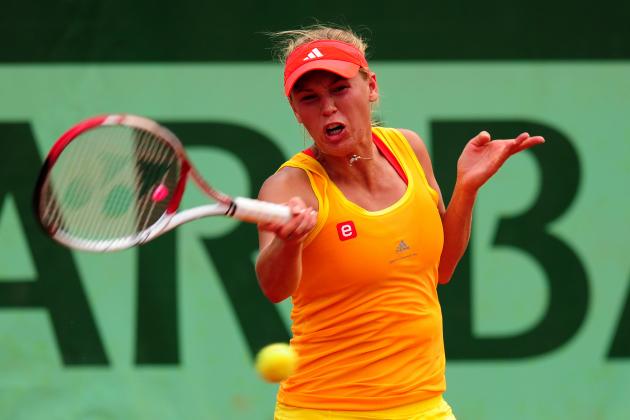 Mike Hewitt/Getty Images

Why She Won: Her more aggressive game and ability to win the big points was the difference. Wozniacki has always been criticized as lacking the big shot that can propel her to win a Grand Slam. If she fails to do so, she will go down as one of the greatest players never to win a Grand Slam after holding the top ranking at the end of the season in 2010 and 2011.
Kanepi hit 46 winners to just 14 for Wozniacki. Kanepi was seven for 14 on break points while the Dane was just four for 11.
Who Benefits: Aranxta Rus and Maria Sharapova. Rus is Kanepi's next opponent. With Wozniacki out of the tournament, Sharapova won't have to play a seeded player in the top 20 until the semifinals.
Matthew Stockman/Getty Images

Why She Won: Lepchenko kept her composure after giving up a 5-3 lead in the third set and was able to hold on to upset the two-time French Open finalist.
Who Benefits: Petra Kvitova. Instead of playing Schiavone, Kvitova will now face a less experienced Lepchenko.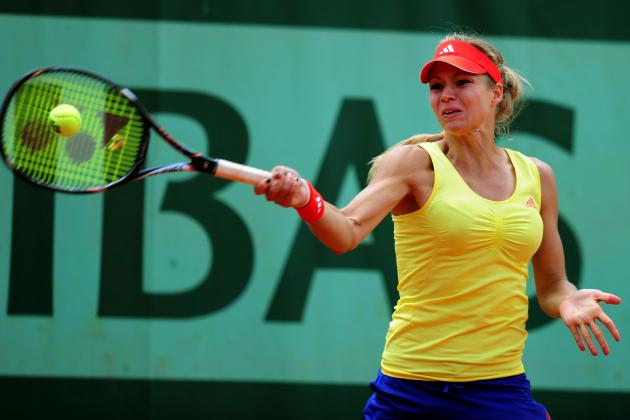 Mike Hewitt/Getty Images

Why She Won: In a match in which one game in each set was basically the difference, Zakopalova dominated on break-point chances. Zakopalova was seven for 10, while Pavlyuchenkova was just four for 12.
Who Benefits: Maria Sharapova. Sharapova will play an unseeded player in the next two rounds in what appears to be a favorable path to the semifinals.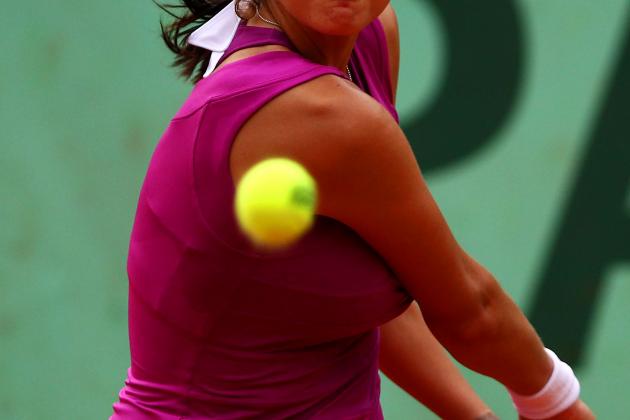 Clive Brunskill/Getty Images

Why She Won: Rus was more efficient on her first serve and made fewer unforced errors. She committed 25 unforced errors to 39 for Georges. Rus also had a first-serve percentage of 77 to just 53 for Georges.
Who Benefits: Kaia Kanepi (Rus' next opponent) and Maria Sharapova. Sharapova now has a chance to advance through to the semifinal without playing someone in the top 20.