Chicago Bulls: Why Pau Gasol Would Make Them NBA Champions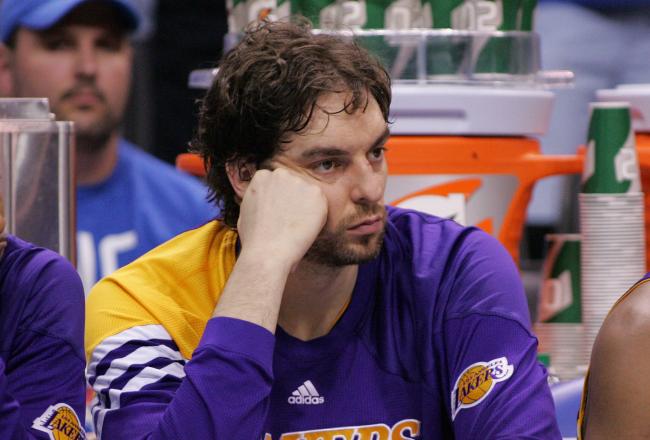 Brett Deering/Getty Images
Watching the NBA Playoffs is a painful experience for Chicago Bulls fans these days, as they think about what could have been. The Bulls would have likely been in the Eastern Conference Finals right now and would have gone up against the Chris Bosh-less Miami Heat if it were not for Derrick Rose tearing his ACL.
However, last season, the Bulls were still not able to get past the superior Heat, even when healthy. If the Bulls had Pau Gasol, it would vault them to title favorites right now.
The Bulls' biggest issue in the 2011 Eastern Conference Finals was that they had trouble scoring against the Heat's impressive perimeter defense. 2011 NBA MVP Derrick Rose was held to a paltry six percent shooting during the fourth quarter when being guarded by LeBron James.
Six percent just isn't going to get things done in the NBA Playoffs. Unfortunately, no other players were able to step up and help out Rose offensively. Only two other players averaged double figures for the playoffs, and only one rotation player shot over 50 percent from the field. It was clear that the team just couldn't compete with the Heat playing at their peak.
Pau Gasol would change things drastically. First and foremost, the one true weakness that Miami has is its inside presence. Especially with Chris Bosh injured, the Heat have many issues with size. At the moment, their power forward and center are both listed at only 6'8". The Bulls are not able to take advantage of this size discrepancy, as their only post offensive option is 6'8" and is a jump shooter.
Pau Gasol is a legitimate seven footer with a legitimate post game and a player who has been the lead scorer on a playoff team. He has the ability to hit the jumper at a higher level than Carlos Boozer, the ability to post up better than Boozer, play defense better than Boozer...he brings so much more to the table than any player on the Bulls roster right now and does not take much away.
The Bulls have only one player who has any real championship experience and that's Rip Hamilton. Any championship contender can gain so much from adding a two-time champion to their core, as you have seen with the Thunder adding Derek Fisher. Players like that can help contenders by not being afraid of the moment.
Pau Gasol is not a franchise player anymore, but he is a player who could push the Bulls over the edge when Derrick Rose gets back. He would also make the Bulls an incredibly difficult team to match up against, and that would make them NBA Champions.
This article is
What is the duplicate article?
Why is this article offensive?
Where is this article plagiarized from?
Why is this article poorly edited?

Chicago Bulls: Like this team?