Dwyane Wade Has to Be More Consistent for the Miami Heat to Win
June 3, 2012

Jim Rogash/Getty Images
"I will find a way to be effective."
That is how Miami Heat guard, Dwyane Wade, responded after the Game 3 loss to the Boston Celtics. Certainly, Wade needs to be more effective on Sunday.
Wade has always been the player who people expect to step up in big moments. With many people thinking that LeBron James has an inability to close out games, fans expect the ball to go to Dwyane Wade in the clutch.
James' inability to close out games and step up in the big moments is simply a myth in my opinion, but that is a different argument I am not going to address right now. Instead, I am going to look at Wade's ability to step up in the clutch moments.
Wade is one of the best "closers" in the NBA. With the game on the line, it is no surprise that Miami likes to give the ball to Dwyane Wade. He simply gets the job done.
But the biggest problem I have with Wade is his consistency. Just like LeBron does at times, Wade disappears during portions of the game. One of the biggest instances of this occurred Friday night against Boston in Game 3.
While LeBron James dominated the Celtics in the first quarter, Wade virtually did nothing. He took only one shot. In the second quarter, Wade stepped up and took eight shots for Miami, but he only made two of them.
Wade then went on to score 12 points throughout the entire second half. While it was not a superstar performance, Wade was at least adequate. He did not disappear completely from the game.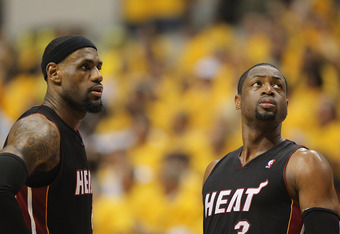 Jonathan Daniel/Getty Images
Wade has had instances like this all throughout the playoffs. Another big one was in Game 3 against the Pacers in the Eastern Conference semifinals. In that game, Wade was simply dreadful, scoring only five points.
Wade has shown an ability to close out games, and fans expect him to rescue the Heat in tough late-game situations. Without a good performance throughout the first three quarters of the game though, the Heat will be down by too much, just like they were last night.
Wade can not just sit back and watch LeBron, and LeBron can not just sit back and watch Wade. Miami was able to crush the Pacers in the final three games of round two because the two superstars came together. LeBron and Wade worked in unison to defeat the Pacers, and they need to do the same if they want to win a championship in 2012.
On Sunday night, Wade needs to come out right from the start and attack Boston. He needs to, like he said, "find a way to be effective." Miami can not wait all night and hope they comeback in the second half. In Game 2 they fell behind by 15, and Friday night they fell behind by 24. Sunday night has to be a different story.
Boston has regained its confidence because of Friday night's victory. Dwyane Wade and LeBron James need to take that confidence away, by having Wade step up and dominate the first half, just like LeBron did in the first quarter of Game 3.