Stanley Cup Finals 2012: Devils Players Who'll Mount Comeback in Series
June 3, 2012

Jim McIsaac/Getty Images
No one in the NHL has been able to stop the Los Angeles Kings in this year's playoffs, and the New Jersey Devils are starting to find that out in this Stanley Cup Final series as they find themselves down in a 0-2 hole. 
But the Devils are far from done, despite many people counting the Kings as sure-fire favorites because of their awe-inspiring playoff run. I mean, they've only lost two games all postseason, but it's a long series.
In a Game 1 dominated by stellar goaltending, Los Angeles' offensive firepower ended up breaking the mold and Martin Brodeur could only hold on to a dominant late-game performance for so long. 
It's not like the Devils are short of offense, either. They've got just as many stars on their roster and have sound special teams, just like the Kings. 
Let's take a look at the Devils players who need to get their act together in order to give New Jersey a significant chance to get past the high-flying Kings in Game 3 and beyond. 
Martin Brodeur
Not many people expected that Martin Brodeur still had enough left in the tank to mount the type of playoff run that he has, but he's here and the Devils won't be winning the Stanley Cup without a top-notch performance.
The Kings have yet to lose a step all postseason, but they also haven't faced the likes of a three-time Stanley Cup champion who's a sure-fire Hall of Famer. They came out firing at the 40-year-old vet, but he stood tall and despite a loss, had a spectacular performance in net for New Jersey.
If Los Angeles' budding offensive potency and the chance to become a four-time Cup champ isn't enough to motivate Brodeur, all he has to do is look across the ice to his dueling goalie. Jonathan Quick's the only goalie in the league that's playoff performance this season can rival Brodeur's, and they're neck-and-neck at the moment with Quick's nose in front after a Game 1 victory.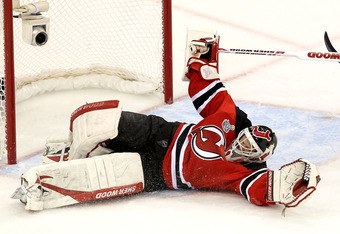 Jim McIsaac/Getty Images
Games 1 and 2 shouldn't be the only showdowns in this series to go to overtime, so I don't see it being the last time Brodeur will have a chance to lose his team the game. He needs to use his experience and stand tall just as he's done all postseason if the Devils are going to get back in this series. 
Zach Parise
This could be the last year that Zach Parise has even a chance to win his New Jersey Devils team a Stanley Cup, and with the parity that exists in the NHL today, it may be his last chance period. 
You know what's better than becoming a Stanley Cup champion? Being the captain of a Stanley Cup champion team. Arguably more than any sport, hockey relies on their captain to not only represent their team but to lead by example in their play.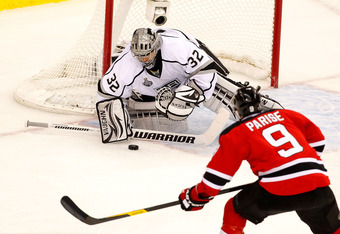 Paul Bereswill/Getty Images
Parise has notched a minus-two rating in each of the Devils' last two games before Game 2 (Game 6 against New York and Game 1 against L.A.) and is a combined minus-four in his last five games before Game 3, so his play has been off despite the Devils recent success. 
The Devils may have been able to beat the likes of the New York Rangers through players like Ilya Kovalchuk and stellar team play across the board, but they will not win the 2012 Stanley Cup Final without Parise playing at his best. 
Ilya Kovalchuk
The Devils have to get solid help from their entire group of skaters, but you don't have to watch for long to see who their most important offensive player is.
Kovalchuk was brought in to be an offensive sniper for the next 15 years (no, literally), so ultimately it's his job to get it done, and if goals don't get through Quick, it's his fault in the end. 
His decision-making ability is often what makes a New Jersey power play a success or a failure. And the leading points scorer in the NHL this postseason has got it done to this point, save for Game 1 of the big series. 
The Devils star has already made his mark on the postseason, but he's yet to etch his name into Stanley Cup glory. He'll need to come up big if the Devils can mount a comeback to save their chances.