Heat vs. Celtics: Role Players Who Hold the Key to Boston's Series Upset
June 2, 2012

Jim Rogash/Getty Images
The Boston Celtics proved on Friday that they are capable of upsetting the Miami Heat. If they are going to pull this off, they are going to need healthy contributions from a few role players. Their aging stars and Rajon Rondo can't carry the load the entire series. 
Paul Pierce, Kevin Garnett, Ray Allen and Rondo combined for 78 of the Celtics 101 points on Friday, and while that is all well and good, Boston will benefit from a little more balance. Here is who they need to provide that balance. 
Brandon Bass
Bass has yet to score in double figures in this series and his Game 3 performance was his most anemic. He was just 1-3 from the field for four points and four rebounds. He played just 17 minutes in this game. 
He has to earn his way back onto the floor. Bass must be more aggressive on the offensive end. He has to move without the ball and establish position. The Heat frontcourt is thin right now, and Bass must try to exploit this and try to earn some trips to the free-throw line. 
This will not only help him put up some points, but it will also hurt the Heat by getting them into foul trouble where they can least afford it. 
Marquis Daniels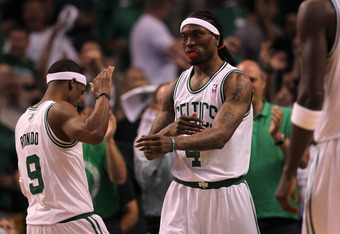 Jim Rogash/Getty Images
Daniels had far and away his best performance of the playoffs in Game 3, and the Celtics need more of this. He had nine points, on 4-6 shooting, and five rebounds. He hadn't scored more than four in any of this year's playoff games. 
Daniels' efficiency on the offensive end allowed Rivers to leave him on the court for 17 minutes, which is a huge plus because he is a solid defender. 
If Daniels keeps his scoring touch rolling, it gives the Celtics nice lineup flexibility and a viable defensive option. 
Mickael Pietrus 
Pietrus has never been a consistent shooter, and he can kill the flow of an offense by taking ill-advised shots. He has cut down on the poor shots, but he is not scoring. He has just six total points in this series. 
The Celtics need more from Pietrus because, like Daniels, he is a valuable defensive piece. 
Pietrus does not need to fill up the scoreboard, but he has to prove to be a big enough threat that Heat defenders have to respect him—otherwise he kills Boston's ability to space the floor. 
Pietrus is also a solid offensive rebounder, and this is key for Boston. Game 3 was the first game in this series where they had more offensive boards than the Heat, and not coincidentally, it is the first game they won.